Chile's house prices continue to rise, amidst limited supply. The average price of residential properties in Greater Santiago surged by 18.4% in Q3 2022 from a year earlier, following y-o-y increases of 18.7% in Q2 and 14.3% in Q1. When adjusted for inflation, prices rose by a more modest 4.1% during the year to Q3 2022, according to the Chilean Chamber of Construction (CChC).

Quarter-on-quarter, residential property prices increased 3.9% in Q3 2022 (0.4% inflation-adjusted).

By property type:

The average price of new houses rose by 18.2% (3.9% inflation-adjusted) in Q3 2022 from a year earlier and by 4.9% (1.4% inflation-adjusted) from the previous quarter.
The average price of newly built apartments increased 19% (4.7% inflation-adjusted) y-o-y in Q3 2022 and by 3.6% (0.1% inflation-adjusted) q-o-q.

Southern Santiago saw the highest price rises for new apartments, with 22% increase during the year to Q3 2022 (7.3% inflation-adjusted), followed by the Northwest with 19.5% price increase. The Northeast and Central Santiago saw price increases for new apartments of around 15.9% and 13.5%, respectively.

The average price of apartments across Chile is around US$155,000 while detached houses are priced at about US$260,000.

Actual sales in the capital are actually falling, amidst rising interest rates. But this might also be partly due to the limited supply in the market and as buyers seek places outside of urban areas due to surging house prices. The total number of residential properties sold in Greater Santiago plunged by 35.7% y-o-y to 15,215 units in the first three quarters of 2022, following a 30.9% surge during 2021, according to the CChC.

"I sell some of the most expensive houses in Chile, and it hasn't stopped," said Folke Bergstrom of Sotheby's International Realty Chile. "The issue is that there's no more space to grow in small towns, and the number of houses for sale has not increased. The only way to get a piece of land is to convince an owner to sell."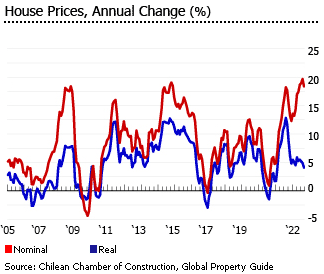 The number and area of dwellings authorized fell by 34.8% and 32.6%, respectively, in the first three quarters of 2022 as compared to the same period last year, according to the Instituto Nacional de Estadisticas (INE).

Yet the wider economy is slowing. In Q3 2022, the economy grew by a meager 0.3% y-o-y, sharply down from an expansion of 5.6% in the previous quarter and the weakest growth since Q1 2021. As such, economic growth is projected to slow to 2.1% this year, amidst global economic slowdown and heighted inflation risks, according to the International Monetary Fund (IMF). This is a sharp deceleration from a strong economic growth of 11.7% during 2021.