Brazil is at the end of a cycle
October 01, 2015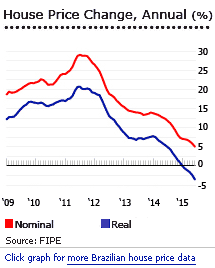 Economic growth is slowing. Inflation is high.  The wider global environment is not encouraging, with Europe's sovereign debt crisis worsening and Asia slowing.  And house prices are now falling in Brazil, in real terms.
Brazil's composite FIPEZAP house price index registered its lowest year-on-year nominal price rise since data became available, with 4.49% year-on-year (y-o-y) price rise in May 2015.  This is well below the 7.6% y-o-y inflation rate for the same month, so housing values aren't keeping pace with inflation. In real terms house prices fell 3.65%, after adjustment for inflation. Average price growth has been slowing down from 18.7% in 2012, 12.3% in 2013, down to 10.2%  in 2014.
During 2014:
In Sao Paulo, house prices had risen by an average of 11.3% (4.7% inflation-adjusted), the lowest year-on-year rise since 2008. House prices in Sao Paulo increased 14.1% in 2013, 20.5% in 2012, 27.1% in 2011, and 22.2% in 2010.
In Rio de Janeiro, house prices had increased by an average of 12.0% (5.3% inflation-adjusted), far lower than the 41.3% y-o-y rise seen in 2011.
Since then house-price rises have slowed most in the cities where they had risen most, like São Paulo and Rio de Janeiro.
House prices in São Paulo rose by an amazing 223.5% from January 2008 to May 2015 (107.8% inflation-adjusted), and in Rio de Janeiro house prices rose by an even more spectacular 266.1% (135.2% inflation-adjusted).
The Brazilian property market's staggering growth over the last seven years was mostly supported by a booming economy – prompting finance professor Fabio Gallo to argue, "We don't have a bubble. A bubble means a lot of increases in prices for nothing. You had real reasons for the expansion of the prices in Brazil. After this, we have to reduce, to put the prices in their correct level as a matter of fact." The country's labour data reported GDP per capita increased by a whopping 60% since 2008.
The 2007 discovery of enormous oil fields located deep beneath a layer of salt in the Atlantic seabed also boosted the energy industry's demand for residential and office space. Demand continued to surge following the 2009 announcement that Rio de Janeiro would host the 2016 Olympic Games. Rapid development of the mortgage market, which followed the sustained decrease of historically high interest rates, and legal reforms that streamlined the foreclosure process, also supported the surge in home prices, according to Fitch Ratings.
However, there has been a noticeable slowing down of property price rises in the past couple of years. And the price correction is expected to continue as the country contends with high inflation and weak growth, compounded by the depreciation of the real.
Brazil's Central Bank is not in stimulus mode and will undoubtedly keep increasing the benchmark interest rate, thereby discouraging prospective homebuyers.
The market is also adjusting from the over-investment in housing in the mid 2000s with the launching of the My Home, My Life program. The program funded developers to build low to moderate income housing and expanded the market for 30-year mortgages in Brazil.
Poor sales activity and a supply glut are greatly affecting developer earnings. Total home sales in São Paulo and Rio de Janeiro dropped 35% and 29%, respectively, last year compared with 2013, according to the Brazilian construction sector trade group CBIC. One of Brazil's biggest home builders, São Paulo-based PDG Realty SA, for example, posted a net loss of BRL 529 million (USD 167 million) in 2014 compared to a net loss of BRL 271 million (USD 86 million) in 2013.
The house-price growth slowdown is occurring across most of the country.  Except for Vitória and Porto Alegre, all the other major Brazilian cities saw house price increases slow from December 2014 to March 2015.
House price change (y-o-y)

Dec-14

Mar-15
% difference
Guarulhos
10.8%
3.2%
-7.69
Niteroi
9.0%
4.0%
-4.92
Osasco
10.0%
6.0%
-4.09
São Vicente
6.6%
2.7%
-3.85
Recife
7.0%
4.1%
-2.85
Campinas
10.7%
8.0%
-2.66
Praia Grande
5.1%
2.7%
-2.39
Curitiba
2.3%
0.1%
-2.17
Vila Velha
8.6%
6.6%
-2.00
Goiânia
12.7%
10.8%
-1.90
Fortaleza
8.0%
6.1%
-1.86
Salvador
7.1%
5.4%
-1.74
Santo André
7.6%
5.9%
-1.69
São Caetano do Sul
6.4%
4.8%
-1.59
Santos
4.2%
3.2%
-1.06
São Bernardo do Campo
7.8%
6.8%
-1.01
Florianópolis
3.8%
2.9%
-0.96
Contagem
5.5%
4.7%
-0.81
Belo Horizonte
8.5%
7.9%
-0.61
Distrito Federal
-0.3%
-0.7%
-0.39
Guarujá
5.8%
5.6%
-0.22
Porto Alegre
4.3%
4.8%
0.48
Vitória
11.8%
12.3%
0.52
Yet despite the sluggish economy and weak sales, analysts expect the Brazilian property market to remain resilient in 2015 – mainly driven by government investment in social housing, strong job creation and the Rio de Janeiro 2016 Olympics. According to the Sao Paulo construction association (Secovi-SP), the market in Brazil's financial capital has generally been slow. New-build launches had dropped by 16% in 2014.  But there was a marked improvement in sales activity in November-December. Imoconnect, one of Brazil's largest nationwide property networks, also expressed optimism for 2015, reporting a 45% increase in sales in the third quarter of 2014.
"Good news remains thin on the ground in Brazil but we take some comfort from the fact that the country's frothy housing market has so far managed to avoid a hard landing. It's still early days but the initial signs are that Brazil's housing bubble is deflating via a gradual moderation in prices rather than via a sharp and sudden drop in prices that can cause steep falls in household wealth and destabilize the financial system," said Neil Shearing of Capital Economics.
Weakening economy, high inflation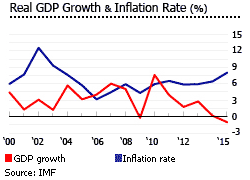 Brazil's economy grew a meagre 0.1% in 2014, after real GDP growth rates of 2.7% in 2013, 1.8% in 2012, 3.9% in 2011, and 7.6% in 2010, according to the Central Bank. Brazilian GDP is expected to actually decline by 1.1% this year, as the central bank has signaled it will continue to raise the Selic rate to curb inflation.
Weak economic growth and rising interest rates are two factors which, in almost any economy, can be predicted to hit house prices.
Brazil's economy is facing a double whammy of rising prices and sluggish growth. The Central Bank, in its recent quarterly report, estimates that gross domestic product (GDP) will contract by 1.1% in 2015. The bank's inflation outlook, on the other hand, has been raised from 7.9% to 9.0%.
This deadly combination of rising prices and slow growth is undermining the economy, the result of President Dilma Rousseff wrongly pursuing expansionary and populist policies in the aftermath of the global recession. To boost the economy, a tax relief program was introduced, along with subsidies and protection for industry, increased social welfare benefits for low-income earners and enormous infrastructure programs.
The Central Bank of Brazil also slashed its benchmark short-term SELIC rate from 13.75% in December 2008 to 8.75% by July 2009. Brazil was swamped with consumer credit from state-controlled banks during her first term, from 2011 through 2014. These resulted in a surge in wage growth, pushing prices higher. But while wage growth has since slowed, prices have continued to rise, leaving the Central Bank unable to decrease interest rates as it tries to curb inflation today.
In 2014, GDP grew by a paltry 0.1%, the slowest since 2009. Inflation, meanwhile, is mounting at 8.1% in June, the highest it's been since 2003. The country's benchmark interest rate has also escalated, with Brazil's central bank raising it to a six-year high of 13.75% in the same month.
Brazil's economy grew by an average of 4.3% from 2004 to 2006 and then by an average of 5.6% during 2007 and 2008. Brazil wasn't spared in 2009, but the economic contraction was minimized at 0.3%.  Real GDP growth rates were 7.5% in 2010 and 2.7% in 2011, despite the adverse impact of the Eurozone debt crisis.
Real sinks to 10-year low, crisis scenario?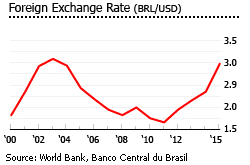 Brazil's real has plunged as crude oil prices - the country's major export - continue to fall. There is also concern that the country could lose its investment-grade credit rating.  Also, if the US Federal Reserve raises interest rates, that could dampen demand for high-yielding emerging market assets.
The currency has lost 27% over the past year, the most among 16 major currencies tracked by Bloomberg. The real approached a 10-year low of 3.2282 on July 08. Net overseas holdings of future contracts betting against the real has risen to a record USD 36.5 billion. Brazil sold the equivalent of USD 97.9 million of currency swaps and rolled over contracts worth USD 631 million to support the currency and limit import price increases.
The legacy of the riots
In June 2013 riots exploded, precipitated by a BRL0.20 (USD0.10) raise in public transport fares, and complaints about excessive spending on mega-sporting events. But the real causes go deeper. Brazil's infrastructure is in terrible shape – education is poor, public transport is terrible, state provision of ports, airports, and health is of very poor quality. Many Brazilians spend up to four hours per day in traffic jams, either in their cars or on crowded public transport.
Brazil is not a poor country and the tax rates are extremely high. So the protests are better seen as an outburst of popular frustration at corruption – a protest against an intolerable situation familiar to many citizens in many other developing countries
"Brazilians see no reason to have such bad infrastructure when there is so much wealth that is so highly taxed," noted a CNN report. "Aside from the problem of infrastructure, several corruption scandals which remain without trial, with the cases tending to end with the acquittal of the defendants.
The corruption scandal involving oil giant Petrobras and the country's largest engineering and construction firms, continues to shake the government. Several executives from Brazil's top builders have been indicted for the multibillion-dollar kickback scheme uncovered at Petrobas, while the investigation has implicated politicians, most from President Rousseff's Workers' Party.
Protests in the streets have been mounting as President Rousseff's approval rating hit a historic low, further threatening the country's already weak economy.
"The biggest corruption scandal in Brazilian history finally ended with the conviction of the defendants and now the government is trying to reverse the trial by using maneuvers through unbelievable constitutional amendments: one, the PEC 37, which will annihilate the investigative powers of the prosecutors of the public ministry (the Brazilian equivalent of the District Attorneys), delegating the responsibility of investigation entirely to the Federal Police. Moreover, another proposal seeks to subject decisions of the Brazilian Supreme Court to the Congress - a complete violation of the three powers,"  noted a CNN report.
Tighter lending seen in Brazil's mortgage market
Pro-market reforms helped greatly expand Brazil's mortgage market under former President Lula da Silva. The first big breakthrough was the introduction of fiduciary alienation, whereby the buyer becomes the owner of the property only after it has been fully paid. Meanwhile, the bank or lending institution holds ownership of property, while the loan is being repaid.

This gives banks security, if buyers default. In the past, banks were reluctant to lend to households, because Brazilian courts were biased in favour of borrowers.

Result: mortgage lending in Brazil grew by an average 37% per year between 2007 and 2014. However outstanding home loans still  represent just 8.5% of gross domestic product, or the equivalent of 14% of outstanding bank credit, according to Reuters.

Brazil's mortgage market has several unique features.
The government collects Fundo de Garantia por Tempo de Serviço (FGTS) or Labor Tax Severance Fund and uses it for loans offered to low- to middle-income housing, at below-market rates.
The country also has a system of tax-free savings deposits in banks, known as SBPE (Sistema Brasileiro de Poupança e Empréstimo, the Brazilian savings and loan system). Banks are required to use part of these SBPE deposits for mortgage loans at a set rate over and a special inflation index. The FGTS and SBPE together form Sistema Financeiro da Habitação (SFH), the Brazilian financial housing system. SFH offers households an opportunity to turn higher incomes into mortgage payments, greatly increasing housing finance volumes.
According to a Warnock & Warnock (2008) study, out of a stock of 54 million housing units, around 9.5 million were financed under the SFH, administered by Caixa Economica Federal (CEF).
Mortgage lending is expected to lose steam as interest rates continue to rise and home buyers pull back, and more borrowers fall behind on their mortgages. "We are witnessing a deterioration of several economic factors that provided the sector with solid support in the past," according to Octavio de Lazari Jr., president of Brazilian mortgage association Abecip.
In 2014, mortgage loans funded from the country's SBPE savings and loan system increased by only 3.4%, according to Abecip, the lowest since 2003. Disbursements had surged 31.9% in 2013. From January to April 2015, the total was 3.2% down from the same period in 2014.
The new administration of president Dilma Rousseff is also committed to restricting lending from the big state banks. For example state-run Caixa, responsible for about 70% of Brazil's home mortgages, will lend only 50% of the value of existing homes, down from 80% previously.
The cooler mortgage market does not appear to pose any systemic risk for banks, however, as the exposure of Brazil's banking industry to mortgages (excluding state-owned Caixa) is low. Mortgages account for just 6% of total loans and 2% of interest income at Brazil's top four listed banks – Banco do Brasil, Itaú Unibanco Holding, Banco Bradesco and Banco Santander Brasil.
BCB hikes interest rate to six-year high to curb inflation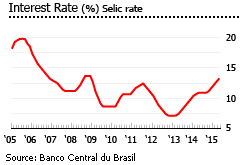 Brazil's housing boom was mainly propelled by a continuous decline in interest rates. Successful economic reforms under President Lula da Silva pushed Selic, Brazil's central bank benchmark rate, from nearly 30% in 1998, to 8.65% in August 2009.
When the financial crisis hit, the central bank cut its key interest rate to an all-time low of 7.25% in November 2012. However in 2013 the BCB changed monetary course, raising the benchmark interest rate nine times from 7.25% in March 2013 to 11% in April 2014. In October 2014 the interest rate was again raised to 11.25%. By June 2015 it had reached 13.75%.  The BCB is expected to raise interest rates yet further to curb inflation and stem declines in the country's currency.
"This [hiking rates] is a dangerous move. Yes, inflation is a big problem and they've been working very hard to clamp down price pressures, but by raising interest rates, they seriously risk tossing the economy into deeper recession," according to Kathy Lien, managing director of BK Asset Management. The sentiment is echoed by Neil Shearing of Capital Economics saying, "Higher interest rates are the last thing the struggling economy needs."
Rental yields likely to increase in the run-up to the Olympics
Buying property is increasingly unaffordable, leading many Brazilians to rent rather than own.
"In the major cities young professionals are struggling to afford the kind of prices now being asked for properties in good areas and even with the mortgage rates falling into single figures, affordability is unlikely to improve," according to Colordarcy. The upcoming 2016 Olympic Games is also likely to increase demand for rental properties as the country attracts more visitors.
According to Colordarcy, rental yields are actually likely to go up. Smaller one and two bedroom apartments in new developments are the most attractive investments in terms of yields.
"A 50 square meter apartment will generate yields of 9.6% whereas larger units would be 5.4% to 7.2%. Apartments in the suburbs of Sao Paulo offer yields of between 4% and 8% and in more central areas close to transport links yields can be up to 11%, making it one of the world's most attractive destinations for buy to let investors," according to Colordarcy.
The rise of the middle class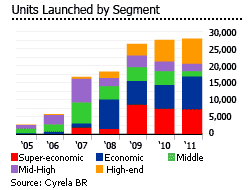 Brazil's president Dilma Rousseff has pushed Brazil further on the road charted by Lula da Silva, lifting many Brazillians from poverty unto the middle class. The successful poverty reduction program has led to real average incomes rising by 9% from 2002 to 2012, according to the Instituto Brasileiro de Geografia e Estatistica (IBGE).
"What I want my legacy to be is this country to be increasing middle class, to be highly competitive and highly educated," Rousseff told Forbes.
In 2011, 54% of Brazilians were middle class, up from 34% in 2004, according to Cetelem BGN and Ipsos Research Institute –a total of 103 million middle class Brazilians, who account for 46% of the country's purchasing power. Rousseff predicts that around 60% of Brazilians will be middle class by 2018.
The expansion of Brazilian middle class has made it real estate's target market, replacing wealthy international buyers who used to dominate the market in major cities like São Paulo and Rio de Janeiro.
Developers like Cyrela (with a 10% market share in São Paulo and 25% share in Rio de Janeiro) have shifted from luxury projects, to the "economic" and "middle" segments, i.e., to middle-class buyers.
Out of the 27,690 units launched by Cyrela in 2011, 7,155 units (26%) were for the super-economic segment, 9,690 units (35%) for the economic segment, and 1,500 units (5%) for the middle segment.
In contrast 2,227 units (8%) were for the mid-high segment and 7,388 units (26%) for the high-end segment. In 2006, mid-high (48%) and luxury (5%) segments made up more than half of Cyrela's launches.
Housing deficit persists but shrinking
Brazil's housing deficit - the official term for those unhoused or very poorly housed - fell from 5.59 million housing units in 2007, to 5.24 million housing units in 2012, a reduction of 6.3%. The percentage decrease may actually be larger. The decline in housing shortage has been particularly noticeable in rural areas.  However, the government has been less successful at reaching the very poorest families.
Of course, Brazilians, especially the poor, find housing unaffordable partly because of the high property prices. In São Paulo, around 62% of families find it expensive to own a house, based on a study by the Inter-American Development Bank (IADB).
Deficit
Urban
Rural
2007
  4,607,176.00
   986,015.00
2008
   4,278,033.00
   913,532.00
2009
   4,791,825.00
   911,178.00
2011
   4,548,545.00
   860,625.00
2012
   4,502,572.00
   741,953.00

Source: Hofinet
My Home, My Life
The housing program Minha Casa Minha Vida (My House, My Life), launched in March 2009, was one of the popular federal government programs launched during former President Lula da Silva's 8-year term.
With an initially allocated budget of BRL 36 billion (USD 11.4 billion), the program aimed to build 1 million houses during 2009 and 2010 for low income families, specifically those earning up to three times the national minimum salary. By end of 2010, 1,005,028 units had been contracted, according to CEF.
The second stage of the program was officially launched in June 2011. It has a government budget allocation of BRL 72 billion (USD 22.8 billion), and targets the construction of an additional 2 million houses by end-2014. By August 2012, one million houses had been built. President Rousseff announced that by 2014, her administration would have contracted 2.4 million houses, added to the one million houses contracted under the previous administration.
Of the total three million houses:
1.6 million homes are intended for families earning 0 -3 times the monthly minimum wage (earning between BRL 0 and BRL 1,635 a month)
1 million homes for families with salaries 3-6 times the monthly minimum wage (monthly income ranging from BRL 1,635 to BRL 3,270)
400,000 homes are allocated for families earning 6-10 times the monthly minimum wage (monthly wages between BRL 3,270 and BRL 5,450).
Under the program, subsidized mortgage loans were extended to middle and lower income homebuyers through the state-owned bank, Caixa Economica Federal (CEF).
Brazil - More data and information