Brazil faces a 'perfect storm', now that its great housing boom is over
October 15, 2016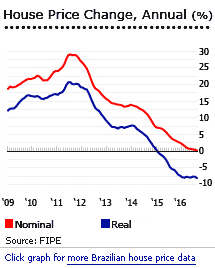 Brazil´s economy remains depressed. Inflation continues to rise. Unemployment is at record high. Consumer confidence has plunged. Banks are now refraining from offering credit. And house prices continue to fall in Brazil, particularly in real terms.
Brazil's composite FIPEZAP house price index dropped0.7% during the year to August 2016, itsseventh consecutive month of year-on-year nominal price falls. This is in sharp contrast with the 8.97% y-o-y inflation rate, so housing values aren't keeping pace with inflation. When adjusted for inflation, nationwide house prices actually fell by 8.85% during the year to August 2016. Average nominal price growth has been slowing from 26.3% in 2011, 13.7% in 2012, 12.7% in 2013, and 6.8% in 2014, and down to 0.85% in 2015.
During the year to August 2016:
In Sao Paulo, Brazil's biggest real estate market, house prices rose by an average of 0.21% (-8%, inflation-adjusted), the lowest year-on-year rise since 2008. House prices in Sao Paulo increased 2.5% in nominal terms in 2015, 7.3% in 2014, 13.9% in 2013, 15.8% in 2012, 27% in 2011, and 24% in 2010.
In Rio de Janeiro, house prices dropped 3.42% (-11.36% inflation-adjusted), the eleventh consecutive month of year-on-year price falls. House prices in Rio de Janeiro fell 1.36% in nominal terms in 2015, after annual rises of 7.6% in 2014, 15.2% in 2013, 15% in 2012, 34.9% in 2011, and 39.6% in 2010.
House prices in São Paulo rose by an amazing 223.8% from January 2008 to June 2015 (106.3% inflation-adjusted), and in Rio de Janeiro house prices rose by an even more spectacular 266.1% (133.3% inflation-adjusted).
The Brazilian property market's staggering growth over the last seven years was supported by a booming economy – prompting finance professor Fabio Gallo to argue, "We don't have a bubble. A bubble means a lot of increases in prices for nothing. You had real reasons for the expansion of the prices in Brazil. After this, we have to reduce, to put the prices in their correct level as a matter of fact."
Brazil´s GDP per capita increased by a whopping 60% since 2008, according to the country´s labour data.  The 2007 discovery of enormous oil fields located deep beneath a layer of salt in the Atlantic seabed also boosted the energy industry's demand for residential and office space. Demand continued to surge following the 2009 announcement that Rio de Janeiro would host the 2016 Olympic Games. Rapid development of the mortgage market, which followed the sustained decrease of historically high interest rates, and legal reforms that streamlined the foreclosure process, also supported the surge in home prices, according to Fitch Ratings. Interest rates were progressively cut from 26% to 7.25% between 2003 and 2012.
However since 2013, there has been a noticeable slowing of property price rises. Last year, house prices rose slightly (in nominal terms) but actually dropped significantly when adjusted for inflation. The price correction is expected to continue as the country contends with high inflation and deep recession, compounded by the continued weakness of the real.
Brazil's Central Bank is not in stimulus mode and is expected to keep the benchmark interest rate at its currently high level, amidst high inflation – thereby discouraging prospective homebuyers. The key rate currently stands at 14.25%, the highest level for almost six years.
The market is also adjusting from the over-investment in housing in the mid 2000s with the launching of the My Home, My Life program. The program funded developers to build low to moderate income housing and expanded the market for 30-year mortgages in Brazil.
It seems that the positive gains from the recently concluded Olympics Games have been offset by negative factors. House prices are expected to plunge by as much as 30% this year, amidst the country's ailing economy, falling demand, and declining liquidity at major construction companies, according to GuardeAqui.
House prices falling everywhere
House prices in all major Brazilian cities are now falling, although sometimes the nominal figures don´t show this, or even show rises. Vitóriarecorded the highest year-on-year increase in nominal house prices of 6.4% during the year to August 2016, according to FIPEZAP. It was followed by São Vicente (4.9%), Vila Velha(4%), Santo André (3.9%), and Curitiba(3.9%).
Lesser nominal house price rises were seen in Fortaleza (2.9%), São Caetano do Sul(2.9%), Florianópolis (2.8%), Guarujá (2.6%), Praia Grande (2.2%), Porto Alegre (2.1%), Contagem(2%), Belo Horizonte (1.9%), Campinas (1.8%), São Bernardo do Campo (1.4%), Guarulhos(1.2%), Osasco(1.1%), Santos(1.1%)Salvador(0.8%), and São Paulo(0.2%).
In contrast, house price falls were registered in Rio de Janeiro (-3.4%), Niteroi (-2.4%), Recife (-1.7%), Distrito Federal (-1%), and Goiânia(-0.6%).
However when adjusted for inflation, all major Brazilian cities saw falling prices during the year to August 2016.
HOUSE PRICE CHANGE (%)

2013 – 2014
2015 (y-o-y)
Aug 2016 (y-o-y)
Composite FipeZap HPI
20.4
0.9
-0.7
São Paulo
22.3
2.5
0.2
Rio de Janeiro
23.9
-1.4
-3.4
Belo Horizonte
19.0
0.0
1.9
Distrito Federal
3.8
-1.5
-1.0
Recife
21.3
0.0
-1.7
Fortaleza
23.2
6.0
2.9
Salvador
18.5
2.4
0.8
Santo André
20.1
4.6
3.9
São Bernardo do Campo
18.1
3.1
1.4
São Caetano do Sul
18.7
3.6
2.9
Niteroi
19.9
-3.0
-2.4
Vitória
30.7
7.8
6.4
Vila Velha
21.9
4.5
4.0
Porto Alegre
19.0
2.9
2.1
Curitiba
40.5
-0.2
3.9
Florianópolis
22.4
8.4
2.8
Campinas
26.5
3.5
1.8
Osasco
26.3
-1.8
1.1
Guarulhos
30.6
-2.3
1.2
Santos
16.9
4.2
1.1
Guarujá
18.2
3.2
2.6
São Vicente
16.4
5.8
4.9
Praia Grande
16.0
4.9
2.2
Goiânia
-
2.8
-0.6
Contagem
-
3.7
2.0
Source: FIPE
Homebuilders under pressure, amidst falling demand
Poor sales activity and a supply glut are greatly affecting developer earnings. In Q2 2016, Cyrela's launches were down by 44% from a year earlier while sales plunged by 31% over the same period. Homebuilders have been offering discounts over the past several months to raise cash, amidst tighter credit, a glut of new apartments, and a high level of cancelled sales, according to Eric Alencar of Cyrela Brazil Realty.
Homebuilders' revenues are expected to fall by 10% this year while gross margins are projected to remain flat, as the inventory of completed and unsold units continues to rise, according to Moody's.
Sales cancellations and defaults are also rising. For every 100 housing units sold in high-rise residential housing projects in 2015, 41 were returned back to the developer unpaid. As unemployment rises, Moody's expects payment delays and defaults on mortgage debt to increase in the coming years.
"As the weak housing market fundamentals persist, there is an increased likelihood that homebuilders will have to restructure their debt over the next 18 months," said Cristiane Spercel of Moody's.
Economic recession, rising inflation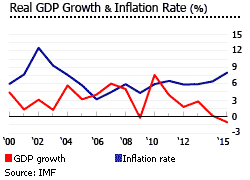 Brazil´s economy remains in deep recession and inflation continues to rise. The economy shrank by 3.8% in Q2 2016 from a year earlier, having shrunk every quarter since Q2 2014 - the country´s worst and longest recession in more than a century.
Brazil's economy contracted 3.8% in 2015, after a meagre growth of 0.15% in 2014, 2.7% in 2013, and 1.8% in 2012.
Brazil's economy grew by an average of 4.3% from 2004 to 2006 and then by an average of 5.6% during 2007 and 2008. Brazil wasn't spared in 2009, but the economic contraction was minimized at 0.3%. Real GDP growth rates were 7.6% in 2010 and 3.9% in 2011, despite the adverse impact of the Eurozone debt crisis.
The economy is expected to contract further by 3.8% this year, before stabilizing in 2017, according to the IMF.
Fitch Ratings recently downgraded Brazil´s sovereign rating into junk, in line with the other two major rating companies.
A struggling economy and high interest rates are two factors, which, in almost any economy, can be predicted to hit house prices.
A deadly combination of rising prices and slow growth is undermining the economy, the result of former President Dilma Rousseff wrongly pursuing expansionary and populist policies in the aftermath of the global recession. To boost the economy, a tax relief program was introduced, along with subsidies and protection for industry, increased social welfare benefits for low-income earners and enormous infrastructure programs.
The Central Bank of Brazil also slashed its benchmark short-term SELIC rate from 13.75% in December 2008 to 8.75% by July 2009. Brazil was swamped with consumer credit from state-controlled banks during her first term, from 2011 through 2014. These resulted in a surge in wage growth, pushing prices higher. In an effort to curb inflationary pressures, the central bank raised the benchmark interest rate nine times from 7.25% in March 2013 to 11% in April 2014. But the drawback of these contractionary monetary policies was sharp economic slowdown. After holding the key rate steady for almost seven months, the central bank decided to raise it again by 25 basis points in October 2014, and by 50 basis points in December 2014. In 2015, the central bank again raised the key rate five times to 14.25%, the highest level for almost six years. The key rate has remained unchanged since.
Inflation, meanwhile, is mounting at 8.97% in August 2016, up from 8.74% in the previous month, and nearly double the central bank's official target of 4.5%, according to the Instituto Brasileiro de Geografia e Estatistica (IBGE). Inflation is expected to stand at 8.74% by end-2016, according to the IMF.
Real slowly recovering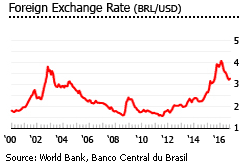 After plunging to its all-time low in January 2016, the Brazilian real is now showing some signs of improvement, largely in response to the formation of a new government. The Brazilian Real (BRL) strengthened by 24.7% in the past 9 months to reach a monthly average exchange rate of BRL3.2526 = USD1 in September 2016, making it one of the world's best performing currencies this year. Investors are lured by Brazil's high benchmark interest rate of 14.25%, more than 28 times the U.S. equivalent.
"Brazilian assets should continue advancing as interest rates remain low globally," said Vitor Suzaki of Lerosa Investimentos.
Brazil's real plunged sharply in 2013-15 as crude oil prices - the country's major export - continued to fall. From an exchange rate of BRL2.0293 = USD1 in January 2013, the real plunged against the dollar by around 50% with a monthly average exchange rate of BRL4.0553 = USD1 in January 2016.
Will Temer's planned reforms save the economy?
In June 2013 riots exploded, precipitated by a BRL0.20 (USD0.10) raise in public transport fares, and complaints about excessive spending on mega-sporting events. But the real causes go deeper. Brazil's infrastructure is in terrible shape – education is poor, public transport is terrible, state provision of ports, airports, an-0d health is of very poor quality. Many Brazilians spend up to four hours per day in traffic jams, either in their cars or on crowded public transport.
Brazil is not a poor country and the tax rates are extremely high. So the protests are better seen as an outburst of popular frustration at corruption – a protest against an intolerable situation familiar to many citizens in many other developing countries.
"Brazilians see no reason to have such bad infrastructure when there is so much wealth that is so highly taxed," noted a CNN report.
Then came the corruption scandal involving oil giant Petrobras and the country's largest engineering and construction firms. Several executives from Brazil's top builders have been indicted for the multibillion-dollar kickback scheme uncovered at Petrobas, while the investigation has implicated politicians, mostly from President Rousseff's Workers' Party.
Protests in the streets escalated, which worsened the country's already ailing economy.
In August 2016, Michel Temer was sworn in as Brazil's new president after the Senate voted to remove Dilma Rousseff. Despite his widespread unpopularity among Brazilians, the new president has signaled to implement painful reform measures, in a move to attract foreign investment and buoy economic growth. Temer's bold reforms include trimming pension benefits and privatizations of state operations from airports to sewage treatment.
Brazil's mortgage market to contract
Pro-market reforms helped greatly expand Brazil's mortgage market under former President Lula da Silva. The first big breakthrough was the introduction of fiduciary alienation, whereby the buyer becomes the owner of the property only after it has been fully paid. Meanwhile, the bank or lending institution holds ownership of property, while the loan is being repaid.
This gives banks security, if buyers default. In the past, banks were reluctant to lend to households, because Brazilian courts were biased in favour of borrowers.
Result: mortgage lending in Brazil grew by at least25% per year between 2007 and 2014. In 2013, mortgage lending grew by more than 30%, reaching a record US$46 billion, with nearly 530,000 properties financed. However outstanding home loans still represent just 8.5% of gross domestic product during the period, or the equivalent of 14% of outstanding bank credit, according to Reuters.
Brazil's mortgage market has several unique features.
The government collects Fundo de Garantia por Tempo de Serviço (FGTS) or Labor Tax Severance Fund and uses it for loans offered to low- to middle-income housing, at below-market rates.
The country also has a system of tax-free savings deposits in banks, known as SBPE (Sistema Brasileiro de Poupança e Empréstimo, the Brazilian savings and loan system). Banks are required to use part of these SBPE deposits for mortgage loans at a set rate over and a special inflation index. The FGTS and SBPE together form Sistema Financeiro da Habitação (SFH), the Brazilian financial housing system. SFH offers households an opportunity to turn higher incomes into mortgage payments, greatly increasing housing finance volumes.
According to a Warnock & Warnock study, out of a stock of 54 million housing units, around 9.5 million were financed under the SFH, administered by Caixa Economica Federal (CEF). State-owned CEF accounts for around 70% of all housing loans in the country.
However, mortgage lending is now losing steam, as interest rates continue to rise and home buyers pull back, and more borrowers fall behind on their mortgages. In 2015, mortgage lending slowed sharply, its weakest performance since 2003, according to Euromonitor.
"We are witnessing a deterioration of several economic factors that provided the sector with solid support in the past," according to Octavio de Lazari Jr., president of Brazilian mortgage association Abecip.
BCB maintains interest rate at six-year high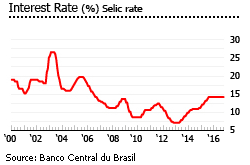 Brazil's housing boom was mainly propelled by a continuous decline in interest rates. Successful economic reforms under President Lula da Silva pushed Selic, Brazil's central bank benchmark rate, from nearly 30% in 1998, to 8.65% in August 2009.
When the financial crisis hit, the central bank cut its key interest rate to an all-time low of 7.25% in November 2012. However in 2013 the BCB changed monetary course, raising the benchmark interest rate eleven times from 7.25% in March 2013 to 11.75% in December 2014. In October 2014 the interest rate was again raised to 11.5%. During the first seven months of 2015, the benchmark interest rate was raised again five times to reach 14.25% by July 2015, in an effort to curb inflation and stem declines in the country's currency.The key rate has remained unchanged since.
Rental yields are no longer attractive
Gross rental yields - what you can earn from an apartment before tax and other expenses - have continued to move down, and in most parts of Sao Paolo and Rio de Janeiro being a landlord generates a much less attractive return-on-investment than it did a few years ago. In Rio de Janeiro, yields of 3.5% to 4.5% are typical; in Sao Paolo apartment yields are rather higher, between 4% and 6.5%. These are not very attractive returns.
Due to a surge in house prices in recent years, buying property has become increasingly unaffordable, leading many Brazilians to rent rather than own.
"In the major cities young professionals are struggling to afford the kind of prices now being asked for properties in good areas," according to Colordarcy.
Signs of"middle class reversal"?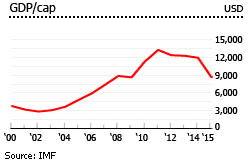 Since 2003, more than 40 million Brazilians have joined the middle class, thanks to government programs such as the social housing program Minha Casa Minha Vida, and an economic boom that boosted wages and provide more secure employment. Former president Dilma Rousseff had also pushed Brazil further on the road charted by Lula da Silva, lifting many Brazillians from poverty unto the middle class. The successful poverty reduction program has led to real average incomes rising by 9% from 2002 to 2012, according to the Instituto Brasileiro de Geografia e Estatistica (IBGE). I fact, GDP per capital also soared by 363% from US$2,860 in 2002 to US$13,234 in 2011.
In 2011, 54% of Brazilians were middle class, up from 34% in 2004, according to Cetelem BGN and Ipsos Research Institute –a total of 103 million middle class Brazilians, who account for 46% of the country's purchasing power.
The expansion of Brazilian middle class has made it real estate's target market, replacing wealthy international buyers who used to dominate the market in major cities like São Paulo and Rio de Janeiro. In recent years, developers like Cyrela (with a 10% market share in São Paulo and 25% share in Rio de Janeiro) have shifted from luxury projects, to the "economic" and "middle" segments, i.e., to middle-class buyers.
However in the past four years, Brazil's middle class are already feeling the pain of prolonged recession. GDP per capita dropped 34.5% between 2011 and 2015, to US$8,670, according to the IMF.
Rising unemployment, especially among the youth, is also a concern. During the quarter ending August 2016, nationwide unemployment rate increased to a record 11.8%, from 8.7% in the same period last year, according to IBGE. Over the same period, about 12 million people were unemployed in Brazil, up by 36.6% from a year earlier.
My Home, My Life housing program scaled down
The housing program Minha Casa Minha Vida (My House, My Life), launched in March 2009, was one of the popular federal government programs launched during former President Lula da Silva's 8-year term.
With an initially allocated budget of BRL 36 billion (USD 11.4 billion), the program aimed to build 1 million houses during 2009 and 2010 for low income families, specifically those earning up to three times the national minimum salary. By end of 2010, 1,005,028 units had been contracted, according to CEF.
The second stage of the program was officially launched in June 2011. It has a government budget allocation of BRL 72 billion (USD 22.8 billion), and targets the construction of an additional 2 million houses by end-2014. By August 2012, one million houses had been built. Former President Dilma Rousseff announced that by 2014, her administration would have contracted 2.4 million houses, added to the one million houses contracted under the previous administration.
Under the program, subsidized mortgage loans were extended to middle and lower income homebuyers through the state-owned bank, Caixa Economica Federal (CEF).
However since mid-2015, construction has been paralyzed due to lack of public funds. Then in May 2016, the multi-billion dollar social housing program was temporarily suspended, following Rousseff's removal from office. Then in June 2016, the social housing program became a target for spending cuts as the country wrestled with ballooning budget deficit and deep recession. Many Brazilians fear that the cuts, equivalent to 1.5%, will disrupt construction.
"Six million Brazilian families are homeless or living in precarious housing," said Maria Luisa Mendonca, a professor at the University of Rio de Janeiro. "For them, these cuts matter a lot."
Brazil - More data and information