Political uncertainty dampens the UK's property market
September 04, 2017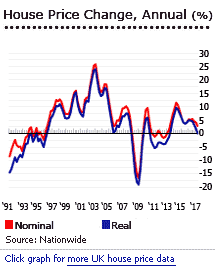 House prices in UK are still rising (though not in inflation-adjusted terms). The average house price in the UK rose by 2.8% (0% inflation-adjusted) to £209,971 (US$ 273,046) during the year to Q2 2017, based on the figures from Nationwide. Previous quarters had seen rises of 4.1% in Q1 2017, and 4.5% in Q4 2016.
In London prices decelerated sharply, with price rises of only 1.2% (-1.5% inflation-adjusted) during the year to Q2 2017. London is the second weakest region in the country after the North, according to Nationwide.
"There has been a shift in regional house price trends. Price growth in the South of England has moderated, converging with the rates prevailing in the rest of the country," said Nationwide´s Chief Economist Robert Gardner. "Nevertheless...the price gap between regions remains extremely wide."
Supply of houses to the UK´s market has hit a record low. Newly agreed sales have also fallen, as buyers have taken a more cautious stance in recent months.
The highest price rise was in East Anglia, with house prices increasing by 5.04% during the year to Q2 2017. It was followed by South West (4.43%), North West (4.13%), East Midlands (4.11%), and Northern Ireland (3.80%). A net balance of 7% of respondents in RICS´s Chartered Surveyors´ survey believed that house prices are rising, down from last month´s 17%.
The North had the weakest growth of 1% y-o-y in Q2 2017. House price growth was also weak in Wales (1.40%), and Scotland (1.72%).
Nevertheless June was a strong month, though the reasons are unclear. "At this point it is unclear whether the increase in house price growth in June reflects strengthening demand conditions on the back of healthy gains in employment and continued low mortgage rates, or whether the lack of homes on the market is the more important factor. While survey data suggests that new buyer enquiries have softened, it also indicates that this has been matched by a decline in new instructions. Indeed, the number of properties on estate agents´ books remains close to all-time lows," said Gardner.
The weakness in the government following the election is "stifling" the country´s housing market, respondents to the RICS´s UK Residential Market Survey suggested in June 2017. Around 44% of RICS respondents felt that the weakened activity in the housing market was due to the country´s uncertain political climate. Only 27% of them identified Brexit as the biggest factor for the market slowdown.
RICS´s survey respondents saw London prices softening, especially in the most expensive areas. Aside from political uncertainty, respondents in London also equally cited Brexit and changes in Stamp Duty as factors contributing to the housing market´s flat activity.
"London is slowing more dramatically than the rest of the country, as it is more exposed to changes in sentiment due to house price growth over the last 10 years and what that did for affordability," says Savills´ head of residential research, Lucian Cook.
The UK´s and particularly London´s previous dramatic house price rises were fuelled by four factors:
Immigration and population growth have been strong, especially in London.
Interest rates have been at record lows, with a large expansion of the money supply through "quantitative easing".
The City of London (London´s financial centre) continues to boom.
Construction activity remains weak (though this is less true of London). Dwelling starts rose 0.5% y-o-y to 172,740 units in 2016. Dwelling completions increased 10.4% y-o-y to 168,370 units, according to UK´s Development for Communities and Local Government.
House prices in the UK are likely to rise by about 2% in 2017, according to Gardner. Slower household spending amid rising inflation, as well as housing affordability pressures in key areas are predicted to drag house price growth and housing activity in the following quarters. In contrast, the ongoing housing shortage in the market and subdued building activity are expected to provide support for house prices.
Raising housing supply and other reforms
To address the country´s housing supply shortage, the government spelt out several plans to boost supply and other reforms in the housing market in a housing white paper published in February 2017. Some measures include:
Councils to be required to make up-to-date plans to meet housing demand;
The maximum time between planning permission and the start of building construction is to be lowered from three to two years;
Small and medium-sized developers are to be boosted through a £3 billion (US$ 3.94 billion) home building fund;
Upward extension of buildings in urban areas is to be encouraged;
The introduction of the "Lifetime Individuals Savings Account (Lifetime ISA)" in April 2017, wherein potential homebuyers can save up to £4,000 (US$ 5,259) a year, and the government will add a 25% ´bonus´ (or a maximum of £1,000) every year, until the individual turns 50 years old. However, the 25% bonus can only be accessible if the money is spent on: (1) individual´s first home; (2) if the individual is already 60 years old; (3) if the individual is terminally ill with less than 12 months to live;
Standard tenancies are to be made more ´family-friendly´ by raising the tenancy length to three years or more in new build homes;
Letting agents´ fees are banned.
The housing white paper also fleshed out some details of the Starter Homes policy. Starter homes are only to be available to households with combined incomes below £80,000 (US$ 105,180), or £90,000 (US$ 118,327) in London. Starter homes must cost a minimum of 20% less than the market value, and maximum price after the discount will be £450,000 (US$ 591,637) in London and £250,000 (US$ 328,687) elsewhere.
Buyers of starter homes will need a mortgage. If the property is resold within 15 years, some of or all of the discount must be repaid. Also, the government has scrapped the requirement that new build sites must have at least 20% starter homes; instead, there is a "clear expectation" that at least 10% of newbuild sites shall be affordable home ownership units.
Housing Boom and Bust
UK property prices saw huge rises from 1996 to 2007:
Prices in London rose 289.1% (228.1% in real terms) during this period.
Prices in Northern Ireland rose by 393.2% from Q3 1996 to Q3 2007 (315.9% in real terms), the highest rise among all the UK regions
Price increases in other regions during this period ranged from 187.9% (142.8% in real terms) for Scotland, to 245.5% (191.3% real) for the Outer Metropolitan Area.
The national index rose 240.9% (187.5% in real terms) over the same period (all figures from Nationwide).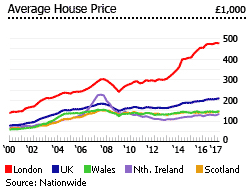 In early 2007 interest rates were raised, and lending conditions tightened. House price falls accelerated in H2-2008, due to the global financial meltdown. The biggest drop occurred in Northern Ireland where house prices fell by 39.2% (-41.9% real). House price falls in other regions ranged from 14.1% (-17.8% real) for Scotland, to 21.7% (-25.1% real) in East Anglia. London house prices dropped by 19.8% (-23.3% in real terms).
London prices are now rising more slowly than the rest of the UK
In Q2 2017, the average home in London is currently worth about 149% more than the average home located elsewhere in the UK, with the average difference around £285,000 (US$ 369,886), according to Nationwide.
The gap between London and the rest of UK is the widest it has ever been, both in cash and percentage terms. Although London prices have always been higher, the gap was less than 40% before 1995.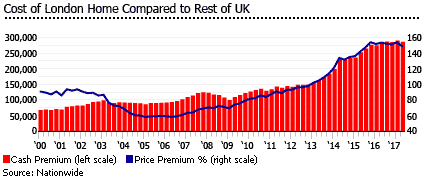 London prices increasingly diverged during the 2000s, accelerating sharply in the years after the financial and eurozone crises in 2008-2009. In Q2 2017, however, London prices rose slower by 1.2% y-o-y to an average of £478,142 (US$ 618,740), in comparison to the 3.2% price growth in the wider market, according to Nationwide.
London´s average house price is currently 58.1% higher than its peak in 2007, at £478,142 (US$ 618,740). Several other regions have higher property values than their 2007 peak prices:
Outer Metropolitan London is 40.1% up on 2007.
Outer South East is 27.6% up on 2007.
East Anglia is 19.9% up.
The South West is 16.2% up.
East Midlands is 10.8% up.
West Midlands is 9.5% up.
The remaining regions have not yet surpassed their 2007 peak values. Northern Ireland´s house prices are still 41.5% lower than at their 2007 peak.
Benchmark rate is at a new all-time low
In June 2017, average interest rates for types of mortgages with 75% loan to value (LTV) were:
1.48% for 2-year fixed rate mortgages (FRMs)
1.72% for 3-year FRMs
1.99% for 5-year FRMs
4.23% for Standard Variable Rate mortgages
2.34% for tracker mortgages (latest figure as of May 2017)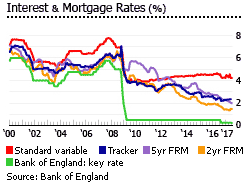 The Bank of England (BoE) implemented a rate cut in August 2017, reducing its benchmark interest rate to a new historic low of 0.25%, after seven years of maintaining its key rate at 0.5%. This latest move from the BoE, which came soon after the Brexit vote in June 2017, aimed to prevent a post-Brexit economic downturn.
The rate cut is only one part of the package of measures announced by the BoE. The other three include:
A new Term Funding Scheme worth as much as £100 billion (US$ 129.41 billion) that will provide funding for banks at interest rates close to the 0.25% base rate.
The purchase of UK government bonds worth £60 billion (US$ 77.64 billion) expanding the quantitative easing programme to a total of £435 billion (US$ 562.91 billion).
A purchase of £10 billion (US$ 12.94 billion) worth of UK corporate bonds.
Challenges facing the UK housing market
Aside from the sluggish growth of household incomes and the ongoing political uncertainty, three other factors are also slowing the UK housing market:
[1] Effects of new stamp duty surcharge
Stamp Duty rates have been sharply ramped up in recent years. In April 2016, Stamp Duty rates on buy-to-let transactions increased very significantly - greatly dampening activity.
Stamp Duty rates had been rising before this latest move.
In April 2010 a new 5% Stamp Duty rate was introduced on homes over £1 million. In March 2012, 6% Stamp Duty was introduced on homes over £2 million.
In December 2014 stamp duty structure rates were raised significantly on each band, and a new system was introduced - instead of being payable on the entire price, Stamp Duty is now calculated by cumulatively adding the rate on each bracket. So the first £125,000 of a property purchase is completely free of tax, the bracket between £125,000 and £250,000 attracts Stamp Duty at 2%. etc. At the higher ranges, the rates have been very high since that change: 10% Stamp Duty is payable on the band between £925,000 and £1,500,000, and 12% is payable above £1,500,000.
Present stamp duty rates are:
Up to £125,000 - 0%.
Over £125,000 to £250,000 - 2%.
Over £250,000 to £925,000 - 5%.
Over £925,000 to £1,500,000 - 10%.
Over £1,500,000 - 12%
On April 1, 2016, the new stamp duty surcharge of 3% on top of the current Stamp Duty Land Tax (SDLT) became effective. The higher rates apply to purchases of additional residential properties in England, Wales, Northern Ireland, and Scotland (separately announced in the Scottish Government´s Budget). First time buyers are not affected by the higher rates, nor home owners who moving from their main residence to another.
Table of Rates for Buy-to-let Properties
Up to £40,000 - 0%
From £40,001 to £125,000 - 3%
From £125,001 to £250,000 - 5%
From £250,001 to £925,000 - 8%
From £925,001 to £1,500,000 - 13%
Over £1,500,000 - 15%
Example calculations of stamp duty rates:
Home price - stamp duty payable
£250,000 - £8,800
£350,000 - £16,800
£450,000 - £24,800
£500,000 - £28,800
£750,000 - £48,800
£1,000,000 - £72,550
£2,000,000 - £212,550
Source: StampDutyRates.co.uk
The general effect is to significantly increase levels of Stamp Duty payable on buy-to-lets. On a £300,000 flat bought as a residence, the buyer will pay £5,000, but when bought as buy-to-let, as much as £14,000 is now payable (4.6%). Big difference! Charges mount further on large properties. Want to spend £1,000,000 for a normal-sized house to convert it into 5 flats? Stamp duty is £73,750, or 7.4% of the purchase price. (See effective Stamp Duty rates at different price-bands here: www.stampdutyrates.co.uk and Buy-to-let calculator).
It seems likely that many potential landlords will balk at these high Stamp Duty rates.
This is in addition to changes made in the Summer 2015 budget where landlords only receive mortgage interest relief at the basic rate of income tax at 20%, a tax change which starts from 2017.
Another change for buy-to-let investors is that from April 2019 landlords will have to pay Capital Gains Tax (CGT) within 30 days of selling a property. Currently, any CGT due gets paid at the end of the current tax year.
These moves were expected to have a significant impact on the willingness of potential buy-to-let landlords to invest. In 2017, the higher Stamp Duty rates as well as the "Annual Tax on Enveloped Dwellings", a separate tax on companies purchasing houses in UK, seems to have played a part in driving overseas landlords out of the UK real estate market. According to a study by real estate firm Countrywide released in July 2017, the share of British homes owned by overseas owners has dwindled to 5% of the total this year, from 12% share seven years ago. The number of foreign landlords in London shrank to 11% in 2017, from 26% in 2010.
"A steady increase in foreign investors´ tax bills combined with more recent falling expectations of price growth in London has led to a decline in foreign investment in buy-to-let," according to Countrywide´s research director Johnny Morris.
[2] The Panama Papers and anti-money laundering moves
Following the Panama Papers leak of April 2016 which suggested that a large amount of money laundering taking place via Panama was feeding into London´s property market, former prime minister Cameron announced in July 2016 that the UK will publish information on property owned by foreign companies and a consultation will be launched on how to improve transparency.
Said Cameron: "My message to fraudsters is: ´London is not the place to stash your dirty cash." He announced that foreign firms that own property in the UK would have to declare their assets publicly, and would have to be on a new register if they hold UK property or want to compete for government contracts.
More than 100,000 UK property titles are registered to overseas companies, with more than 36,000 properties in the capital owned by offshore firms. In total around 2,800 companies set up by Mossack Fonseca are connected to more than 6,000 title deeds on British property - mostly in London - worth at least £7 billion.
How would cracking down on such transactions affect London´s property market?
´The crackdown on foreign ownership and property investments could possibly freeze the already slowing market,´ says Stirling Ackroyd Legal CEO Emon Ahmed. In London, the Battersea Power Station Development company has held back some of it Frank Gehry and Foster + Partners designed apartments after its CEO confessed that the market had become ´quite challenging´.
Peter Wetherell, chief executive of Mayfair firm Wetherell, said potential buyers who would normally make their purchases through offshore companies may now decide to rent instead. "This latest Panama issue uncovers where wealthy people are putting or investing their money, so it going public is a massive loss of privacy for the people concerned," said Wetherell. "Some ultra- wealthy may choose to rent rather than buy and face these types of politically sensitive offshore company issues."
On June 23, 2017, a new set of money laundering regulations called "The Money Laundering, Terrorist Financing and Transfer of Funds (Information on the Payer) Regulations 2017 (the "Regulations")", were laid before Parliament. The new regulations, which came into effect on June 26, 2017, transposed the EU´s 4th Money Laundering Directive into the UK Law.
The directive, according to the legal and professional services firm Gordon Dadds, may lead to a longer buying process, higher costs, and a doubling of real estate agents´ administrative burdens. The firm claimed that the buying process could be expected to slow by up to 186 days, as the directive requires estate agents to carry out further diligence in verifying property buyers and sellers. Workloads are also expected to double as there is a need for all policies to be tailored to every client, which in effect, will also ramp up company costs for the real estate firms.
"This is going to create substantial challenges for the property sector especially given the final version of the directive has only been made public today which has left no time for banks, estate agents and the lending sectors among others to update their policies and processes alongside training staff on the new regime," according to Gordon Dadds partner Alex Ktorides. "Some agents have in excess of 100 branches and have received no prior time to implement the new processes in order to comply. For many smaller estate agents and surveyors this will be the first time they will have carried out checks on both the buyers and sellers and they are going to have to get up to speed with the regime as quickly as possible or risk facing a unannounced visit from the HM Treasury."
[3] Right-to-Buy extended
The UK government has stated its intention to extend Right-to-Buy discounts to 1.3 million housing association tenants in England, funding these subsidies by the sale of high-value council housing. Prior to the 2017 general elections, Prime Minister Theresa May and the Conservative Party have already been pushing for a new Right-to-Buy scheme.
"Giving tenants a new right to buy these homes when they go on the market will help thousands of people get on the first rung of the housing ladder, and fixed terms will make sure money is reinvested so we have a constant supply of new homes for social rent," according to Prime Minister May.
In the Global Property Guide´s view, the policy could increase downward pressure at the lower end of the UK housing market, especially in depressed areas, by giving existing tenants a financial bonanza and extra mobility, by putting their low-end housing on the market.
Help-to-Buy Scheme
On the other side of the demand / supply scale, the government has extended government Help to Buy schemes, designed to help homebuyers acquire homes. Assistance is provided through either an equity loan or a mortgage guarantee.
Through the Help to Buy Equity Loan, the government will loan homebuyers up to 20% of the full purchase price of a new-build property, provided that borrowers contribute 5% of the property price as deposit, and secure a mortgage for the remaining 75% of a property. The homebuyer is not allowed to sub-let the property and it must also be his/her only property.
The Help to Buy Equity Loan was initially intended to run until March 31, 2016, but has been extended until 2020, according to the Financial Times.
The Help to Buy Mortgage Guarantee lets the borrower buy a newly-built home or an existing property with a deposit of 5% of the purchase price. It is open to both first-time buyers and home movers for homes with purchase price up to £600,000 (US$ 1,004,760). The homebuyer is, again, not allowed to sub-let the property and it must not be his/her second home. Help to Buy Mortgage Guarantee has ended its run in December 2016.
In December 2015, a Help to Buy ISA was introduced. In this new savings scheme, a first time buyer (FTB) can save for their first home through a Help to Buy ISA account for a maximum amount of up to £200 (US$ 262.95) per month. To open an account, the FTB should make an initial deposit worth £1,000 (US$ 1,314.75). When the FTB buys his first home, the government will give a 25% cash bonus (or a maximum bonus of £3,000 (US$ 3,944.25)) in addition to the FTB´s savings. Help to Buy ISA accounts are limited to one per person, so in a case of a joint buyer (i.e. married couple) both individuals can own one ISA account.
Help to Buy has encouraged a wave of fresh entries into the property market by people who previously struggled to buy homes.
Some argue that Help-to-Buy is putting upward pressure on house prices. But Grenville Turner, chief executive of property firm Countrywide, contends "Claims that the Help to Buy scheme is causing a housing bubble are far from the truth and the facts speak for themselves".
"As a proportion of transactions both parts of Help to Buy together support only 2% of transactions in London compared with 10% in the north-west, where support is most needed. The scheme has had a positive impact on house builder confidence with many now believing that they can sell what they build, which as we know means they will build more."
The first 10 months of the Help to Buy Equity Loan scheme saw 14,823 new properties bought through the scheme, mostly first time buyers. A further 4,666 new homes have been reserved. This means that 1 in 5 (19%) of all private dwellings built in England are being sold through the scheme, according to Countrywide´s Quarterly Market Review. In some more depressed housing market areas, almost 50% was bought through the scheme. Particularly in the North East, where house prices remain well below 2007 levels, house builders have relied heavily on the Help to Buy Equity Loan scheme to sell houses.
"Up to a third of some house builders´ order books are composed of homebuyers using the Help to Buy Equity Loan scheme to buy their new home. This highlights the extent to which the scheme is supporting new house building, and the reliance of developers on it outside London and the South East to achieve sales," according to Countrywide.
This claim of Turner is supported by a more recent analysis of Richard Donnell, Hometrack´s director of research, who found that homebuilders often place their developments for Help to Buy in areas with house price declines since their peak in 2007. "Builders are using it to support delivery in weaker housing markets. Without Help to Buy, would some of these developments in some of these areas have been viable?" according to Donnell.
The Help to Buy programme has been really popular in the north-east and north-west. Over the past three years, the programme accounts for around 43% of home sales in the north-east and 39% in the north-west.
While the scheme supports home building in some areas, London, which suffers from a housing shortage, is the least benefitted in this regard since the share of Help to Buy accounts for only 11% of the total home sales in the area.
Mortgage lending is up, but sluggish economic outlook weakens growth
Gross mortgage lending for the second quarter of 2017 was 6% higher from the same period last year to £60.3 billion (US$ 78.4 billion), based on the figures from UK Finance. While total mortgage lending continues to be stable, the country´s deteriorating economic outlook is expected to weaken the mortgage market´s growth for this year.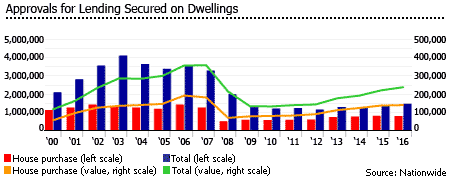 In 2016, the UK´s completed property transactions rose at a meagre rate of 0.4% from the previous year to around 1,234,880, but still representing the highest level since 2007.
"We are entering a period of belt-tightening on the part of consumers, which may become more acute if the economic outlook deteriorates further," according to Council of Mortgage Lenders (CML) economist Mohammad Jamei. Jamei pointed that housing activity and lending has been flat since beginning of 2017. "This is illustrated by property transactions averaging just over 100,000 a month for the past few months, though the recent weakening in house purchase approvals - a leading indicator of activity - could mean fewer transactions in the months ahead."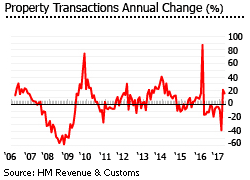 Mortgage lending´s recent growth has been supported by the rise of lending to first-time buyers, as well as to home-owner remortgage customers. During the year to May 2017, the number of loans to first-time buyers on a 12 month rolling basis increased by 8%, while home-owner remortgages rose by 10%.
In contrast, the number of loans to home movers has been declining since the beginning of the year, and was down by 7% during the same period. Due to last year´s tax changes, mortgages for buy-to-let house purchases in May 2017 sharply fell by 44%,on a 12 month basis. Buy-to-let remortgages, which had been growing in 2016, has declined in the last two months, by 2% and 4% in April and May, respectively.
RESIDENTIAL PROPERTY TRANSACTION COMPLETIONS (£40,000 OR ABOVE)

NUMBER OF TRANSACTIONS
ANNUAL CHANGE (%)
Mar-17
Apr-17
May-17
Mar-17
Apr-17
May-17
England
88,730
75,130
81,200
-40.7
20.9
15.2
Scotland
9,310
8,150
8,510
-17.8
20.6
17.2
Wales
5,320
4,060
4,440
-24.2
26.9
23.3
Northern Ireland
2,120
1,830
2,070
-36.0
26.2
25.5
UK
105,480
89,170
96,220
-38.4
21.2
15.9
Source: HM Revenue & Customs
Slower rental growth; a ban on letting agent fees
Rents went up at slower growth rates across the country during the year to June 2017. The declining rents in London heavily weakened the UK´s overall rental growth in the past few months, as supply growth outstripped demand in the area. While the increased rental supply favoured tenants, the downward expectation on rental price growth and the rising tax bills for foreign investors lowered foreign investment on rental properties. From 12% in 2010, the proportion of overseas-based landlords in UK dropped to 5% as of June 2017, according to Countrywide.
"Rental growth remained at 1.1% in June. Falls in London were off-set by higher growth across the rest of the country," according to Countrywide´s Research Director Johnny Morris. "The fall in the capital was driven by lower rents in the outer areas of London as the ripple effect from falling rents in Central London continues."
RENTS ACROSS REGIONS (New lets)

June 2017
May 2017
June 2016
June 2017 y-o-y (%)
Greater London
£1,673
£1,650
£1,687
-0.8
East of England
£931
£923
£905
2.8
South East
£1,022
£1,018
£1,011
1.1
South West
£786
£778
£752
4.6
Midlands
£665
£661
£650
2.3
North
£628
£623
£614
2.3
Scotland
£632
£626
£623
1.4
Wales
£645
£635
£644
0.1
Total
£950
£940
£939
1.1
Source: Countrywide
The UK is set to have a new Tenants´ Fees Bill, as announced in the Queen´s Speech in June 2017. The proposed bill, which bans letting agent fees, is set to be published "later this year", according to a government spokesperson.
The government believes that the ban will spare private housing tenants from paying fees amounting to hundreds of pounds. The ban is also expected to further improve transparency for tenants. According to the research of the consumer group Citizens Advice, some tenants are charged by up to £700 (US$ 913.57) worth of fees, while an average tenant pays up to £337 (US$ 439.82). The rise of fees also accelerated by 60% over the last five years, according to Citizens Advice chief executive Gillian Guy.
While the bill intends to reduce the renting costs of private renters, others commented that this would only result to higher rents. "A ban on letting agent fees will cost the sector jobs, make buy-to-let investment even less attractive, and ultimately result in the costs being passed on to tenants," according to ARLA Propertymark´s chief executive David Cox.
Weak housebuilding activity
The UK´s per capita housebuilding rate is low by international standards, and failed to respond to booming house prices during the boom, due to building regulations and planning constraints. The situation improved during the later years of the boom, but output declined again during the recession. Ironically, this has prevented the housing market suffering a large overhang of properties, a fate shared both by Ireland and Spain.
In 2016, a total of 172,740 houses were started in UK, a meagre increase of 0.5% from the previous year. The number of homes completed, on the other hand, surged by 10.4% to 168,370 houses in 2016, according to the Department for Communities and Local Government (DCLG). Researchers from the Town and Country Planning Association (TCPA) have warned that at least 250,000 new homes must be built annually to match population growth, to replace the ageing housing stock and the accumulated backlog.
Homebuilding stagnated at an average of 186,000 new units annually between 1991 and 2003, and from 2004 onwards barely exceeded 200,000 annually (222,940 in 2007). The amount of available land for housebuilding, and the long processing time for development permits, both discouraged new building. In 2008, the credit crunch combined with falling house prices reduced house building, and less than 200,000 completions took place in 2009.
A reform of the planning system, relying on local initiatives, is under way to speed the system up and expand the housing supply. However, the government´s budget constraints are putting all this under threat.
The government is targeting around 240,000 new dwellings annually until 2020. However, the target seems unrealistic, since output over the past 20 years has been around 150,000 dwellings annually.
RICS suggests that the long-term outlook inevitably involves severe housing shortages and increasing house prices.
Uncertainty still looms around Brexit negotiations, undermining UK´s economic outlook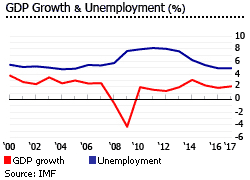 The UK showed its resilience amid the Brexit vote, as it ended 2016 with a strong growth of 1.8% from the previous year, based on the figures from the Office for National Statistics (ONS). While last year´s economic growth is slower than 2.2% in 2015 and 3.1% in 2014, the recent GDP growth was actually a better outcome than earlier forecasts of a possible recession right after the Brexit vote.
Before the UK referendum in June 2016, the economy was still recovering from the downturn brought by the global financial crisis in 2008. Although the economy showed improved numbers in 2014 and 2015, GDP growth per capita figures are less impressive. In 2016, GDP growth per capita was 1.1%, following per capita GDP growths of 1.4% in 2015, 2.3% in 2014, 1.3% in 2013, 0.7% in 2012, and 0.7% in 2011, according to the International Monetary Fund (IMF).
In general, the UK´s recovery since the recession has been anaemic, at best. In previous recessions, there was above average growth. For instance in 1983 GDP grew by 4.2%, and in 1994 by 3%. Despite that, the UK remains one of the developed nations´ fastest growing economies. Its growth mostly relies on the services sector, according to Office for National Statistics (ONS).
In the first quarter of 2017, GDP decelerated and was up by only 0.2% from the previous quarter, a decline from 0.7% in Q4 2016 and the weakest in the past four quarters. On an annual basis, the economy rose by 2%. The recent slowdown was attributed to the lower consumer spending, which was dampened by slower wage growth and higher inflation. The Bank of England (BoE) expects a 1.9% economic growth in 2017, a slight downgrade from its earlier 2% forecast.
The UK is still shrouded in uncertainty regarding the outcome of the Brexit negotiations and the recent general elections. "Although the UK´s growth prospects over the long-term remain highly uncertain, the risks are shifting to the downside. Increased uncertainty in the aftermath of the General Election and around the Brexit negotiations could result in more muted growth," according to British Chambers of Commerce´s (BCC) Head of Economics Suren Thiru.
The BCC, albeit upgrading UK´s GDP growth forecast for 2017 from 1.4% to 1.5%, also expect growth to be lower than "historical trend levels". "Higher inflation is likely weigh significantly on the UK´s near-term growth prospects. We expect inflation to rise further over the course of this year as the rising cost of imported raw materials continues to filter through supply chains. Consumer spending, a key driver of UK economic growth, is expected to slow considerably as inflation erodes real wages," said Thiru.
In May 2017, the UK´s overall unemployment rate was 4.5%, down from 4.9% a year earlier, according to the ONS.
UK´s annual inflation rate rose by 2.6% y-o-y in June 2017, slightly down from 2.9% in May, but a sharp increase from a 0.5% annual inflation rate in June 2016. The sharp rise in inflation was partly attributed to the higher costs of imported goods due to the pound´s depreciation, shortly after the referendum.
The UK held a general election in June 2017, heeding the call for a snap elections by Prime Minister Theresa May last April that was eventually ratified by the House of Commons during the same month. The recent elections, which came three years earlier than the supposed May 2020 elections, was an attempt by Prime Minister May in raising the majority to ensure political stability in the Brexit negotiations. However, the election resulted in a hung parliament as the ruling Conservative Party loses its overall majority, with a net loss of 13 seats.
In contrast, the Labour Party, headed by Jeremy Corbyn, got a net gain of 30 seats. To obtain the support in key votes, the Conservatives made a "confidence and supply deal" with the Northern Ireland´s Democratic Unionist Party (DUP), combining the Conservatives´ 318 seats and the DUP´s 10 seats to reach the 326 seats needed for a majority.
The result of the elections, with Prime Minister May ending up with fewer MPs, is what makes the Brexit negotiations now more uncertain. "One year after their referendum, we still don´t know the British position in the negotiations on Brexit and it seems difficult to predict when we will, because democracy often requires time," according to the EU´s foreign policy chief Federica Mogherini.
United Kingdom - More data and information