After six years of falling house prices, Ukraine's housing market has started to recover, despite the pandemic. Demand is recovering, despite slowing construction activity. Residential property prices, as well as land values and rents, are rising.

"With the exception of 2020, which was an outlier, demand for housing in Ukraine has been rising slowly from year to year," said the National Bank of Ukraine in its June 2021 Financial Stability Report. "Although prices are actively increasing, housing remains reasonably affordable by historical standards because house prices and household income are growing at comparable rates."

Even though Ukraine's economy is now recovering – it is expected to grow by an average of 4% over the next 4 years - one must bear in mind the structural obstacles.  Nowhere in Emerging Europe, where countries have adopted the Westernising approach, are oligarchs and the associated corruption as dominant as in Ukraine.

In April 2019, television comedian Volodymyr Zelensky won the presidential run-off in a landslide anti-corruption victory, which rather ignored his close friendship with his previous boss and friend, corrupt oligarch Ihor Kolomoisky. Now he is distancing himself from Kolomoisky and encouraging Congress to bring in an "oligarch law", to block oligarchs from financing political parties, and he promises "There will be no influence on mass media, no influence on politics, no influence on officials."

We shall see.  Ukraine's oligarchs dominate the country's economic and political life, own political parties and television stations, and hold huge influence on judges and other high-ranking government officials.

Still, despite these structural obstacles and the fallout from the recent war, Ukraine seems to be recovering.   Existing apartment prices in Kiev rose by 5.3% during the year to Q2 2021 (0.5% in real terms), to an average of US$1,087 per square metre (sq. m.) – its best showing since Q2 2013, according to S&V Development. During the latest quarter, existing apartment prices rose slightly by 0.6% (-1.7% in real terms).

Likewise, newly-built apartment prices in Kiev increased 5.2% y-o-y in Q2 2021 (0.3% in real terms), to US$975 per sq. m., also its biggest annual growth in eight years. On a quarterly basis, newly-built apartment prices rose by 0.5% in Q2 2021 (-1.8% in real terms).

Residential property prices had been falling for more than six years (Q1 2014-Q1 2020), particularly in 2014 (with prices plunging 36.6%) because of the hryvnia's devaluation due to the Russian war.

In Q1 2021, the number of housing purchases was almost one-tenth higher than the first-quarter average for five years, according to the National Bank Ukraine. Last year, purchasing activity had dropped 7.8% from a year earlier due to the pandemic.

Demand is expected to continue rising modestly in coming years. "This growth is being propelled by the gradual revival in mortgage lending and the rapid growth in household income," said the central bank. "Housing demand is also being whipped up by lower deposit rates, which are encouraging some of those who have significant savings to look for alternative ways to invest."

In January 2021, the government introduced an affordable mortgage lending program to reduce the cost of mortgage loans and simplify the criteria for borrowers. The program offers an interest rate as low as 7% - significantly lower than the average interest rate for housing loans of 12% in June 2021.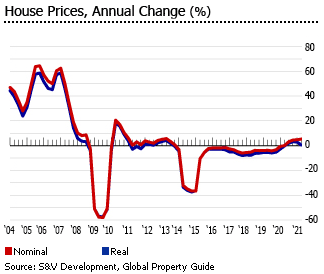 "This program could boost demand for mortgages significantly," said the central bank. "Since the banks alone bear credit risks under the program, they continue to apply their current approaches to assessing the creditworthiness of borrowers."

There are no major restrictions on foreigners buying property in Ukraine. All secondary residential transactions (i.e., resales) are in US dollars, while primary sales are quoted in hryvnia, but still paid in dollars.

Ukraine's overall economy is projected to grow by an average of 4% in the next three years, following a 4.2% contraction in 2020.