Kiev surprisingly vibrant, as Ukraine's house price decline slows
June 27, 2016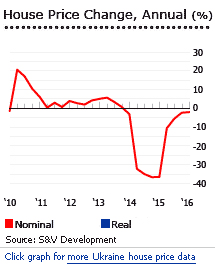 The average price of apartments in Kiev's secondary market fell by only 2% to US$ 1,174 per square metre (sq. m.) during the year to March 2016.  But this represents a massive 67.6% decline from the housing boom's September 2008 peak of US$3,627 per sq. m., based on figures from the S&V Development. Experts predict that house prices will continue to decline in 2016 due to low demand.
Yet surprisingly, inflation is down and Ukraine's economy is growing again. Despite the recent armed conflict, despite continued extensive government corruption, Ukraine is doing better than expected.
"While no one would confuse today's market with a housing boom, if you take a quick walk around Kiev's center, you will see lots of construction activity," says Tim Louzonis of AIM Realty Kiev. The volume of construction in Ukraine rose by 12.5% to UAH 57.5 billion (US$ 2.24 billion) in 2015, according to the State Statistics Service. Residential construction was up by 23.2% to UAH 13.9 billion (US$ 542.6 million), while non-residential construction rose by 10.6% to almost UAH 15 billion (US$ 585.1 million).
"Due to the hryvnia devaluation, material and labor costs for developers (mostly based in UAH) have decreased in dollar terms much more than housing prices (which are priced in dollars). So development projects continue despite the current economic malaise – instead of relying on bank financing, most of these developers are able to finance their projects with proceeds from "pre-sales" of apartments fueled by Ukrainians' in trust in real estate and Kiev's housing deficit."
In the primary market, i.e., newly-built, the average apartment prices also dropped by 2.04% y-o-y to US$ 1,055 per sq. m.. The current average price is 60% lower than June 2008's peak price of US$ 2,638 per sq. m.
The massive decline in Ukraine's house prices, which occurred in 2014 and 2015, is attributable to the Ukrainian hryvnia's loss of value due to a series of devaluations over the past two years, due to the war. This period has been a headache for realtors, with some contracts being cancelled due to buyers' inability to convert currency, while sellers refuse to accept hryvnia.
"I think that the downward trend for prices would remain and it will be seen in 2016," said Viktor Nesin, Chair of the Chamber of Realtors of Ukraine. "This will not be a slump, but I think that we will see a fall of 3-5% a month." Nesin added that the predicted price decline is due to low demand, pointing out that Kyiv's property market currently has 300 to 400 transactions per month, compared to 4,000 transactions per month in 2012 and 2013.
In December 2015, Parliament passed new tax laws, complying with Ukrainian's agreement with the IMF. This includes new amendments to the real estate tax:
The maximum threshold for real estate tax rates of the minimum statutory wage were raised to 3% from 2%. Local authorities will establish the exact rates.
A new flat rate of UAH 25,000 (US$ 992) will be applied to apartments of more than 300 sq. m. and living houses of more than 500 sq. m.
Payers of Corporate Profits Tax (CPT) are allowed to reduce the amount of real estate tax paid for commercial properties. However, in accordance to the Law's amendments, they cannot carry forward non-deducted amounts of real estate tax.
There are no major restrictions on foreigners buying property in Ukraine.  All secondary residential transactions (i.e., resales) are in US dollars, while primary sales are quoted in hryvnia, but still paid in dollars.
The hryvnia carry trade and the big boom
Why was the 2004-2008 housing boom so spectacular?  During the economic boom (2000-2007) rapid GDP growth of 8% p.a. disguised a lack of reform – wholly corrupt government, small elite, weak judiciary, lack of freedom of expression, etc. The country lived off a massive steel industry (42% of exports).
An interesting aspect of the housing boom was the hryvnia carry-trade. Transactions in the primary housing market have long been denominated in Ukrainian hryvnia (UAH) but paid in US dollars, while transactions in the secondary market are quoted and paid in US dollars.
Hence, access to real estate in Ukraine requires access to US dollars.
Much of the property speculation involved a bet that the hvyrnia peg would continue, and that buyers would be able to arbitrage relatively low US$ interest rates, against out-of-control Ukrainian property price inflation.
For a long time it worked. The hryvnia mildly appreciated as economic growth accelerated, and as foreigners invested in Ukraine. The expectation was that the hryvnia would rise, because of the economic growth and foreign investment. The logical conclusion was – borrow dollars, buy Ukrainian property. Easy money.
Foreign buyers - Britons, Americans, Emiratis, Cypriots, Kiwis and Canadians - as well as wealthy elite Ukrainians, pushed house prices up by an average of 40% to 55% p.a. from 2004 to 2007.
Currency inflows increased the money supply excessively, resulting in inflation. Ukraine experienced double-digit inflation from 2004 onwards, and in May 2008 inflation peaked at 31% y-o-y. As a result, Ukraine priced itself out of export markets, imports grew to be much bigger than exports, and the current account deficit expanded to 7% of GDP in 2008.
The 2008-2009 Ukrainian banking crisis
As the contagion from the global crisis spread  in 2008, the hryvnia lost over 50% of its value against the US dollar, leading to a loss of consumer confidence in banks and mass withdrawals.
With foreign currency loans 84% of all loans in 2009, mounting inflation and weakening currency, lines sprouted at banks, with depositors rushing to withdraw their savings. Because of this, a number of Ukrainian banks collapsed after 2008.
To prevent a further collapse, the government unveiled a bank bailout by allocating about UAH9.6 billion (US$1.2 billion) or 1% of GDP to recapitalize struggling banks like Rodovid Bank, Ukrgazbank, and Bank Kyiv. Prominvestbank, Ukraine's 6th largest bank, was nationalized in late 2008.
In late 2008, the global financial crisis affected homebuyers from US and UK, causing foreign demand to plunge. Meanwhile, demand for Ukraine's main product, steel, plummeted. Ukraine's GDP contracted 15% in 2009.
The National Bank of Ukraine (NBU) imposed limits on lending, early withdrawals of certain deposits, and foreign currency trade starting in the last quarter of 2008 to stabilize the local banking system.
The economy expanded by 0.3% in 2010, and by 5.5% in 2011.  But house price increases were sluggish.
In 2009, the average price of secondary market flats in Kiev plunged by 50.8%, while primary market's apartment prices dropped by 18.9%.
In 2010, the secondary market's apartment prices in Kiev rose 10.5%, but primary market's prices slightly fell by 0.8%.
In 2011, the average price of apartments in the capital were up by only 0.7% (secondary market) and 2.9% (primary market).
In 2012, the average price of apartments in the capital rose by 4.2% (secondary market), and 6.6% (primary market).
In 2013, the average price of apartments in the capital had a meagre increase of 0.7% (secondary market), and 0.6% (primary market).
In 2014, the average price of apartments in the capital fell sharply by 36.6% (secondary market), and 36.8% (primary market).
In 2015, the average price of apartments in the capital fell by 2.3% (secondary market), and 2.2% (primary market).
Corruption and the housing supply
One important aspect of the boom (as in other post-Soviet countries) was a genuine shortage of acceptable housing.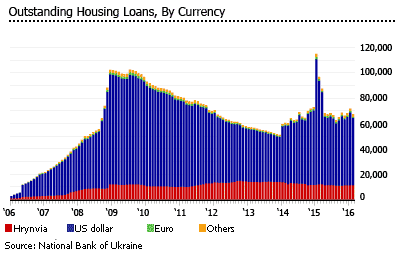 Securing a construction permit in Ukraine is mired in corruption. Those with direct ties to high ranking officials, who are prepared to pay large bribes, come out as winners in land allocations.
Based on the World Bank's 2016 Ease of Doing Business report, Ukraine was ranked 140th out of 189 countries for the ease of obtaining construction permits. Real estate developers need to obtain project documentation which includes town planning documentation, official project requirements, and the construction project itself, receipt of construction work permits and the start of the building construction.
It is not surprising that there are only a few builders in the market. New developments in major cities are typically dominated by two to three companies, whose management is directly linked to the local authorities. In Kiev, nearly 70% of the new residential buildings are built by companies that belong to the KyivMiskBud holding company, in which the Kyiv City State Administration has a large stake.
After the currency collapse came the war - and a second currency collapse
The country's tragedy is that the Orange Revolution of 2004, which forced a second Presidential election after protests and resulted in a clear victory for Viktor Yushchenko (with 52% votes) over Viktor Yanukovych (with 44% votes), never bore fruit.  Yushchenko instituted no reforms, and proved an ineffective leader. He quarreled deeply with his former ally Tymoshenko, who he saw as corrupt and accused of being a covert friend of Russia.
The result of the split in the pro-Western party was the election of a pro-Russian president, Victor Yanukovych who decided to put off an association agreement with the European Union (EU), which would have provided funds contingent on reforms. Instead, Yanukovych signed an agreement with Russia, which led to civil unrest and eventually to his ouster as president in February 2014. He was temporarily succeeded by Oleksandr Turchynov.
Following the Ukrainian revolution and Yanukovych's ouster, protests by pro-Russian and anti-revolution activists ensued in Crimea and eventually in other cities across eastern and southern Ukraine. In February 2014, Russian soldiers gradually started to take over Crimea until it eventually annexed the region on March 18, 2014.
The protests escalated into an armed conflict between the Ukrainian government and the separatist forces of the self-declared Donetsk and Luhansk People's Republics. A ceasefire, called the Minsk Protocol, was reached in September 2014, and both camps agreed to pull back heavy weaponry from the front lines. However the agreement completely collapsed in January 2015. In February 2015, a new ceasefire agreement, Minsk II, was signed.
Amidst the conflict, Ukraine held elections on May 25, 2014, with current president Petro Poroshenko emerging as victorious. Poroshenko, a pro-European chocolate tycoon, won the elections with 54.7% of votes, defeating his closest competitor former prime minister Yulia Tymoshenko, who got 13% of the votes. A snap parliamentary election was held on October 26, 2014, later than the earlier announced date of August 25, due to the ongoing war and the annexation of Crimea. In this election, the majority of seats (132 seats) were obtained by the Petro Poroshenko Bloc, it was followed by the People's Front (82 seats), and Self Reliance (33 seats).
As a result of the civil war, the currency collapsed and the Ukrainian economy contracted by 9.9% in 2015, according to the State Statistics Service, following earlier contractions of 6.6% in 2014 and 0.03% in 2013.
On February 5, 2015, the central bank announced that it would scrap its foreign currency auctions, letting the hryvnia to float more freely. This resulted in a plunge of the UAH's value by more than 30%, with hryvnia closing the day (February 5, 2015) at UAH 24.35 per USD, from UAH 16.78 per USD in the previous day.  Financial and insurance activity dropped by 27.7% and retail trade by 16.8%. Likewise, the general services sector declined by 24.4%.  The economy was also affected by stricter trade controls imposed by Russia, Ukraine's former largest trading partner.
In 2016, however, the National Bank of Ukraine expects a real GDP rise of 1.1% in 2016, followed by 3% growth in 2017. This positive outlook seems to be affirmed by the slight GDP increase of about 0.1% during the year to Q1 2016, based on the figures from the State Statistics Service - a huge improvement on the 17% y-o-y GDP decline in Q1 2015.
Ukraine's inflation significantly decelerated in April 2016, posting a single-digit annual inflation rate of 9.8%, a sharp decline from 20.9% in March 2016, and the lowest rate recorded since April 2014. The recent inflation figure also pales in comparison to 2015's inflation record of 43.3%. The steep inflation hike in 2015 was due to the currency devaluation earlier that year, and a sharp rise in communal tariffs, according to Ukrainian Finance Minister Natalie Jaresko.
The finance minister also stated that the Ukraine's inflation target of 12% in 2016 was "very realistic". "That [out of control inflation] won't be repeated this year. We have shrunken the budget deficit tremendously and we have shrunken the state oil and gas company deficit to zero and so the inflationary pressures have receded tremendously," said Jaresko.
Unemployment in Ukraine worsened in 2015 to 9.5%, the highest since 2002, based on the figures from IMF. It followed unemployment rates of 9.3% in 2014, 7.3% in 2013, 7.5% in 2012, and 7.9% in 2011.
In order to secure IMF's next loan tranche under Ukraine's US$ 17.5 billion loan, the government approved its 2016 budget with a deficit of around 3.7% of GDP, a figure agreed upon with the IMF, and a reduction from 2015's budget deficit of 4.1% of GDP. A four-year loan program worth US$ 17.5 billion, which will be given in eight tranches over 2015 and 2016, was agreed upon by IMF and the Ukrainian government in March 2015.
In December 2015, Ukraine defaulted its US$ 3 billion debt to Russia. "Considering that Russia has refused, despite our efforts, to sign an agreement on restructuring and to accept our proposals, the cabinet is imposing a moratorium on payment of the Russian debt worth $3 billion," according to Prime Minister Arseny Yatsenyuk.
"According to IMF rules, a moratorium by the Ukrainian government on the $3 billion debt repayment to Russia is in fact a declaration of Ukraine's default," said Konstantin Kosachev, chairman of the Federation Council International Affairs Committee.
Hryvnia is now a floating currency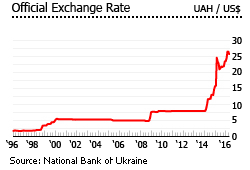 Ukraine's hryvnia is expected to become more stable in 2016 but will continue to be under pressure from the trade deficit and weak foreign currency inflows, according to Reuters' monthly survey in December 2015. On the upside, some analysts said that the hryvnia's gradual weakening would play as an important part in limiting imports and avoiding a further increase of the trade deficit.
In 2016, the International Monetary Fund (IMF) expects that hryvnia's average weighted exchange rate to be at UAH 24.1 = US$ 1. The hryvnia was one of the world's worst performing currencies in 2015, along with Azerbaijan manat, Kazakhstan tenge, Zambian Kwacha Belarusian ruble and the Argentine peso, due to the central bank's limited dollar supplies for defending the currency, caused by a delay in releasing the next part of the country's US$ 17.5 billion loan from the IMF. The IMF withheld a loan tranche worth US$1.7 billion in September 2015 due to the Ukrainian government's failure to deliver the IMF's requirements, which includes a tax system overhaul and a tougher budget for 2016.
The Ukrainian hryvnia slightly gained in April 2016, posting an average exchange rate of UAH 25.63 = US$ from UAH 26.26 = US$ 1 in the previous month.
Shrinking mortgage market
Loans for house purchases dropped by 30.5% to UAH 67.37 billion (US$ 2.63 billion) during the year to March 2016. Only 17% of housing loans were denominated in UAH by end of 2015, while 79% were in US dollars making the country highly exposed to foreign currency risk.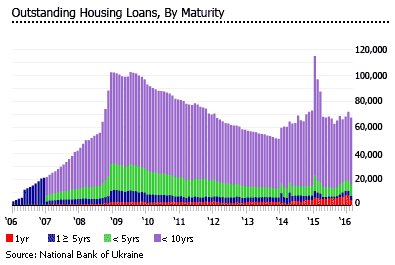 The country's mortgage market shrunk from its peak of 10.4% of GDP in 2009 to around 3.3% in 2015, according to the National Bank of Ukraine. The 2008 financial crisis led to the collapse of the mortgage market, with housing becoming unaffordable due to higher mortgage rates.
"Currently "nobody" in Ukraine uses a local mortgage to finance a home purchase (by some estimates less than 2% of home sales in 2015 involved the use of a mortgage)," says AIM Realty Kiev's co-founder Tim Louzonis. "Banks in Ukraine have scaled back lending and local mortgage interest rates are high. Today the vast majority of real estate purchases are "cash" sales. Ultimately a healthy mortgage market has the potential to offer more people access to Ukraine's housing market and raise prices, but this day is far away. Many obstacles stand in the way, including: lending risks (currency, credit, interest rate, etc.), no effective mechanism for assessing property values, lack of a mortgage-backed securities market, lack of an electronic land inventory, weak foreclosure procedures and an unreformed judicial system."
The mortgage market was stagnant in Q1 2016 according to the National Bank of Ukraine's Q2 2016 Lending Survey, due to the negative expectations about the economy, exchange rate, and inflation. However  in Q2 2016, the survey's bank-respondents expected "a gradual revival of demand for mortgage loans, but less significant than for consumer loans".
High interest rates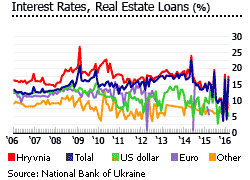 Banks in Ukraine are only willing to lend at a very high premium in local currency.  Hryvnia mortgage interest rates were 17.5% in March 2016. However, interest rates on US$-denominated housing loans fell to 5.3% in March 2016 from 7.4% in the previous month and from 9.8% in March 2015, according to the National Bank of Ukraine.
"As of late 2015, borrowing costs for mortgages in Ukraine are prohibitively high – fixed rates that on average are 25%+ per year. Several factors contribute to this phenomenon.  High inflation and lack of trust in local banks keep rates paid to depositors high. These high deposit rates increase costs of funds for banks and drive mortgage rates higher," said Tim Louzonis of AIM Realty Kiev.
Interest rates on housing loans in Ukraine are usually fixed for the entire loan term. In 2015, 85% of loans had loan terms of 5 years or more, 74% of which are loans with 10 years or more.
However, housing loans are frequently prepaid before maturity, and it is not uncommon that a 10-20 year loan is paid within 3 – 5 years.
"Nowadays homebuyers seek loans instead of traditional long-term mortgages, opting for bridge financing where they already have 80-90% of a property's value in cash and intend to repay their loan in 6-12 months," according to Louzonis.
Rents in Kiev
Rental rates have fallen by as much as 50% since the onset of the global crisis. Most rent quotations have switched to the national currency, hryvnia, to protect landlords from currency fluctuations. There are already signs of recovery, but demand is still relatively low.
In Kiev, rents are more than twice Ukraine's average. In May 2016, the average rent for a one-bedroom Kiev apartment costs around UAH 7,693 (US$ 300) per month, according to S&V Development. Two-bedroom apartments can be rented for UAH 10,437 (US$ 407) per month, while three-bedroom apartments have an average monthly rent of UAH 12,488 (US$ 487).
In Odessa, a one-bedroom can be rented for UAH 3,000 (US$ 117) per month, excluding utility costs (which should be paid by the tenant separately). In Donetsk, it is possible to rent an apartment in any district within the city for over UAH 1,000 (US$ 39) per month, according to Zagorodna.com.
In the central area of Nikolaev, a one-bedroom apartment can be rented for UAH 2,000 (US$ 78) per month. In Lviv, which is considered as the capital of Western Ukraine, an apartment in the city's central area can cost around UAH 3,000 (US$ 117) per month.
Ukraine - More data and information