House prices have been stabilizing in Ukraine as the hryvnia has steadied, and as the economy has begun to recover - and though the trend is still down, the decline in house prices has recently been much more gradual.

Secondary market apartment prices in Kiev fell by 3.3% during the year to Q2 2017, to an average price of US$ 1,131 per square metre (sq. m.). Newly-built apartment prices fell by 3.3% y-o-y to an average of US$ 1,016 per sq. m., down 61% from their peak of US$ 2,638 per sq. m. of June 2008.

This followed a massive decline in house prices in 2014 and 2015, attributable to the Ukrainian hryvnia's loss of value due to a series of devaluations over the past two years due to the war. House prices are 68.8% below the September 2008 peak of US$3,627 per sq. m, according to S&V Development.

"Despite the year-on-year drop, available figures indicate that apartment sales actually picked up in 2016. Registered sales-purchase agreements for the first six months of 2016 were about 15% higher than in the same period in 2015," says AIM Realty Kiev's co-founder Tim Louzonis.

There has also been increased interest in Kiev's properties from foreign investors, although many have postpone their purchases until 2017.

"There are no obvious reasons to expect a significant rise in rental rates or sale prices in 2017, but much will depend on the hryvnia exchange rate," says Louzonis. "The Ukrainian real estate market is not particularly hot right now, but there are reasons to be cautiously optimistic about the prospects for the coming year."

The Ukrainian economy is recovering from a deep recession, with GDP rising by 2.3% in 2016, according to the State Statistics Service. This followed economic contractions of 9.8% in 2015, 6.6% in 2014, and 0.03% in 2013.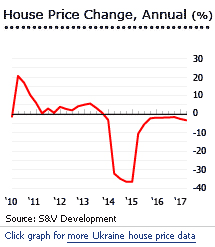 In 2017, properties with sizes exceeding 60 square metre (sq. m.) (for apartments) and 120 sq. m. (for houses) will be subjected to a real estate tax rate of up to 1.5% of the minimum monthly salary for each exceeding sq. m., down from the previous maximum rate of 3%. The reduction was due to the impact of the increase of minimum wages from UAH 1,378 to UAH 3,200 in the beginning of 2017. Thus, for an extra 1 sq. m., the property owner will now pay a maximum annual tax of around UAH 48, up from a maximum tax of UAH 41.34 in 2016.

While the new tax rate applies this year, the property taxes due for 2017 will be paid by Ukrainians in 2018.

There are no major restrictions on foreigners buying property in Ukraine.  All secondary residential transactions (i.e., resales) are in US dollars, while primary sales are quoted in hryvnia, but still paid in dollars.


Analysis of Ukraine Residential Property Market »