The Swedish housing market is now cooling rapidly, amidst falling property demand and construction activity, coupled with slowing economy.

During 2022, the national house price index fell by 3.33%, in stark contrast to y-o-y increases of 15.78% in 2021, 10.26% in 2020, and 3.9% in 2019, based on figures from Statistics Sweden. It was the country's worst showing since 1993. In fact, when adjusted for inflation, house prices actually declined by a huge 13.35% last year.

Quarter-on-quarter, nationwide house prices dropped 5.65% (-8.52% inflation-adjusted) in Q4, the biggest quarterly decline in three decades.

"The pandemic initially led to uncertainty on the housing market, although it quickly recovered. Strong demand, above all for single-family homes and larger apartments, led to significant price increases towards the end of 2020 and throughout 2021," said the Swedish Bankers' Association in its 2022 Mortgage Market report. "The increasing inflation and in particular the increasing mortgage interest rates during the spring of 2022 have resulted in the mortgage market starting to cool down and in housing prices starting to fall during the second quarter of 2022."

By region:

Greater Stockholm house price index fell by 5% y-o-y in 2022 (-14.8% inflation-adjusted), a sharp turnaround from annual increases of 16.3% in 2021 and 11.9% in 2020, according to Statistics Sweden. It was the biggest fall seen in the region since 2018.
Greater Göteborg house prices declined by 4.5% during 2022 (-14.4% inflation-adjusted), following annual rises of 17.1% in 2021 and 6.2% in 2020. It was the region's worst showing in 29 years.
Greater Malmo house prices fell by 5.3% during 2022 (-15.1% inflation-adjusted), in contrast to y-o-y increases of 18.1% in 2021 and 11.6% in 2020. It was the first annual decline in a decade.

Demand is now falling rapidly. During 2022, nationwide home sales declined by 8.7% y-o-y to 55,010 units in 2022, according to Statistics Sweden. This followed annual increases of 6.7% in 2021, 0.4% in 2020 and 2.9% in 2019.

Sweden's housing market is expected to remain subdued this year, amidst continued economic downturn and stubbornly high inflation.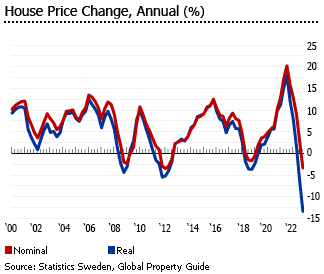 Sweden's overall economy is slowing, too. The economy grew by a modest 2.4% during 2022, a slowdown from the previous year's 5.1% expansion, as private consumption was constrained by high inflation, which eroded real disposable incomes, and the increasing burden of mortgage loans as the central bank continues to tighten monetary policy.

There will be a mild recession in 2023, according to both the International Monetary Fund (IMF) and the European Commission, which reflects a slowdown in private consumption as households continue to struggle with high inflation and increased debt servicing costs. Overall, the IMF expects the Swedish economy to contract by 0.3% this year while the European Commission projects a slightly bigger decline of 0.8%.