Serbia under new leadership
July 15, 2014

Few people in Serbia would put property prices at the top of their list of worries, though house prices were down by 4.1% (-8.1% in real terms) on the year, according to the Statistical Office of the Republic of Serbia.

Economic and political issues are much bigger worries in this country, which has still not fully emerged from the bad old days.

Serbia still has massive unemployment (21%), a very low standard of living (average net salary EU 383/month), massive corruption, and an economy in large part stuck in the Communist era. Over the past 5 years there has been zero economic growth, though Serbia's economy grew by 2.5% in 2013, according to the National Bank of Serbia.

Little economic growth is expected in 2014.


Analysis of Serbia Residential Property Market »
Rental incomes in Serbia - in Belgrade, rental yields range from 4.20% to 6.20%
Property prices in Belgrade have continued their downward momentum, which we noted last year. Square metre prices of apartments in Belgrade, particularly smaller apartments, have continued to fall, except in the lowest-cost areas we surveyed, Vozdovac and Zvezdara. Rents have also fallen throughout Belgrade.

Rental yields of apartments have fallen somewhat, except in the most expensive district (Savski Venac), where yields have improved. This district, and Novi Beograd, now have the best yields in Belgrade (rental yields are a measure of the rent obtained by letting the property, divided by the current cost of buying the property).

Square metre prices in the prime area of Savski Venad range from €1,582 to €2,050 - compare this with three years ago, when they ranged from €2,067 to €2,612. So there has been a significant fall. Average rental yields are moderately good, at from 5.20 6.20%.

Square metre prices in New Belgrade range from €1,351 to €1,531 - compare this again to two years ago, when square metre prices here ranged from €1,735 to €2,022. Average rental yields are also moderately good here, at around 5.80%.

The cheapest apartments remain those in Vozdovac and Zvezdara, with average square metre prices of €1,320. The values of these apartments have fallen compared to two years ago. Yields here are moderate, with an average yield of around 5.00%

Round trip transaction costs when buying residential property are moderate to low in Serbia. Residential property transaction costs analysis in Serbia and Residential property transaction costs in Serbia, compared to the rest of Europe.
Serbian rental income taxes are moderate
Rental Income: Net rental income earned by nonresidents is taxed at a flat rate of 20%, withheld by tenant.

Capital Gains: Capital gains realized by nonresidents from the sale of Serbian property are taxed at a flat rate of 20%.

Inheritance: First degree relatives (spouse, children, and parents) are exempt from inheritance tax.Inheritance tax for other beneficiaries is imposed either at 2% or 1.5%.

Residents: Residents are taxed on their worldwide income at different rates, depending on the type of income. Complementary income tax is levied if the resident's taxable income exceeds a certain threshold.
Low buying costs in Serbia
Roundtrip transaction costs, i.e., the total cost of buying and selling a property, are around 5.56% to 6.55% of the property value. Transfer tax is around 2.5% of the property value. The real estate agent's commission is about 3%. However, newly built dwellings attract 8% VAT instead of transfer tax, bringing transaction costs up.
Tenancy laws
Research is ongoing.
Little growth is expected in 2014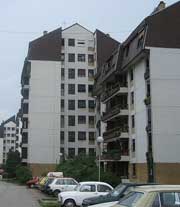 Serbia's economy grew by 2.5% in 2013, after a recession in 2012 (-1.5%). In 2011 growth was 1.6% and in 2010 1%, after a 3.5% GDP contraction in 2009.
During the first quarter of 2014, economic activity actually fell by 0.3%. The Ministry of Finance expects growth of from 0% to 0.5% GDP contraction in 2014, partly depressed by the aftermath of the destructive floods that occurred last May.
Serbia's unemployment was 20.8% during the first quarter of 2014.
The public deficit in 2014 is likely to be around 4.6% of GDP at RSD 183 billion (US$ 2.2 billion), slightly lower than 4.7% in 2013. The 2014 austerity plan includes reductions in subsidies and public administration costs, a tax raise, and a higher retirement age for women.
The Kosovo issue still has the potential to cause a lot of damage. After Montenegro voted for independence in 2006, the Union of Serbia and Montenegro was officially dissolved - the last remnant of the former Yugoslavia, which once included Bosnia and Herzegovina, Croatia, Macedonia, Montenegro, Serbia and Slovenia.
Serbia's long history of conflict and revolutions, however, is far from over. Kosovo is currently administered by the United Nations after violence flared up in 1998. UN-sponsored talks on the status of Kosovo are continuing.
As part of the conditions for Serbia's EU candidacy, normalization talks between Serbian Prime Minister Ivica Dačić and Kosovo Prime Minister Hashim Thaçi, mediated by the European Union, started on October 19, 2012 in Brussels.
In April 19, 2014, after ten rounds of talks mediated by the EU, the two governments signed the Brussels Agreement committing both parties not to "block" or encourage others to "block" the other side's progress toward the EU.
Although Kosovo's independence is still unrecognized by Belgrade, part of the deal is that a special police commander and an appeal court will be established for the Serb minority in Kosovo.