Fueled by very low interest rates, Russia's housing market continues to strengthen. The Central Bank's proactive interest rate policy to counter the economic repercussions caused by the COVID-19 pandemic is pushing up the housing market.

The nationwide price index for resale apartments rose strongly by 8.08% during the year to Q2 2020, following y-o-y rises of 7.12% in Q1 2020, 6.56% in Q4 2019, 8.09% in Q3 and 6.91% in Q2, according to the Federal State Statistics Service (Rosstat).

When adjusted for inflation, the price index for resale apartments increased 4.82% during the year. Quarter-on-quarter, resale prices rose by 1.37% in Q2 2020 (-0.2% inflation-adjusted).

In St. Petersburg, resale apartment prices surged by 16.19% y-o-y to Q2 2020, an improvement from the previous year's 14.6% growth and its best showing since Q2 2009. Inflation-adjusted prices rose by 12.69%.
In Moscow, the price index for resale apartments rose by a modest 2.39% during the year to Q2 2020, a slight slowdown from the prior year's 3.16% growth. Inflation-adjusted apartment prices fell slightly by 0.7% y-o-y.

House prices plunged nationwide by 12.7% (-47% inflation-adjusted) from 2010 to 2017. Then in 2018, the housing market started to pick up.

Residential investment in Russia totaled RUB 55 billion (EUR 595 million) in 2019, up by a whopping 70% from RUB 33 billion (EUR 357 million) in 2018, according to CBRE.

Surprisingly, strong demand has continued this year despite the pandemic. In the second quarter of 2020, real estate investment in the residential segment soared 35% y-o-y to RUB 31 billion (EUR 335 million), according to CBRE.

"Purchasing was led by developers including PIK, Sberbank investment, Sminex, INTECO, Akvilon and some others, all of which acquired residential development sites in Moscow," noted CBRE. "Similar activity by Setl Group, Legenda Group, RBI Group and LSR Group and some others was observed in Saint Petersburg."

Moscow remains Russia's dominant market, accounting for around 88% of real estate investment volume in both H1 2020 and Q2 2020. In St. Petersburg, 0n the other hand, activity has weakened, accounting for just 12% of sales volume in H1 2020 as compared to 33% in H1 2019.

The share of foreign real estate investment has continued to decline, falling to a meagre 1% in Q2 2020, from 6% in the previous quarter.

Both locals and foreigners can own landed properties, according to the Land Code of 2001. The legislation was extended to Moscow in January 2006.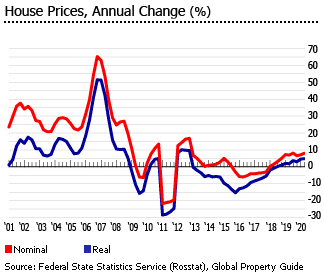 Russia's GDP shrank by 3.8% year-on-year in Q3 2020 as the country took a hit from COVID-19 as well as a fall in oil prices, but this was an improvement from a contraction of 8% in Q2 2020. The Economy Ministry of Russia recently upgraded its 2020 economic forecast to a contraction of 3.9%, from a 5% fall. The International Monetary Fund (IMF) expects the Russian economy to contract by 4.1% this year.