House prices in Russia are still falling
September 04, 2017
There are signs of hope, as the Russian economy expanded by 2.5% during the year to Q2 2017. But resale apartment prices fell by 2.3% over this period, according to the Federal State Statistics Service (Rosstat). When adjusted for inflation, the price index for resale apartments plunged by 6.23%.
In Moscow, the price index for resale apartments fell by 2.64% during the year to Q2 2017. Inflation-adjusted apartment prices was down by 6.56% y-o-y.
In St. Petersburg, resale apartment prices slightly dropped by 0.62% y-o-y to Q2 2017 - a 4.62% decline when adjusted for inflation.
"Last year the economic situation was worse, the value of the rouble was lower, the price of oil was lower and GDP was worse," said a global adviser surveyed by PricewaterhouseCoopers (PwC) in Emerging Trends in Real Estate 2017.
"[But] everything is very, very slow for us right now, and while a recovery looks like it's on its way, it is coming through very slowly."
The PwC survey however noted that local advisers are "less gloomy" as compared to their international counterparts.
The same sentiment was echoed by the Internet portal irn.ru. Irn.ru doesn't expect a sharp house price drop to happen - but a gradual price decline of 5% to 15% this year.
There's been a reorientation of buyers from the secondary to the primary market. This phenomenon is very noticeable in areas with high shares of old housing stock along with a lot new construction. The preference for new apartments has been boosted by the higher quality of many newer apartments, and by generous mortgage conditions for new apartment buyers. This has led to the drop of secondary housing values below newbuild costs in some cities such as Moscow, Belgorod, Murmansk, Arkhangelsk, Novosibirsk, and Leningrad region
"In the 2nd quarter, the trend of the first three months of the year has developed - an outflow of buyers from the regular market to primary," notes Pavel Lutsenko, general director of the portal Mir Kvartir. "The continuing fall in price tags is, of course, [also] the result of a decline in household incomes and a further reduction in effective demand".
Both locals and foreigners can own landed properties, according to the Land Code of 2001. The legislation was extended to Moscow in January 2006.
Russian property prices are attracting foreign buyers
Although the Russian ruble has stabilized since last year, the currency has significantly devalued against the dollar over the last few years, halving from around RUB 30=1US$ in 2013, to around RUB 60 = 1US$ today.
The decline in the ruble means a strong tourism market. Also, with most developers of luxury apartment complexes setting their prices in rubles, Russian properties are increasingly attractive for foreign currency buyers.
According to the Internet portal irn.ru, the average price for a Moscow apartment on August 28 was 167,000 rubles per sq. m., slightly lower the RUB 175,000 per sq. m. a year earlier. The average dollar price, on the other hand, has risen slightly to US$2,822 per sq. m., from around US$ 2,700 per sq. m. last year, sharply lower than three years ago (2014), when dollar prices were just under US$5,000 per sq. m. (The portal calculates the average price based on housing offers, without counting luxury or non-standard dwellings in its calculations, and corrects the final figure using the price of actual transactions).
The steady performance of luxury housing market in St. Petersburg is attributed to foreign demand by Vera Serezhina, division director for strategic marketing and market research at RBI. In 2016, the sales volumes for prime residential properties in St. Petersburg went up by 7%, according to Knight Frank.
ʺWe witnessed a significant pace of sales in prime and business class in the first three quarters of last year (2016) despite the current downturn," according to Ekaterina Nemchenko, Knight Frank St. Petersburg's Head of Prime Residential Real Estate Department.
"The demand for flats less than US$ 500,000 became stronger by 17%, while flats from US$ 0.5-1 million were 14% less sold. At the same time, there appeared transactions with flats costing US$ 2-3 million, [which were] not registered in 2015."
Deals in the premium segment are overwhelmingly facilitated by installment payments. Mortgages are extremely rare, says Lyudmila Teor, head of  marketing for Solo Group.
Real estate investment activity also increased in the first half of 2017. "Investment activity continues to recover along with the rental market stabilization. There is a noticeable improvement in the presence of foreign investors. Western, Asian and Middle Eastern companies are interested in quality Russian assets. Fosun Group became the first Chinese investor into Russian real estate assets since 2010. We also expect a number of deals with foreign players to reach advanced stages by the end of the year," according to Evgeniy Semenov, Regional Director, Head of Capital Markets, JLL, Russia & CIS.
How the previous commodity cycle impacted Russia's housing market
From 2000 to 2007 Russia experienced a massive housing boom, with secondary market prices skyrocketing by 436% while primary market prices rose 362%.
The country fell deep into recession in 2009, with GDP contracting 7.8%, after global energy prices dropped. It was Russia's deepest recession in 15 years. The recession was followed by a recovery, with Russia's GDP growing by 4.5% in 2010, 4.3% in 2011 and 3.4% in 2012.
The recovery was followed by a 1.3% and 0.6% slowdowns in 2013 and 2014, respectively, the lowest economic expansions since 2009.
In nominal terms, apartment prices in Russia suffered a sharp dip from the second quarter of 2009, lasting just over two years. House prices began to improve in 2012, both in nominal and real terms, with prices rising by 12.10% y-o-y during the year to Q4 2012 (5.23% inflation-adjusted). Inflation-adjusted prices started to decline again in Q3 2013.
A more recent global oil price crash, add to that the economic sanctions imposed by the US and the EU, has led Russia to another economic recession from 2015 to 2016. During those period, house prices in real terms started plunging in double digits, averaging at 12.3% y-o-y from Q2 2015 to Q3 2016. inflation-adjusted house price declines have slowed since Q4 2016.
Central Bank key rate now 9%, but a rate cut is likely in H2 2017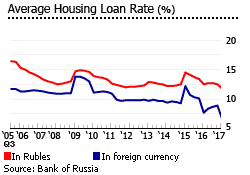 The Central Bank of Russia (CBR) maintained its key interest rate at 9% in July 2017, after three consecutive rate cuts this year. The central bank noted that inflation is still close to the target, while economic activity is rebounding.
The CBR will continue conducting a "moderately tight monetary policy" to keep inflation near the 4% target. However, the CBR also hinted more easing by the end of the year. "The Bank of Russia sees room for cutting the key rate in the second half of 2017. While making its decision hereinafter, the Bank of Russia will assess inflation risks, the inflation dynamics and economic developments against the forecast."
In July 2017, Russia's annual inflation decelerated to a five-year low of 3.9%, a sharp fall from 7.2% in the same month last year, according to the Federal Statistics Office (Rosstat).
"The sharper-than-expected fall ... means that the central bank, having paused its easing cycle last week, looks set to cut interest rates at next month's Board meeting," says Capital Economics.
The central bank started tightening its monetary policy in late 2014, raising its key rate to a peak of 17% in December 2014 to mitigate inflation pressures brought by a weaker currency and the imposition of economic sanctions by the US and EU.
Mortgage interest rates are at record lows
In the first half of 2017, total outstanding housing loans in Russia surged by 15% y-o-y to RUB 765 billion (US$ 12.76 billion), according to the Agency for Housing Mortgage Lending (AHML). Most of the mortgage loan increase occurred in Q2, when new mortgage lending hit a record high in May (up by 39% y-o-y), followed by another strong rise in June. (Note that it was only in 2006 that the laws underpinning mortgage-backed securities were introduced, allowing banks to refinance housing loans for the first time).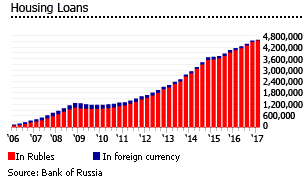 The current rise in mortgage lending is attributable to falling interest rates. In May, the average interest rate for ruble-denominated mortgage loans was 11.3%, down from last year's 13.1%. Foreign currency loan rates fell to 6.6%, from 8% in May 2016. In June, rates of top 15 mortgage lenders fell to between 10.2% and 10.9% in the primary and secondary markets, respectively, and the AHML implemented its first-ever single digit interest rate of 9.75%.
After declining in 2015, Russia's mortgage market recovered in 2016 with mortgage loans increasing by 27% y-o-y to RUB 1.5 trillion (US$ 24.6 billion), according to AHML. This was attributed to the state program that subsidizes mortgage loan rates intended for acquiring housing under construction. Aside from that, the banks' mortgage portfolio quality has improved as loans in foreign currency gradually fell. As of June 2017, ruble-denominated overdue loans went up by 32%, while overdue foreign currency loans sharply dropped by 57%, indicating that the restructuring of banks' foreign currency-denominated loans was a success.
Rental yields in Moscow and St Petersburg are poor
Gross rental yields in Moscow's upper-end areas are quite low, ranging from 2.92% to 2.95%, based on Global Property Guide research in June 2015. Monthly rents in Moscow's elite areas range from €26 (RUB 1,833) per sq. m. to €32 (RUB 2,240) per sq. m.
In St. Petersburg, a 120 sq. m. apartment can generate a higher yield of up to 3.01%. However, bigger-sized 250 sq. m. apartments could have lower yields of up to 2.62%. Monthly rents in St. Petersburg's elite areas are inexpensive than in Moscow, ranging from €12 (RUB 828) to €14 (RUB 990).
New property laws have caused anxiety
From January 1, 2014 the cadastral value of real estate has been used in calculating tax, replacing the inventory value approach. This may mean a higher tax and rent burden for buyers and renters, as cadastral values of many land plots may have exceeded their market values, given that the mass valuation criteria used for revaluation in 2012 did not take into account land characteristics.
A tax rate of 0.1% has been imposed on real estate properties with cadastral value around RUB 300 million (US$ 8.6 million) or less since January 1, 2015, while residential properties with cadastral value higher than RUB 300 million have tax rates ranging from 0.5% to 1%, according to Knight Frank.
Russia's economic crisis
The Russian economy has had a rough time over the past three years. Following slower growth in 2014, the country's GDP contracted by 2.8% in 2015 and by 0.2% in 2016, according to the IMF.
A brief snapshot of key events:
First, a catastrophic collapse in the price of oil, of which Russia is a major producer
Then, Russia's intervention in Ukraine, which caused the country to be placed under an economic embargo
The ruble then collapsed. The ruble devalued to an all-time low (US$ 1 = RUB 85.91) on January 21, 2016
Rapidly rising inflation followed; inflation went up to 15.5% in 2015
The central bank raised the key interest rate in six rapid steps to 17% in December 2014
Russia sovereign debt was then downgraded to "junk status" (BB+) by Standard & Poor's (S&P), a move followed a month later by Moody's
Low incomes combined with skyrocketing prices have pushed millions of Russians into poverty since 2014. Russia's economic downturn prompted ordinary Russians to protest against the economic crisis, which is a rare sight in the country. In 2015, real wages in Russia fell by 9.5%, to an average of just over RUB 30,300 (US$ 385) per month, according to official data.
Russia's poverty rate reached a peak of 16% of the population in Q1 2016, up from 11.2% in 2014. As of Q4 2016, almost 20 million Russians were living on less than 9,691 rubles (US$ 171) per month or roughly 13.5% of the population.
Economic recovery is underway in 2017
The Russian economy expanded by 2.5% during the year to Q2 2017, following y-o-y gains of 0.5% in Q1 2017 and 0.3% in Q4 2016, based on a preliminary estimate by the Federal State Statistics Service (Rosstat).
"Growth in both the construction and industrial sectors picked up sharply, while retail sales growth returned to positive territory. Agriculture was the only key sector to contract in the second quarter," noted Capital Economics.
The World Bank expects the economy to grow by 1.3% in 2017, with the aid of the country's improving consumption. The IMF predicts 1.4% growth in 2017 and 2018 due to better financial conditions and stabilization of oil prices.
Despite the positive economic outlook for 2017, the country still faces structural and policy obstacles, making its economic recovery fragile, according to the OECD. These risks were also cited by the credit rating agency Standard & Poor's (S&P) even as it revised Russia's outlook from stable to positive and retains Russia's sovereign credit rating at "junk status" (BB+).
"There are some issues on the horizon. One is the possible new round of sanctions, another is the oil price, a third is whether this recovery in Russian GDP growth is going to be sustained," according to Ravi Bhatia, S&P Global's director for sovereign and international public finance ratings.
As of September 2, Brent crude, the global benchmark for crude oil prices, was trading at US$ 52.75 per barrel, while the US benchmark West Texas Intermediate traded at US$ 47.35.
Unlike oil prices which have been stabilizing since the beginning of this year, the other underlying risk to the Russian economy - economic sanctions - persist. In June 2017, the US Senate has approved a legislation which imposes new sanctions on Russia due to its involvement in the 2016 presidential elections, as well as to further punish the country for its support for the Syrian government and annexation of Crimea. This legislation also prohibits the White House in easing or lifting sanctions without an approval from the US Congress. The following month, the White House announced that US President Donald Trump will sign the legislation. According to the US Treasury Department, the sanctions imposed on Russia "will remain in place until Russia fully honors its obligations under the Minsk Agreements".
The European Union also extended its economic sanctions until January 31, 2018. This was agreed upon by EU leaders at a summit held in Brussels last June. The sanction deadline has been extended for a few times as the EU puts pressure on Moscow to accomplish the Minsk ceasefire agreement.
Russian ruble was emerging markets' 2nd best performer in 2016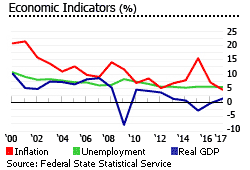 The Russian ruble ended 2016 the second-best performer among emerging market currencies, only next to the Brazilian real. The gains by the ruble against the dollar were supported by increasing oil prices and the country's positive economic outlook. The currency also got a boost after US President Donald Trump's win, with hopes that economic sanctions imposed on Russia will soon be lifted.
In a survey conducted by Bloomberg during its FX17 Summit this May, around 48% of respondents predict that the ruble would rise to between 55 to 60 per USD, while 38% predicted that the ruble will range between 60 to 65 per USD.
In July 2017, Russia's unemployment reached 5.1%, the lowest level for two-and-a-half years, according to Rosstat. Russia's unemployment is lower than the EU's average unemployment rate of around 7.7% (June 2017).
Russia - More data and information