Polish property prices expected to fall further!
August 26, 2011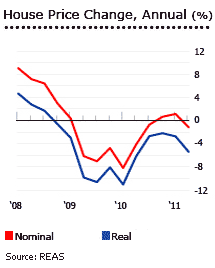 Poland's property market stagnated in the first quarter of 2011, despite strong economic growth and robust investment into the country. In Q1 2011, property prices slightly rose in Warsaw and Tri-City but declined in the rest of the country.
Based on the latest figures released by REAS, in the year to end-Q1 2011:
In Warsaw, the average price of 'exposed' units (i.e. already on the market, as opposed to newly-launched) rose slightly by 1.1% (-0.1% in real terms) to PLN 8,353 (€2,112) per sq. m.
In Tri-City, house prices also rose by 2.5% (1.3% in real terms) to PLN 6,663 (€1,685) per sq. m.
Other cities experienced house price drops ranging from 1.3% (-2.50% in real terms) in Wroclaw to 9.2% (-10.30% in real terms) in Poznan. Outside Warsaw, average apartment prices range from PLN 5,159 (€1,305) per sq. m. to PLN 6,906 (€1,746) per sq. m.
Compared to the peak levels seen before the global crisis (between H2 2007 and H1 2008):
House prices in Warsaw were down by 8.8% (-9.4% in real terms)
In Krakow, house prices were down by 8.8% (-10.8% in real terms)
In Lodz, prices have fallen by 15%
In Tri-City, house prices plunged by 21%
In Wroclaw, house prices were down by 28%
In Poznan, property prices plummeted by 29%
In Q1 2011, property sales rose by 14% from the same period last year. On a quarterly basis, sales increased by 4% in Q1 2011, its third consecutive quarterly increase.
Despite increasing sales, the oversupply of housing units is pulling prices down. In six major urban agglomerations, the number of unsold units rose by 4% y-o-y to 9,800 units in March 2011. Warsaw accounted for about 44% (4,300 units) of the unsold units over the said period.
To make things worse, the recent rate hikes are expected to weaken demand. Poland's central bank, Norodowy Bank Polski, raised the key rate by 25 basis points to 4.5% in June 2011. The benchmark rate was hiked four times this year to curb inflationary pressures. In April 2011, the inflation was 4.5%, higher than the 2.5% target.
With the housing oversupply, combined with higher key rate and tighter lending conditions, house prices are expected to fall further during the remainder of the year.
Despite the global crisis, Poland's economy grew by 1.8% in 2009 and by 3.8% in 2010. Then in the first quarter of 2011, annual real GDP growth rate was 4.4%. In 2011, real GDP growth rate is projected at 4%. Then in 2010.
The European Union boom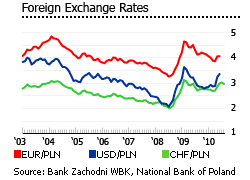 When Poland joined the European union in April 2004, a massive house price boom was unleashed. Having been rather static, property prices suddenly surged in Warsaw by 23% in 2005, 28% in 2006, 45% in 2007, and 13% in 2008, according to REAS. Some other cities such as Wroclaw saw even larger house price rises.
From 2001 onwards, a large proportion of housing loans were foreign currency-denominated. In itself this did not set off the boom, since the increase in the proportion of foreign currency loans came several years before the boom (the foreign currency-denominated proportion rose from 9% in 1999, to 50% in 2001).
Joining the EU prompted purchases by foreigners, who are however limited to one dwelling each, and encouraged remittances by Poles working abroad. As the money flowed in, the Zloty gradually moved up against major currencies, encouraged also by lower inflation.
Poland's booming economy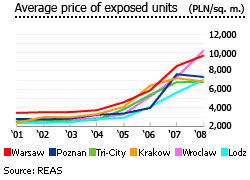 Poland's economy has been transformed over the past two decades. After the shift to a market-based economy in the early 1990s, the Polish economy grew by 5.4% annually, on average, from 1993 to 2000. After growth stalled in 2001 and 2002 (average of 1.3%), the economy bounced back, expanding by 5.14% annually from 2003 to 2008.
Unemployment fell dramatically to 7.1% in 2007, from 19.9% in 2002. As this occurred, Polish mortgage market growth exploded. Outstanding housing loans increasing from from 1.3% of GDP in 2000, to 16% of GDP in 2009. Buyers were typically relatively young (31 years old), had no children (80% of buyers), and bought apartments ranging from 46 to 60 sq. m.
Loan growth rates peaked between 2005 and 2008, with an annual growth of 53%. Although lending conditions tightened in 2009 due to the global financial meltdown, outstanding loans still grew by 11.5% during that year.
The shift from a socialist to a market economy in the early 1990s had led to a decline in housing construction. The number of dwellings completed dropped from an annual average of 130,000 between 1990 and 1992, to an annual average of 75,000 between 1994 and 1999.
The number of dwellings completed exceeded 160,000 units in 2003, an unusual year when a new regulation caused a rush of notifications of completion. This level was reached again in 2008 and 2009, when housing projects started during the peak of the house price boom in 2006 and 2007 were completed and delivered.
Foreign-denominated loans curbed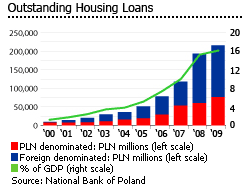 Before the crisis, mortgages in excess of 80% of property values were common, and many banks offered 110% mortgages.
The credit crunch forced banks to tighten their loan conditions. Further tightening is expected with the implementation of Recommendation T. Approved in February 2010, the first part of the new policy came into force in August 2010, mandating a maximum loan-to-value (LTV) ratio for foreign-denominated loans of 90% for 5-year loans, and 80% for longer-dated loans. Borrowers can take 100% loans only if they obtain adequate insurance.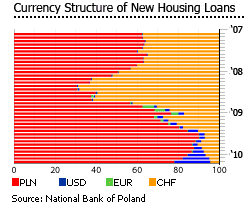 The second part of Recommendation T, expected to come into force at the end of the year, imposes a ceiling on monthly repayment instalments of 50% of the income of those earning below the average national salary, and 65% for those earning more.
Around 55% of new housing loans were denominated in Swiss francs at the beginning of 2008. But as the zloty depreciated against major currencies, banks became cautious, and the currency structure of housing loans shifted in favour of zloty (PLN)-denominated loans. Several banks stopped offering Swiss franc (CHF) loans altogether in Q4 2008. Another four banks followed suit in Q1 2009, among them Poland's largest banks.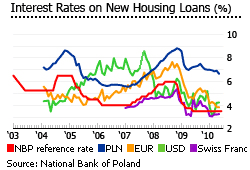 By mid-2009, more than 60% of new loans were in PLN. Some banks have also shifted to euro-denominated loans, with the share of such loans rising from less than 1% in 2008, to 17.4% in April 2010.
In June 2010, the Polish Financial Supervision Authority (KNF) recommended that lending by banks in foreign currencies should be further limited, to protect the financial market against further currency fluctuations.
However any such move is likely to further squeeze the housing market, as PLN-denominated loans have higher interest rates. As of May 2010 the average zloty-denominated housing loan had a 6.7% interest rate, much higher than the 4.2% on USD loans, 3.8% for euro loans, 3.3% for CHF loans.
Thin rental market
Rents have fallen across Poland since Q4 2009, after having been flat during the last 3 years. There is a slight oversupply of apartments for rent, especially in the high-end segment.
Average rents in higher-end districts of central Warsaw (Śródmieście) varied from €14.70 and €14.40 per square metre per month in April 2010, and €12.10 to €9.90 in Krakow, according to Global Property Guide research. Gross rental yields are higher in Warsaw, varying between 4.9% and 6%, than in Krakow, where they range from 4.3% to 4.6%.
On the other hand, apartments in Krakow are generally more expensive than in Warsaw (especially smaller apartments), costing an average of €3,345 per square metre, as compared to around €3,000 per square metre in Warsaw's district of Śródmieście.
The private rental market is very thin in Poland, except in major cities. And the social-rental market has been shrinking over the past 20 years. Only around 25% of dwellings were rented in 2002. In contrast back in 1990, around 51.7% of dwellings were rented, mostly from municipalities and co-operatives. After the privatization of social housing in the early 1990s, owner occupancy rose from 48.3% in 1990, to 74.5% in 2002 (55.2% individually-owned and 19.3% co-operatively owned).
Many unsold units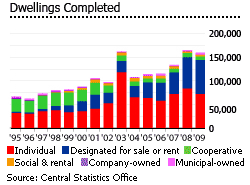 Although a substantial housing deficit exists, oversupply prevails in certain cities. This is mainly due to a mismatch between the type of units available, and the preference of the population with most construction activities going into the six major agglomerations.
The current oversupply is likely to put downward pressure on house prices. Because of these newly completed units, and extra supply from cash-strapped property investors, the housing market is now swamped with unsold units.
Fragile growth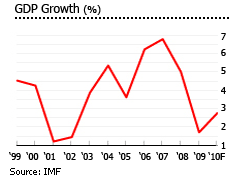 Compared to its neighbours, Poland has dealt relatively well with the crisis. But this was partly due to luck, as The Economist noted. "An overly tight monetary squeeze early in this decade headed off an asset-price bubble. Bureaucratic government checked the property boom; so did tough bank regulation…."
Since the zloty is not pegged to the euro, currency depreciation took place instead of massive budget cuts and wage adjustments. Real wages still rose by 3.2% in Q1 2009 and an average of 0.4% in Q2–Q4 2009. After declining by 0.2% in Q1 2010, real wages rose 0.9% in Q2 and are expected to increase by 2.7% by Q4.
The floating currency also allowed Poland to maintain its competitiveness allowing exports to recover faster (expected to rise by 6.9% in 2010).
Despite being the one economy in the EU to escape recession in 2009, Poland still faces substantial economic problems. Unemployment is expected to peak at 12.3% by the end of 2010, up from 9.8% in 2008, before easing to 12% in 2011. For those with lower incomes, a three-tier system would be introduced to ensure that the price of food and essential goods does not consequently increase.
In 2009, gross national debt rose to 51% of GDP from 45% in 2007. Under the law, if the deficit reaches 55% of GDP, mandatory spending cuts should be implemented. To prevent this the government has increased value-added tax (VAT) from 22% to 23% in 2011.
However any downturn is unlikely to be severe. Preparations for the 2012 Euro football championships involve infrastructure spending worth about PLN (95 € 21) billion for the construction of over 600 kilometres of new motorways, as well as several new airports, including Lublin.
Poland - More data and information