INDIVIDUAL TAXATION
Residents are taxed on their worldwide income. Married couples are taxed separately.
INCOME TAX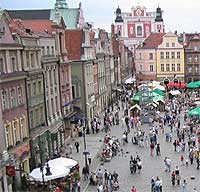 Income is classified according to the following categories: (1) income from dependent services, including employment and pension income; (2) income from professional activities (professional income); (3) income from business activities (business income); (4) income from agricultural activities (agricultural income); (5) income from immovable property (rental income); (6) income from capital and investment rights (investment income); (7) income from the sale of immovable property, property rights, etc. (capital income); and (8) other income.
Taxable income in each category is generally calculated by deducting income-generating expenses from the gross income. Taxable income from all sources is then aggregated and taxed at progressive rates.
Income Tax 2021

TAXABLE INCOME, PLN (€)
TAX RATE
Up to 85,528 (€19,006)
18%
Over 85,528 (€19,006)
32% on all income over €19,006
However, certain income is taxed separately at flat rates.
Residents are entitled to some deductions and tax credits.
RENTAL INCOME
Rental income is generally taxed at the progressive rates. The taxable income is computed by deducting income-generating expenses from the gross rent.
CAPITAL GAINS TAX
Capital gains from the sale of real estate are tax-exempt if the individual has owned the property for at least five years before the sale.
Capital gains incurred for properties sold within five years of acquisition are subject to capital gains tax at a flat rate of 19%. The acquisition price and transaction costs are deductible from the selling price to arrive at the taxable gain.
But this capital gain can also be exempted from tax if a statement is filed with the tax office within 14 days from the date of sale and if the income from the sale will be invested on other housing properties located in Poland within two years of the date of sale.
Taxpayers who have acquired the residential property before 01 January 2007 are subject to different rules. A flat rate of 10% is levied on the sales proceeds less transaction costs.
VALUE ADDED TAX
VAT is generally levied at a flat rate of 23%. A preferential rate of 8% may apply in some transactions.
The lease of immovable property for the purpose of accommodation (not for business purposes) is VAT-exempt.
Land sales and building sales are generally subject to 23% VAT. The preferential rate of 8% may apply if the residential premises do not exceed 150 square meters.
PROPERTY TAXES
Real Estate Tax
Property owners are liable to pay this tax. The annual real estate tax liability depends on the location and type of the property. The tax rates for 2010 are as follows:
REAL ESTATE TAX

PROPERTY QUALIFICATION
TAX PER SQ MT, PLN (€
Land used in business
PLN0.90 (€0.20)
Other land
PLN0.47 (€0.11)
Dwellings
PLN0.75 (€0.17)
Buildings used in business
PLN23.13 (€5.13)
Other buildings
PLN7.77 (€1.73)
CORPORATE TAXATION
INCOME TAX
Income and capital gains are taxed at the general corporate income tax rate of 19%. Income-generating expenses are deductible when computing the taxable income. Interest paid is deductible for corporate income tax purposes.