Norway's housing market slowing
January 05, 2014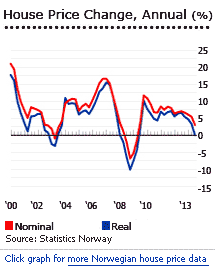 Norway's housing market is slowing sharply, after almost four years of house price rises. Property demand is declining and residential construction activity is falling.
During the year to end-Q3 2013, the nationwide house price index rose by 2.95%, the slowest y-o-y increase since Q3 2009, according to Statistics Norway. In inflation-adjusted terms, house prices actually dropped by 0.11% over the same period. House prices fell by 1.76% (-2.04% inflation-adjusted) in Q3 2013 from the previous quarter.
In Q3 2013:
Oslo's house price index rose by just 0.7% y-o-y, but dropped 1.9% during the latest quarter.
In Stavanger, house prices fell 0.3% y-o-y and dropped by 1.9% q-o-q.
Bergen's price index rose by 6.4% from a year earlier but dropped by 1.8% from the previous quarter.
In Trondheim, the house price index increased by 5% y-o-y, but fell by 0.1% q-o-q.  
Of Norway's regions, Akershus excluding Bærum and Trøndelag exluding Trondheim had the highest annual price growth at 6.6%. On the other hand, only Agder and Rogaland excluding Stavanger and Nord-Norge had seen y-o-y house price falls of 0.2% and 0.1%, respectively.
In the third quarter of 2013, the average price of dwellings sold was NOK3 million (US$490,320) while the average price of holiday homes on an owned site was NOK1.4 million (US$228,820), according to Statistics Norway. 
Housing demand is also falling. In the third quarter of 2013, the total number of dwellings sold fell by 3% to 25,900 from the same period last year. Likewise, the total number of holiday homes sold also decreased by 3% y-o-y to 3,400 units over the same period. There were a total of 48,800 registered transfer of real property in the third quarter of 2013, slightly down by 0.8% from a year earlier.
Residential construction activity has also slightly declined. From January to October 2013, the total number of dwelling starts fell by 1.2% from the same period last year, according to Statistics Norway.
Robert Shiller warned last year that Norway's housing market was in the grip of a bubble. Nordea Bank AB, Scandinavia's biggest lender, has projected that Norwegian property prices will plunge by as much as 20% over the next two years. On the other hand, DNB ASA, Norway's biggest bank, expects house prices to rise next year.
"We don't expect any sharp decrease in house prices but actually believe there might be a very limited price increase and potential upside for 2014 and stable prices in the year or two after that," said DNB ASA's CEO Rune Bjerke. Bjerke said that Norway will avoid a housing slump thanks to its low unemployment, low interest rates and population growth.
The Norwegian economy expanded by 1.6% in 2013, from real GDP growth rates of 3% in 2012, 1.3% in 2011, and 0.24% in 2010, according to the International Monetary Fund (IMF). Economic growth is expected to be 2.3% in 2014.
House price cycles
Norway is no stranger to rapid house price increases. Since 1990, house prices have risen by more than 10% annually during six different periods:
Q1 1994 – Q4 1994: average y-o-y growth of 13.3% (11.7% in real terms)
Q4 1996 – Q3 1998: 12% (9.4%)
Q3 1999 – Q3 2000: 16.8% (13.7%)
Q2 2004 – Q4 2004: 10.4% (9.2%)
Q1 2006 – Q3 2007: 14% (12.4%)
Q4 2009 – Q1 2010: 11.2% (8.9%)
Two major causes of these strong house price increases:
strong economic growth
low interest rates
Annual price falls were observed only in three periods:
Q1 1993 – Q2 1993: -3.2% (-5.6% in inflation adjusted-terms)
Q2 2003: -1% (-3.2%)
Q3 2008 – Q2 2009: -4% (-7.2%)
The average price of new detached houses in Oslo rose 171% between 2001 to 2011, to NOK 42,799 (€5,815) per sq. m.. In contrast, new detached house prices rose only 108% in Norway as a whole.
Lower interest rates again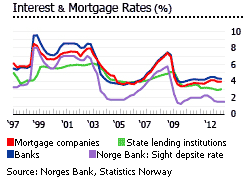 Norway's key interest rates have gone through several cuts and hikes since the global credit crunch. From 5.78% in Q3 2008 sight deposit rates were slashed to a record low of 1.25% in Q3 2009. Mortgage interest rates dropped by as much as 4 percentage points, to 3.4%-3.8% in Q3 2009.
Interest rates were pushed up by 1% to 2.25% in May 2011. Norges Bank claimed the hike aimed at 'currently low' inflation, but with core inflation only 1% in May 2011, down from 1.3% in April, this seemed unlikely (the strong Norwegian Krone keeps prices in check). The rate hikes were more likely targeted at avoiding a housing bubble, since the housing market is extremely sensitive to interest rate changes.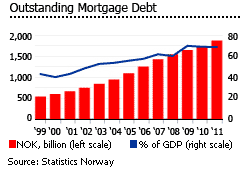 In December 2011 Norges Bank eased its key policy rate to 1.75% to match the ECB's key rate cuts in November and December 2011, and in response to weaker growth in the euro area, according to Deputy Governor Jan F. Qvigstad - the rate cut aims "to guard against an economic setback and even lower inflation". The rate was moved down again and stayed at 1.5% for three consecutive quarters to Q4 2012. In its regular meeting last December, the central bank decided to retain the key rate at 1.5%.
Banks offered mortgages at around 4.26% in Q3 2012; mortgage companies charge 3.92%. Most mortgages are issued by banks (48.1%) and mortgage companies (47.1%).
Mortgages have risen to 69% of GDP in 2011, from 40% of GDP in 2000. Household gross domestic debt grew by 5.2% in 2012, to NOK 2.38 trillion (€ 320.1 billion), around 80% of Norway's GDP.
Increased construction activity
There is no massive housing oversupply in Norway. The increase in dwellings started and completed in Norway has been modest, in comparison to countries such as Ireland or Spain, despite the house price boom.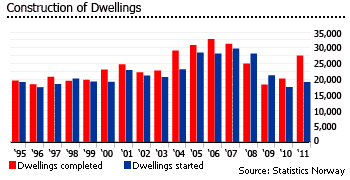 Dwelling starts averaged 23,000 units from 2000 to 2003, and rose to an annual average of 31,000 during the boom years from 2004 to 2007. They fell to 21,000 units annually from 2008 to 2010. In 2011, housing starts were 27,507 units. The number of dwellings completed followed a similar pattern.
Rent have increased in line with house prices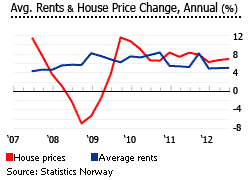 The Global Property Guide does not produce to date rents and yields statistics for Norway, so it is difficult for us to assess the level of rental yields, unfortunately. However rents have been rising only in line with prices, which suggests that fears of over-valuation are exaggerated. Normally there is a clear pattern to housing bubbles, with house price rises greatly outpacing rent rises during the boom. This has not happened in Norway. Average monthly rents rose 5.1% during the year to Q3 2012. Rents in Oslo, including Bærum rose by 5.3%. True, rents in Bergen, Trondheim, Stavanger and Tromsø surged by 8.7% y-o-y. But the general pattern since 2007 has been that rent rises have kept pace with house price rises, which suggests that the situation is under control.
Owner occupancy is strongly subsidized by the state
Owner occupancy has been increasingly popular in Norway. State policy has had a strong impact:
Preferential interest rates are offered to households through the State Housing Bank.
Buyers can purchase municipal land at subsidized prices.
Owner-occupiers get tax relief on mortgage interest payments.
Owner-occupied housing is taxed at a lower effective rate than rental housing.
Owner-occupied dwellings are capital gains tax exempt.
The long-term impact of all these measures - in 1920, about 47% of Norway's households were renters, but by 2011 only 23% rented, and around 62.6% were freeholders and 14.5% coop-owners. Oslo had the lowest portion of home owners at around 69% and its portion of renters was slightly higher at 30.7% of households.
At the same time, there is a consensus that the free market does not provide sufficient housing for the poor. In 1998, the Government agreed that the state should finance a new non-commercial rental housing sector, with the aim of building 50,000 new non-commercial rental dwellings over the next 10-15 years, located in the biggest towns, with low and regulated rents. Social rental housing made up around 15% of the 800,785 rental stock in 2001.
Proactive housing policy in 2013
In 2013, the government plans to implement a pro-active housing policy. This year, around NOK 24 billion will be set aside by the government to loans and subsidies for various housing measures and housing support, according to Liv Signe Navarsete, Minister of Local Government and Regional Development.
According to the Ministry of Local Government and Regional Development, additional funds were also allocated to the following:
Subsidies for establishing home ownership will be up by NOK 30 million to 354.3 million.
Subsidies for home adaptation will be raised by NOK 47.5 million to NOK 172.5 million.
Subsidies for rental homes will be increased by NOK 58.6 million to NOK 488.6 million.
The Norwegian State Housing Bank lending limit will be increased to NOK 20 billion in 2013.
Modest economic growth, low unemployment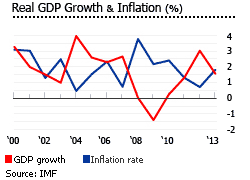 The Norwegian economy is estimated to have expanded by 1.6% in 2013, from real GDP growth rates of 3% in 2012, 1.3% in 2011, and 0.24% in 2010, according to the International Monetary Fund (IMF). Economic growth is expected to be 2.3% in 2014.
The oil and gas sector, which accounts for about 22% of the country's national income, will play a major role in Norway's robust economic growth, keeping it buoyant amidst euro zone's debt troubles. Oil and gas investments are expected to rise to NOK 223.3 billion (US$36.5 billion) in 2014, about 5.4% more than this year, according to Statistics Norway.
The country's unemployment rate was 3.3% in November 2013, according to Statistics Norway.
The central bank's key policy rate was unchanged at a record low of 1.5% in December 2013, on hold since March 2012. Since Norway is not a member of the European Union and the euro zone, it is free to set its own fiscal and monetary policies.
In September 2013, the country's headline inflation rate stood at 2.8%, down from 3.2% in the previous month, mainly influenced by the price movements in clothing, food, and airfares, according to Statistics Norway.
Norway's nationwide inflation rate is expected to have been 1.8% in 2013, before moderating to 1.5% in 2014, according to Norges Bank, the country's central bank.
Norway - More data and information