Montenegro's residential property prices continue to rise, buoyed by recovering foreign demand and improving construction activity. During the year to Q2 2022, the nationwide average price of new residential dwellings rose by 11.5% to €1,375 per square metre (sq. m), following y-o-y increases of 3.8% in Q1 2022, 15.3% in Q4 2021, 36.3% in Q3 2021 and 23.3% in Q2 2021, according to the Statistical Office of Montenegro.

However when adjusted for inflation, new residential prices actually fell 1.8% y-o-y in Q2 2022. The wide disparity between the nominal and real figures is due to surging inflation, which rose to 15% in August 2022 – the highest level in almost a decade.

On a quarterly basis, the average price of dwellings rose strongly by 8.7% (4.05% inflation-adjusted) in Q2 2022.

Demand is recovering, especially from foreign homebuyers. In the first half of 2022, foreign direct investment in real estate rose sharply by 122.7% to €201.55 million compared to the same period last year, according to the July 2022 central bank report.

Residential construction activity is also showing signs of improvement. In H1 2022, the number of dwelling permits rose by 150.6% to 812 units from the same period last year, after annual declines of 50% in 2021, 17.9% in 2020 and 32.4% in 2019, according to the Statistical Office of Montenegro.

Despite this, the outlook for Montenegro's housing market remains clouded with heightened uncertainties caused by the Russian invasion of Ukraine and the ongoing political crisis in the country.

"In early 2022, food and energy price increases were exacerbated further by the fallout of Russia's war of aggression against Ukraine. The war is also expected to have a negative impact on Montenegro's tourism industry, as Russians and Ukrainians constitute 20% of total visitors," said the European Commission (EC).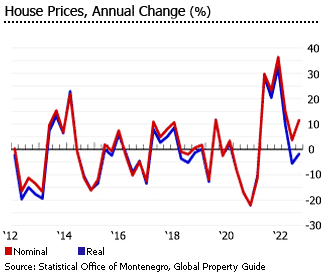 "On top of this, a political crisis materialised on 4 February 2022, when the government lost a vote of confidence 14 months after being formed. A new minority government was established three months later, but political uncertainty persists," the EC added.

As such, both the International Monetary Fund (IMF) and the European Commission expect Montenegro's economic growth to slow to 3.8% this year – a sharp decline from the 12.4% expansion in 2021. Likewise, the World Bank has recently downgraded its 2022 growth forecast for Montenegro to 3.6%, from its initial estimate of 5.9%.