After slowing in the first half of 2020, Malta's housing market is gaining momentum. The property price index rose by 5% during 2020 (4.8% inflation-adjusted), following rises of 2.5% in 2019, 11.9% in 2018, 8.8% in 2017, 13.8% in 2016, and 10% in 2015, according to the Central Bank of Malta (CBM).

Quarter-on-quarter, property prices increased 0.3% (5.5% inflation-adjusted) during the latest quarter.

"…historically the real estate market in Malta has been an important contributor to economic growth, and despite the significant economic disruption brought about by the current COVID-19 pandemic, the industry remains resilient on the back of strong consumer confidence, evidenced by the rate of real estate transactions experienced in the past months," said David Valenzia of PwC Malta.

By property type:

Apartment prices rose by 6.5% on average during 2020. When adjusted for inflation, prices were up by 6.3%.
Terraced house prices rose by 1.6% (1.5% inflation-adjusted).
Maisonette prices fell by 7% y-o-y (-7.2% inflation-adjusted).
"Other houses", consisting of townhouses, houses of character and villas, experienced the highest price surge of around 12.4% y-o-y (12.2% inflation-adjusted) during 2020.

Demand is rising again.  The number of residential transactions rose by 8.7% y-o-y in Q1 2021 to 3,2123 units, after falling by 21.2% in 2020, according to the National Statistics Office (NSO). Likewise, the value of transactions rose strongly, by 15.2% y-o-y. This can be partly attributed to the government's temporary COVID-19 measures providing for a reduced tax and duty rate of 5% and 1.5%, respectively, on the first €400,000 (US$483,308) of property transferred inter vivos. These temporary measure came into force in June 2020 and will end on July 2021.

Malta's economy is projected to grow by 4.5% this year and by another 5.4% in 2022, after a sharp contraction of 9% last year, according to the European Commission.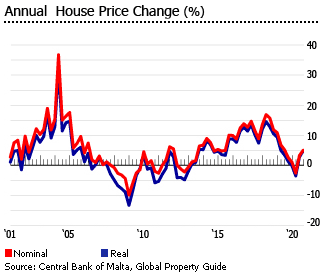 There are many restrictions on property ownership in Malta. Foreign nationals and EU citizens can usually only buy one property in Malta, and usually only for owner-occupancy, though they can buy more properties in 'specially designated areas' such as Tigne Point, Portomaso, Cottoenra, Manoel Island, and Chambray.

Properties owned by foreigners can be rented out only if the property is valued over €233,000, has a swimming pool, and is registered with the Hotel and Catering Establishments Board. Foreign-owned properties can only be rented out on short-term leases.