Malta's property prices falling
August 31, 2011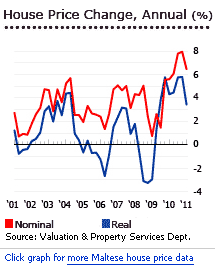 Property prices in Malta are falling, after a short-lived surge in the first half of 2010. Malta's overall house price index dropped by 2.61% over the year to Q1 2011, according to the Central Bank of Malta. When adjusted for inflation, house prices actually fell 5.04% over the same period.
The start of 2011 has been rough for some property owners in Malta:
Apartments saw a 1% nominal price increase over the year to Q1 2011 but their prices actually fell by 1.5% when adjusted for inflation.
Maisonettes dropped by 0.2% (-2.7% in real terms) during the year to Q1 2010.
Terraced houses fell in value by 6.1% (-8.5% in real terms) over the year to Q1 2011.
"Other houses", which consisted of townhouses, houses of character and villas, experienced the largest price drop of 12.8% (-15% in real terms) over the year to Q1 2011.
The situation looks somewhat troubling from a residential investor's perspective – there's been overbuilding, there are a lot of empty dwellings, and gross rental yields are low (between 3.3% and 3.9%).
In 2010, the total number of new dwelling permits rose by 20.8% to 1,499, according to the Malta Environment and Planning Authority. Yet in 2010, the economy grew by 3.65%, and in 2011 real GDP growth is expected to be 2.5%.
From 2000 to 2007, Malta's overall house price index rose by 78.9% (53.4% in real terms). Over the same period:
Terraced houses saw the largest price increase of 105.3% (76% in real terms)
Apartment prices rose by 83.3% (57.1% in real terms)
The prices of maisonettes increased by 81.4% (55.5% in real terms)
The prices of townhouses and villas rose by 71.9% (47.4% in real terms)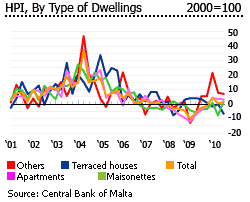 However, property prices started to fall in 2008 due to the global financial meltdown. The overall price index dropped by 2.7% (-7.1% in real terms) in 2008 and by 5% (-6.7% in real terms) in 2009 before rising slightly by 1.1% (-0.9% in real terms) in 2010.
There are many restrictions on property ownership in Malta. Foreign nationals and EU citizens can only buy one property in Malta, and usually only for owner-occupancy. But they can buy more properties in 'specially designated areas' such as Tigne Point, Portomaso, Cottoenra, Manoel Island, and Chambray.

Properties owned by foreigners can be rented out only if the property is valued over €233,000, it has a swimming pool, and it is registered with the Hotel and Catering Establishments Board. Foreign-owned properties can only be rented out for short-term lease agreements.
The housing boom
Malta's housing boom was brief but sweet, lasting from 2002 to 2005. It peaked in the second quarter of Q2 2004 with an amazing 36.73% y-o-y house price rise. The boom was set off by low interest rates, which had an extraordinarily strong effect, boosting residential mortgage debt from only 19.6% of GDP in 2002, to 34.6% of GDP in 2006. A supporting factor was the Investment Registration Scheme, a tax amnesty for Maltese residents with overseas assets which was effective from 2001 to 2005. This allowed income on previously hidden overseas assets to become legal, with no questions asked, if they were declared and brought back to Malta. Many residents took advantage of the scheme, often using their repatriated assets to buy property in Malta. Lastly, property development was encouraged by the abolition of building height requirements in some areas by the Malta Environment Planning Authority (MEPA).
The house price rises continued at a gentle pace from 2005 to 2007. Then like other European countries, the global recession hit Malta in 2009. Malta is an export-oriented country and is dependent on foreign trade and tourism, and Malta's economy experienced a 2.13% contraction in 2009.
There's an oversupply of dwellings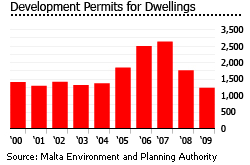 The house price declines which followed were moderate, not catastrophic, peaking at 9.85% over the year to Q1 2009. They were partly caused by overbuilding. In order to reduce the need for social housing, the government had devised a program in the 1980s to give middle class working Maltese access to loans to purchase homes. This subsidized financing encouraged construction and by 2005, development permits for dwellings had increased to 1,850, and rose to an average of 2,500 permits in 2006 and 2007, from an average of 1,300 between 2000 and 2004.
In 2008, around 6,836 new dwelling permissions were granted, a 40% decline from the previous year – but still about 4,000 permits above the annual new dwelling demand, estimated at 1,800 – 2,000 units per annum by the Malta Environment and Planning Authority (MEPA) in its 2008 "The Environment Report".
More alarming is the high residential vacancy rate. In 2005, 27.6% of total dwelling stock was vacant (53,136 units) and 22.4% of that was permanently vacant. The number of permanently vacant dwellings has grown by 89% (or 20,352 units) between 1995 and 2005. 5.2% of all dwellings are classified as secondary homes.
Development permits for dwellings declined to 1,241 in 2009, a drop of 52.92% from 2007's peak of 2,636. According to the Central Bank of Malta, housing investment continued to fall in Q1 2010. Confidence among construction firms has deteriorated, with the relevant index dropping from -18 in March to -33 in June.
Dramatic mortgage market growth, as people borrowed to buy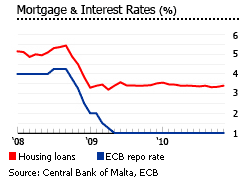 Borrowing for housing has risen dramatically in Malta in recent years. Residential mortgage debt increased to 43% of GDP in 2009, from a mere 8% of GDP in 2000, according to the European Mortgage Federation (EMF). Outstanding loans for house purchases again increased by 8.47% (or €2.67bn) during 2010, though growth slowed in recent months.
Housing lending rates have hovered near the 3% mark since December 2008. Before Malta joined the Euro in January 2008, Malta experienced loan rates ranging from 4% to 5% (and above).
Poor rental yields
Rental yields in Malta are low, according to the Global Property Guide research conducted in April 2010. Yields for apartments range from 2.59% to 3.40%. Smaller used apartments are slightly more expensive at around €3,000 per square metre than larger apartments (priced around €2,865 per square metre), but nevertheless have higher yields.

The Maltese prefer to own property rather than rent. The owner-occupancy rate in Malta was 75.2% in 2005, up from 68% in 1995. Of the 139,178 dwelling units in 2005, 20.6% were rented, down from 28.3% in 1995.
Malta - More data and information