Macedonian property market weak, amid severe political crisis
April 20, 2016
Macedonia's real estate market remains weak, after a short-lived recovery in 2010. During 2015, the average price of dwellings in Macedonia fell 0.9% (nominal and inflation-adjusted) to MKD 46,085 (USD 839) per square metre (sq. m.), based on figures from the State Statistical Office. This is the fifth annual drop in house prices since 2011.
The price falls are concentrated in the capital city, Skopje:
In Skopje, the average price of dwellings dropped by 1.8% (nominal and inflation-adjusted) to MKD 52,916 (USD 963) per sq. m. in 2015 from the previous year.
House prices in other parts of Macedonia only decreased by 0.8% (nominal and inflation-adjusted) y-o-y to MKD 33,243 (USD 605) per sq. m. in 2015.
Although there is no reliable public data on the number of dwellings sold, during the previous decade there had been strong demand for houses in Skopje, home to a third of the country's population. This led to something of a construction boom, preceded and followed by strong rise in prices. Spikes in prices were especially visible in the 2007-2009 period, with price growth reaching 19.9% in the capital.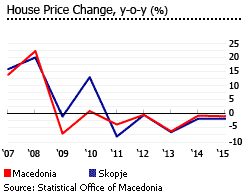 Builder profits, reportedly, became large – encouraging new and more construction. Space became limited in the wider city centre, and numerous residential areas grew on the city's perimeter.
Demand, however, has slowed in recent years, with a period of real panic about over-building in 2013.  Demand dropped by around 30% according to estimates, with around 4,000-5,000 new unsold flats in Skopje. Vacancy at delivery stood at 43% in 2013, according to Forton.
Bank portfolios became saturated by bad real estate loans. Data on the sectoral breakdown of non-performing loans (NPLs) are unavailable but it is safe to assume that many are in construction. In 2013, the National Bank decided to gradually write off the real estate assets on bank accounts (at a rate of 20% per year) in an effort to bring order in banks' balance sheets.
Building permits recovering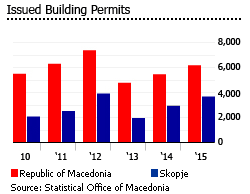 However since then, there appears to have been a recovery, with building permits rising in 2014 and 2015 from 2013´s low, especially in Skopje. The number of building permits grew 13.2% to 6, 174 in 2015, 59.4% of which were in the capital. The expected value of construction amounted to MKD 2.3 million (USD 41, 973) in December 2015, up 19% compared to the same month in 2014.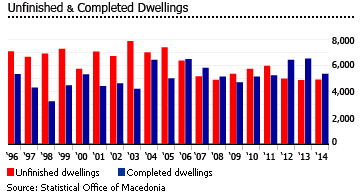 Mortgage lending rising, encouraged by state subsidies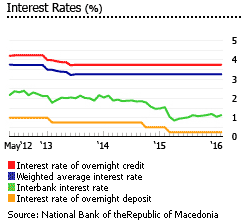 Loans for house purchases increased 17.2% y-o-y to MKD 30.72 billion (USD 559 million) in February 2016, from a year earlier. About 86% were denominated in domestic currency while the remaining 14% were in foreign currency. The mortgage market comprises 25% of the total lending market in February 2016, slightly up from 24% of total lending in 2015.
In an effort to help the housing market, the government has increased its subsidies for homebuyers to 75% of the monthly bank mortgage (from an initial 50%) for new flats and houses costing under €900 per sq. m. for the first five years. This means that for a flat with an average price of MKD 3.12 million (USD 60,000), the government will pay a total of MKD 937,331 (USD 17,050) through subsidies.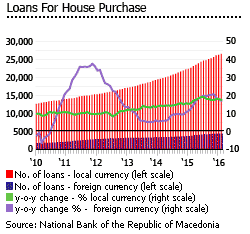 Total provisions – funds set aside by banks to cover non-performing loans (NPLs) – increased to 108.4% in Q4 2015 from 103.1% of NPLs [I don´t understand this number], data from the National Bank show.
The National Bank's interest rate remains at 3.25% after being cut by a total of 50 basis points in January and July 2013 amidst reduced inflationary pressures and lacklustre economic growth.
Rental yields are moderate
Rental yields are moderate.  Gross rental yields on apartments range from 5% to 5.6%, according to Global Property Guide research of October 2014. Yields are expected to grow as prices continue to drop amidst dampened demand for home ownership.  Smaller apartments have better yields than bigger counterparts.  Apartments can be rented out for around USD 5.28 to USD 5.79 per sq.m.
Political instability and the June 5 election
By European standards Macedonia is a poor country, with 2014 GDP per capita of USD 3,917.  Corruption is rife, with ruling party cronies controlling most businesses.  There is much emigration.  A large proportion of the population lives in poverty, especially ethnic Albanians who are simultaneously derided as "lazy" and discriminated against.  Nevertheless, the International Monetary Fund (IMF) estimates that the Macedonian economy grew 3.2% in 2015 – slower than in 2014 due in part to the country's extended political crisis, and the impact from problems in neighboring Greece.
Over the past year, the country has been in a state of continuous crisis.  The Macedonian opposition leader, Zoran Zaev, has been releasing what he has called information "bombs" against the government. Zaev claimed that the government was systematically wiretapping all important people in the country, and released a series of allegedly wiretapped conversations of the then-prime minister, Nikola Gruevski, the head of the secret service and other senior officials, in which they apparently discussed interference in the judiciary, media and urban-planning process.
Zaev claimed that the elections of April 2014, in which the ruling conservative VMRO-DPMNE party of Gruevski defeated Zaev's ex-communist Social Democrats (SDSM) were fraudulent and has accused Gruevski of operating a dictatorship.  Zaev´s party tends to represent ethnic Albanians.
Gruevski, who had been prime minister since 2006, resigned in January to pave the way for early elections, initially scheduled for February before being postponed until June 5. A highly controversial presidential amnesty for 56 of those subject of investigations into the alleged wiretappings was issued by president Gjorge Ivanov, with the obvious intention of aborting the judicial investigations and hiding any evidence. 
Mass protests have erupted in Skopje.  Zaev and 10 other politicians who have received  amnesties have refused them, and foreign institutions have condemned them.  Russia, however, supports the government.
Few expect the elections on June 5 to resolve the problem, as Zaev´s party has boycotted them.  Meanwhile Macedonia has sealed the border with Greece.
 "Domestic political uncertainties and the crisis in Greece are likely to slow momentum as confidence weakens and some investors hold off investment decisions," noted the IMF.
The fiscal deficit was 4% of GDP in 2015, up from the 3.4% target. This, according to IMF, likely stems from the underperformance of Value Added Tax and non-tax revenues, as well as increased security spending entailed by the worsened security situation.
A dispute with Greece over Macedonia's name continues to block the country's accession to European Union (EU) and North Atlantic Treaty Organization (NATO).  The National Bank of the Republic of Macedonia announced late in June the imposition of temporary limits on the outflow of capital to Greece and ordered its banks to withdraw deposits and loans from Greek banks.There are two Greek-owned banks in Macedonia which together hold 22% of banking assets.
Macedonia - More data and information