The government's recent decision to officially change the country's name from "Macedonia" to "North Macedonia" under the name deal with Greece solved the long-standing dispute between the neighboring countries and opens the way for NATO and EU integration. This, in effect, is expected to support the country's long-term economic growth and political reforms.

"The Republic of North Macedonia will have huge economic benefits from the deal that I believe will be seen in every area of the economy," said Prime Minister Zoran Zaev. "Big companies with billions in annual revenues are coming."

The housing market, which has been sluggish since the global crisis, is expected to be one of the major beneficiaries.

After house price rises of 10.9% (11.8% inflation-adjusted) in 2007 and 25.2% (18.2% inflation-adjusted) in 2008, Macedonia's housing market has shown unimpressive performance since, mainly due to the global financial meltdown, the problems with neighboring Greece, and its own extended political crisis exacerbating the situation. In 2018, house prices remained 10% down from the peak levels seen in 2008.

During the year to Q1 2019, the nationwide house price index fell by 0.84% (-0.65% inflation-adjusted), according to the National Bank of the Republic of North Macedonia, the country's central bank. Quarter-on-quarter, house prices increased 1.9% (1.4% inflation-adjusted) during the latest quarter.

By European standards North Macedonia is a poor country, with a total population of about 2.1 million people and a GDP per capita of US$ 6,100 in 2018. Corruption is rife, with ruling party cronies controlling most businesses. There is much emigration. A large proportion of the population lives in poverty, especially ethnic Albanians who are simultaneously derided as "lazy" and discriminated against.

In an effort to increase homeownership, the government has raised its subsidies for homebuyers to 75% of the monthly bank mortgage (from an initial 50%) for new flats and houses costing under €900 per sq. m. for the first five years. This means that for a flat with an average price of MKD 3.12 million (US$ 56,516), the government will pay a total of MKD 937,331 (US$ 16,980) through subsidies.

Foreign individuals can freely buy apartments and buildings, subject to the reciprocity rule and approval from the Ministry of Justice.

Foreign citizens and companies can directly own land for construction in Macedonia, under the Law on Construction Land adopted in 2008. Under the law, the construction land is sold through a public tender procedure. Also, foreign individuals and companies can lease land for up to 99 years through a public bidding process.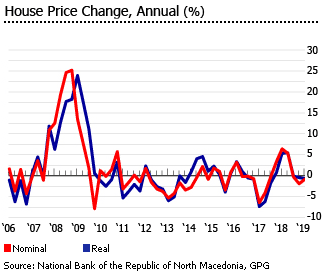 North Macedonia's economy expanded by a modest 2.7% in 2018, a sharp improvement from 2017's almost zero growth but at par with the annual average growth rate of 2.6% from 2010 to 2016, thanks to strong consumption and net exports, as well as recovering investment. The economy is expected to strengthen further this year, with a GDP growth rate of 3%, according to the International Monetary Fund (IMF).

After several years of continuous political crisis, the country's situation has improved remarkably, after a new government was finally formed in May 2017, with centre-left Social Democratic Union's leader Zoran Zaev as the country's new prime minister.

Zaev promised to boost the economy, address political divisions and tense relations between ethnic Macedonians and ethnic Albanians in the country, and finally resolve the country's dispute with Greece over its name – a vital step for Euro-Atlantic integration. As a result, a new agreement with Greece on the issue of its name was reached in June 2018, paving the way for the country to start accession talks with NATO and the EU.