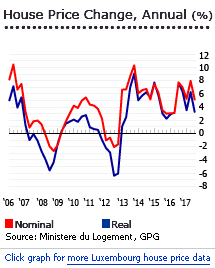 The average buying prices for apartments in Luxembourg rose by 5.59% (4.46% inflation-adjusted) to €5,669 per square metre (sq. m.) during the year to Q1 2018, according to the National Statistical Institute (STATEC).

By property type:

Existing apartments' average acquisition price surged by 7.82% y-o-y to €5,299 (US$ 6,172) per sq. m. in Q1 2018.
New apartments' average price rose by 2.42% y-o-y to €6,350 (US$ 7,396) per sq. m. in Q1 2018. 

In 2017, property transactions surged by 16.9% y-o-y to 7,404 units, according to STATEC. This rise in demand is matched with last year's increase in construction activity. The number of permits for one-dwelling residential buildings rose by 11.3% y-o-y, while permits for two or more dwelling residential buildings were up by 13.8% y-o-y in 2017, according to STATEC.

Last year's rise in housing sector activity was partly encouraged by a tax reform, which came into effect on January 1, 2017:

The taxable rental value has been abolished.
The amounts of mortgage interest deduction related to a taxpayer´s primary residence are increased to:
€2,000 (previously at €1,500) for the first six years of occupation;
€1,500 (previously at €1,125) for the next five years; and
€1,000 (previously at €750) in the subsequent years.
The tax deductible on home savings contributions has been doubled, from €672 to €1,344 for individuals aged 40 years old and below. The €672 ceiling will still be applicable to taxpayers above 40 years old.
For house sellers, the government has reduced the capital gains tax rate from 50% to 25%, for real property sales between July 1, 2016 to December 31, 2017. This tax regime was extended and now covers real estate sales up to December 31, 2018. The property should have been owned by the taxpayer for at least two years. Capital gains from the sale of a main residence are not taxable.