---
Latvia's house prices are rising
Last Updated: April 19, 2016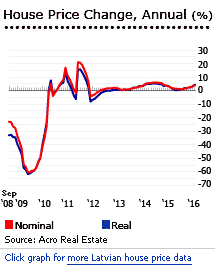 Residential real estate prices in Riga, Latvia, are gently rising.
According to the real estate agents Ober Haus´ figures, the average price of apartments in Riga rose by 0.85% during the year to February 2016, to €1,063 (US$ 1,208) per square metre (sq. m.), the fourth consecutive month of annual price hike. When adjusted for inflation, prices rose by 1.33%.
Although their figures are based on different transactions, Arco Real Estate´s figures show a similar trend, with apartment prices in Riga rising by 3.9% (4.4% in real terms) to €664 (US$ 755) per sq. m. during the year to February 2016 - in this case, the fourth consecutive month with annual house price rises above 2%, following a few months of slower growth.
Ober Haus tends to deal in high-end city-centre housing, while Arco deals in the estates.
At the end of 2015, prices of new apartments in Riga´s city centre and the Old Town ranged from €2,100 (US$ 2,387) to €4,000 (US$ 4,547) per sq. m., according to Ober Haus. Exclusive projects can cost to around €6,000 (US$ 6,820) per sq. m, while new projects in the suburbs can be sold from €1,200 (US$ 1,364) to €1,750 (US$ 1,989) per sq. m.
Among estates, the most expensive was the Teika housing estate, with an average apartment price of €828 (US$ 941) per sq. m., followed by Zolitūde at €723 (US$ 822) per sq. m., Agenskalns at €718 (US$ 816) per sq. m., and Purvciems at €713 (US$ 810) per sq. m.  Bolderāja had the lowest average apartment price of around €469 (US$ 533) per sq. m., according to Arco.
On these estates one-room and two-room apartments had the most significant price rises during the year to February 2016, according to Arco.
 The average price of one-room apartment rose by 5.4% to €738 (US$ 839) per sq. m. during the year to February 2016.
Two-room apartments were up by 5.6% y-o-y to €681 (US$ 774) per sq. m.
Three-room apartments cost €631 (US$ 717) per sq. m., up by 3.1% y-o-y.
Four-room apartments rose by 1.7% y-o-y to €607 (US$ 690) per sq. m.
The average euro-denominated housing loan interest rate was about 3.58% in January 2016. For US dollar-denominated loans it was 3.55%.
Despite low interest rates, mortgage lending for housing continues to decline. Loans for house purchases fell by 4.4% to € 4.5 billion (US$ 5.1 billion) during the year to February 2016, according to the Bank of Latvia.
Foreigners get a five-year residence permit in Latvia if they buy residential real estate, under Immigration Law amendments implemented on July 1, 2010. The conditions were then (according to Baltic Legal):
The transaction should exceed €142,000 (US$ 161,355) in Riga or Jurmala, or €71,000 (US$ 80,677) in other regions;
Only non-cash funds may be used to buy real estate;
The buyer must not have any real estate tax arrears in Latvia (and must never have had such arrears);
Transaction concluded after July 1 2010.
In September 2014, Immigration Law amendments increased the threshold for obtaining a residence permit and introduced other conditions and costs, if a foreigner´s real estate was registered in the Land Register after September 1, 2014:
Minimum transaction value of real estate located anywhere in Latvia must be €250,000 (US$ 284,075).
The total cadastral value of the property at the time of acquisition should be at least €80,000 (US$ 90,904).
Payment of a state budget contribution worth 5% of the real estate´s transaction value.
Latvia's housing boom and bust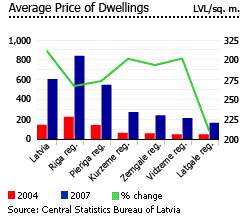 Property speculation played a huge role in the Latvian boom. Surveys suggest that speculators bought around 15% to 30% of all properties during the house price boom.
The crisis began when Latvia´s economy expanded by an average of 8.5% from 2000 to 2007, during which period property prices rose by almost 700%. Inflation rose from 2.5% between 1999 and 2003, to over 10% in 2007. Latvia's currency peg meant the Bank of Latvia could not raise interest rates to tame inflation.
By the second half of 2007, the housing bubble had burst. House prices plummeted. The Latvian economy almost collapsed, with GDP declining by 3.3% in 2008, by 17.7% in 2009, and by 0.34% in 2010.
In 2008, Latvia was able to secure a €7.5 billion standby loan from a group lead by the European Union (EU) and the International Monetary Fund (IMF), coupled with rigid austerity measures. The bailout prevented total economic collapse. More than €3.3 billion of the funds were used to pay public sector wages and maintain essential services.
The economy shrank by about 25% from the start of the global crisis in 2008 to end-2010, making it the deepest depression recorded worldwide. Unemployment surged from 6.2% in 2007 to 19% in 2010. The country's fiscal deficit shot up, capital left the country, exports fell, and domestic demand collapsed.
In 2007, apartment prices dropped by 5.01% (-16.71% in real terms) from a year earlier.
In 2008, apartment prices plummeted by 30.47% (-37.11% in real terms) y-o-y
In 2009, property prices plunged by another 42.02% (-41.34% in real terms)
Then in 2010, the housing market started to recover, with house prices rising by 5.05% (2.49% in real terms), rising another 5.79% in 2011 (1.65% in real terms). But prices were still 58.3% lower than at the May 2007 peak, based on Ober Haus figures.
In 2012 house prices increased by only 2.06% (0.48% in real terms), partly due to tighter credit policies. In 2013 house prices by 4.15% (4.57% in real terms).
In 2014 house price rises slowed to 2.23% (2.03% in real terms), followed by meagre growth of 0.38% (0.04% in real terms) in 2015. The slowdown in prices was due to the amendments in the residence permit program, implemented in September 2014, which mainly affected new apartments built for foreigner buyers. According to Ober Haus, the law changes has caused an almost 21% drop in the average price of these apartments in 2015.
Rental yields are moderate
Latvia´s rental market has moderate gross rental yields. In Riga city, apartments can earn yields ranging from 4.26% to 5.23%, based on  Global Property Guide research of July 2015. Bigger apartments of around 120 sq. m. have lower yields at around 4.26%. Smaller units such as 45 sq. m. and 75 sq. m. unit flats earn higher yields at around 5.23% and 4.39%, respectively.
Apartments in Riga´s suburbs earn higher rental yields. A 50 sq. m. apartment might typically yield 5.23%, while a larger apartment of 120 sq. m. could yield 5.33%.
In 2009, the housing glut and the precipitous drop in house prices forced a lot of households to rent out units they originally intended to sell. But the number of potential tenants contracted due to the economic recession, causing rents to plunge by 40%.
The rental market bounced back in 2010 with average rents growing by 20%, due to growing demand brought by Latvia's improving economy. In 2011 there was a 15% average rent increase, and in 2012 a 10% to 15% increase, as rental demand further increased despite lower apartment prices. In 2013, average rents were up by 10% to 15%, followed by a 5% to 10% rise of average rents in 2014.
In 2015, average rents went up by around 5%, according to Ober Haus.
The highest apartment rents can be found in the Old Town. Rents for two-room apartments range from €600 (US$ 683) to €1,000 (US$ 1,139) per month, while three-room apartments can be rented from €1,000 (US$ 1,139) to €2,500 (US$ 2,846) per month.
In the suburbs, monthly rents for one-room apartments range from €250 (US$ 285) to €300 (US$ 342). Two-room apartments have monthly rents ranging from €300 (US$ 342) to €600 (US$ 683).
Supply overhang; decline in sales
The country has a supply overhang. The supply of new apartments in Riga increased by almost 1,800 units in 2015, according to Ober Haus. Around 3,100 unsold apartments were available in the market at the end of 2015, 1,100 units more than in 2014. The decline in sales is attributed by Ober Haus partly to the increase in the residence permit investment threshold in Riga and other cities from €142,000 to €250,000. At these prices, 70% of buyers are foreigners. Due to this change, as well as to the decline in the availability of bank loans, market activity in the apartment segment fell by 8%, according to Ober Haus.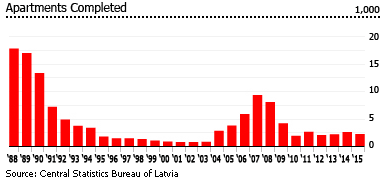 In 2015, Ober Haus continued to see high demand for new economy-class projects characterized by good design, energy efficiency, and small size.
Before independence, more than 10,000 apartments were completed annually. After independence the number of dwelling completions dropped to less than 1,000 units annually between 2000 and 2003.
It was only in 2004 that housing construction began to pick up and completions peaked at 9,319 units in 2007. Owner-occupancy rose dramatically, from 21% in 1990 to 87% in 2006.
However the sudden increase in supply flooded the market, pushing prices down. Units started in 2006 and 2007 are still being completed. According to the Central Statistical Bureau of Latvia (CSB)'s figures, 2,201 units dwellings were completed in 2013 up by 5.5% on the previous year, but a reassuring 76.4% down on the 2006 peak.
Since the foreign real property buyer visa scheme was launched in July 2010, most foreign buyers have been Russians, looking for properties in Riga and Jurmala. But during the first six months of 2013, 107 property buyers were from China, so that the Chinese became one of the most frequent investors, along with buyers from Russia and Uzbekistan.
In 2015, most of the in-demand properties were located in Jurmala, according to the Office of Citizenship and Migration Affairs. Russians have made the most purchases, followed by Ukrainians, Chinese, Kazakhs, and Uzbeks, according to Arco Real Estate´s chairman of the board of directors, Aigars Smits.
Mortgage market continues to shrink; an introduction of a state support programme
During the house price boom, the rapid expansion of Latvia's mortgage market was a key factor, propelled by low interest rates and the entry of foreign banks. The pace of growth was amazing - housing loans outstanding expanded by almost 90% annually from 2004 to 2006. Total mortgage debt rose from 2.1% of GDP in 2000, to 29.7% of GDP in 2007.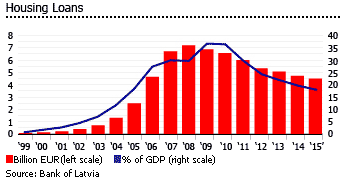 It was not until 2008 that mortgage market growth ground to a halt; with growth down to 7.3% in 2008, before contracting by 4.5% in 2009. The country´s share of total mortgage debt to GDP has shrunk after peaking in 2009 at around 36.4%, to around 18% of GDP in 2015. Although the economy expanded again from 2011 to 2014, lending for house purchases continued to drop, posting an average annual decline of 7.9% during the period. The sharpest contraction was in 2012, declining by almost 11% y-o-y, was due to tighter lending standards implemented by banks, according to the Bank of Latvia's Survey of Credit Institution Lending in July 2012.
Latvian banks expect an increase in the demand for household loans during the first quarter of 2016, according to the Euro Area Bank Lending Survey of December 2015. Two out of four Latvian banks who participated in the survey are projecting higher demand on household loans for house purchase in Q1 2016.
In 2015, lending for house purchases fell by 4.7% to €4.5 billion (US$ 5.12 billion) from the previous year, and in 2014 there was a 6.7% contraction.
Mortgage lending is now expected to rise due to an easing of credit standards for household loans for house purchase during the second quarter of 2015, and the introduction of the State-guaranteed Mortgage Loan Programme.
"Due to increasing competition among credit institutions and the introduced state support programme for house purchase, several credit institutions granted new loans to households for house purchase on more favourable terms and conditions in the third quarter, e.g. they decreased the value of the collateral necessary for receiving a loan; however, they kept the spread over the money market reference interest rate unchanged," says the Bank of Latvia´s 2015 Macroeconomic Developments Report.
Under the State-guaranteed Mortgage Loan Programme, the Latvian Development Finance Institution (ALTUM) will provide guarantees for mortgage loans granted by authorized commercial banks to families with children, according to ABLV Bank:
Families with one child below 18 - 10%:  state guarantee of mortgage up to €10,000 (US$ 11,367)
Families with two children below 18: 15% state guarantee of mortgage up to €15,000 (US$ 17,050)
Families with three or more children below 18: 20% state guarantee of mortgage up to €20,000 (US$ 22,734)
In 2015, these state guarantees amounted to €4.9 million (US$ 5.6 million), benefiting around 797 families, according to the Bank of Latvia.
Slower economic growth in 2016
The Latvian economy performed well enough in 2015, with GDP increasing by 2.7%, following growth of 2.4% in 2014, based on the figures from the Central Statistical Bureau of Latvia (CSB), so that Latvia was one of the eurozone´s fast-growing economies, with growth significantly higher than the Euro area´s growth of 1.6% in 2015.
The IMF has hailed Latvia's cost-cutting efforts as a model for indebted eurozone countries. Latvia's recovery 2011-14 has mainly been driven by exports and an improving business and investment climate. Exports grew by 33% in 2011.
On January 1, 2014, Latvia adopted the euro. The adoption of the euro was originally planned on January 1, 2008 but was delayed several times. Its adoption is a recognition of economic success. The currency adoption is expected to improve trade by lowering costs, and aid economic and financial integration between Latvia and other European Monetary Union (EMU) members. Before the currency adoption, Latvia's old currency (Latvian Lats) was pegged to the euro at Ls 0.702804 = €1 in 2005.
In 2016, Latvia´s economy is expected to grow by only 2.3%, due to the weak investment dynamic, the expected decline of the global economy, and the current geopolitical tension.
In February 2016 unemployment was 9.2%, according to the State Employment Agency. The lowest unemployment level was in the Riga region at 5.7%, while the Latgale region had the highest unemployment at 19.3%.
The country´s consumer prices in March 2016 fell by 0.6% from the previous year, according to the Central Statistical Bureau of Latvia (CSB).
Latvia is currently working on becoming a member of the OECD. "To a certain extent, it (Latvia's accession to the OECD) is a matter of prestige. Some of the key questions asked by investors are about whether it is geopolitically safe here, whether we have reduced corruption, and the OECD membership would partly be an answer to the investors that we are a trustworthy country, not some kind of a banana republic," said Finance Minister Dana Reizniece-Ozola.
Latvia has had a new prime minister, Māris Kučinskis from February 2016. PM Kučinskis took office after former PM Laimdota Straujuma resigned in December 2015, due to the infighting within the ruling coalition. PM Kučinskis is a member of the Union of Greens and Farmers, and Latvia´s first prime minister not to be a member of the Unity Party since 2009.
Aside from PM Kučinskis, Latvia also elected Raimonds Vējonis as state president in June 2015. State President Vējonis is a member of the Green Party, which is a part of the Union of Greens and Farmers.
Worries about Russian intentions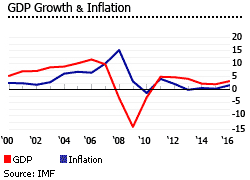 One of the biggest hurdles of the new government is the geopolitical tensions, due to Russia´s aggressive action in seizing the Crimea in 2014. Estonia, Lithuania, and Latvia became wary of Russia´s aggression, which prompted them to seek troop deployment to their nations from the North Atlantic Treaty Organization (NATO).
"An Allied presence is an essential prerequisite for Latvia's security in a situation where Russia does not change its policies regarding the Ukraine conflict and, at the same time, strongly demonstrates its military presence and potential in the Baltic Sea region," according to a statement from Latvia´s Ministry of Defense.
NATO´s former secretary-general Anders Fogh Rasmussen, warned the Baltic states in early 2015 that Putin may attack. "There is a high probability that he will intervene in the Baltics to test Nato's Article 5... Putin knows that if he crosses the red line and attacks a Nato ally, he will be defeated. Let us be quite clear about that. But he is a specialist in hybrid warfare," according to Rasmussen. Article 5 of NATO´s charter states that a military attack on one member state is an attack on all of them.
Latvia - More data and information