---
Latvian house prices rising, GDP growth positive
Last Updated: November 23, 2010
Residential real estate prices continue to rise in Latvia especially in the capital Riga, as economic growth returns.  A year after the crisis bottomed, average apartment prices in Riga are up 26% y-o-y to September 2010, at €614 per sq. m., according to Arco Real Estate, a leading Baltic real estate agent.  Price rises have slowed since April, but each month brings a gain.
One-bedroom apartments surged 33% during the year to October 1, 2010, to €662 per sq. m.t.
Apartments with 4 bedrooms or more registered a 21% increase to €572 per sq. m., over the same period.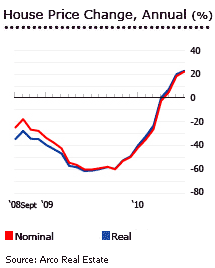 After one of the worst recessions in the EU, Latvia's economy grew by an annualized rate of 2.7% in Q3 2010, according to the Central Statistical Bureau - the first positive GDP change after nine quarters decline, which caused the economy to contract by 25%, according IMF estimates.
The recovery came after the government implemented an internal devaluation through severe wage cuts and similar measures. The policies paid off with improvements in Latvia's competitiveness which led to a strong rebound in industrial production and exports.
The government also implemented huge budget cuts and tax increases as part of the conditions for the €7.5billion (USD10.4 billion) international bailout.
Despite these necessary but extremely unpopular moves, the government of Prime Minister Valdis Dombrovski was overwhelmingly re-elected in the October 2010 parliamentary elections. From a minority government, the ruling coalition increased their seats to 63 out of Parliament's 100.
Economic recovery is likely to continue, with 3.3% GDP growth projected next year. Latvia, however, faces 19.4% unemployment, one of the EU's highest. Further budget cuts and tax increases will be necessary next year, to comply with a government pledge to cut the deficit from 8.5% of GDP in 2010, to 6% in 2011, and 2% in 2012. 
Why are property prices rising?
The price increases may seem surprising. Latvia's economy contracted by 18% in 2009, in the EU's worst recession.  Latvian unemployment is the highest in the EU.
The price increases, however, reflect the confidence expressed by the authorities that the Latvian economy is on the mend.  The authorities expect 3.5% growth in 2011.
In 2008, Latvia was able to secure a €7.5 billion standby loan from a group led by the European Union (EU) and the International Monetary Fund (IMF). The disbursement of the loan, however, will depend on the ability of Latvia to implement reforms and reign in the budget deficit.
The third tranche of the loan worth €500 million was released by the European Commission in early 2010 after a new budget was approved. The bailout prevented the total economic collapse; more than €3.3 billion of the funds were used to pay public sector wages and maintain essential services.
However, there is a huge oversupply of properties, while foreclosed properties are kept out of the market through special asset vehicles. This implies that construction activity will remain subdued over the next few years.
Its those Russian speculators!
Foreigners, mostly Russians, have been reported to be snapping up tracts of land and unfinished real estate developments. With prices at one-third of peak values, residential properties in Latvia seem a bargain.  Transaction volumes have been steadily rising since late 2009.
Property speculation have played a huge role in Latvia before. Surveys suggest that speculators bought around 15% to 30% of all properties during the house price boom.
From 2004 to 2007, property prices doubled, tripled or even quadrupled:  
The national average price of dwellings in Latvia rose 311% (228% in real terms) from LVL148 (€210) per sq. m. in 2004 to LVL862 (€529) per sq. m. in 2007, according to the Central Statistical Bureau (CSB).
In Riga average prices rose 267% (193% in inflation-adjusted terms) from LVL229 to LVL841 per sq. m. (from €325 to €1,193) over the same period.
All regions registered remarkable price increases. The average property price rose by around 300% (220% in real terms) from 2004 to 2007 in the regions of Vidzeme and Kurzeme and Zemgale.
The average dwelling price rose least in the Latgale region south-eastern Latvia, up 211% over the same period.
One heck of a debt-fuelled binge
The rapid expansion of Latvia's mortgage market was a key factor, propelled by low interest rates and the entry of foreign banks.  The pace of growth was amazing - housing loans outstanding expanded by almost 90% annually from 2004 to 2006. Despite early signs of trouble in 2007, the mortgage market nevertheless grew 44% during that year. Total mortgage debt rose from 2% of GDP in 2000, to 33.75% of GDP in 2007.
It was not until 2008 that mortgage market growth grinded to a halt; down to 7.3% in 2008 before contracting 4.5% in 2009. With the economy contracting faster, the ratio of housing loans still rose to 36.5% of GDP.
Cold Turkey hangover
In early-2007, one out of every three Latvian borrowers were already encountering difficulties making their monthly mortgage payments. The situation then dramatically worsened as global inflation impacted Latvia and as the government implemented measures to reduce housing speculation. 
In 2007 the government brought in:
reduction in credit availability. Buyers were required to fund at least 10% of the amount loaned;
increases in Land Registry and mortgage registration fees;
requirement for buyers to secure certification of their legal income from the State Revenue Center; and
additional taxes on speculative real estate transactions. 
Combined with rapidly rising interest rates and tightening credit conditions, these measures choked the housing market. The government also reduced spending, while banks applied stricter lending criteria. The number of real estate transactions fell by 65% in 2008, to its lowest level in seven years.
Latvia's house prices started falling in the second half of 2007. Prices of standard apartments in Riga fell by 2.85% in 2007, after a 62% rise in 2006, and a 35% rise in 2005, according to Arco Real Estate.
In December 2008, the average price of standard apartments in Riga fell 35% (-41% in real terms) from a year earlier. Before it inched upward, the average price had fallen to €487 per sq. m. in September 2009, 70% (74.5% in real terms) down from the peak of €1,620 in June 2007. 
Falling property prices led to substantial losses for banks and other financial institutions. In December 2008, the government nationalized Parex, Latvia's largest domestically-owned bank.
The damage the peg caused
Although Latvia joined the European Union on 1 May 2004, it has not yet met the ERM II requirements for euro adoption. Instead, the Latvian lat has been pegged to the euro at €1 = LVL0.702804 (with a margin of +/- 1%) since January 2005.
The peg pressures Latvia to shadow key European Central Bank (ECB) rates, and during the housing boom Latvian interest rates fell in line with eurozone rates.
However the difference between a euro peg, and euro adoption, becomes painfully obvious when a run on the lat is feared. When the ECB raised its key rates in 2006 and 2007, housing loan rates for lat-denominated loans rose disproportionately as pressure on the peg rose.  Average interest rate on lat-denominated floating rate mortgages soared to more than 10% in mid-2007 and peaked at 14.7% in November 2007. During this period, the ECB key rate was 4%.
Ruinous Lat interest rates bankrupted many
The impact of much higher rates was punishing, because Latvian mortgage loans are almost all variable rate (with either floating interest rates, or rates fixed for less than one year). In 2004 more than 40% of new loans were denominated in lats. Although the proportion slid down to 27% in 2006 and 18% in 2007, a substantial number of households were tied to lat-denominated loans.
Even after the ECB base rate was reduced in September 2008, average interest rates on lat-denominated housing loans continued to surge and remained above 10% from October 2008 to February 2010. They exceeded 15% from April to July 2009, when the ECB rate was at its lowest (and current) level of 1%. In March 2010, the average rate on lat-denominated loans remained high at 9.12%.
On the other hand, interest rate on euro-denominated housing loans generally moved in synch with the ECB key rate, remaining below 4% from January to March 2010.
With the divergence in interest rates between euro and lat-denominated housing loans, it is not surprising that the more households shifted to euro-denominated loans. Since 2008, 80% to 90% of new loans are in euro, up from 60% in 2006. Before the switch of the peg to the euro, around 45% of new loans were in lats, 16% in euro and 36% in US dollar.
With almost all loans now in euro, and almost all real estate transactions quoted and paid in euro, a currency devaluation would lead to financial, economic and political havoc.
The miracle decade - a mirage?
Until recently, Latvia was one of the fastest growing countries in Europe. After a successful transition to a market based economy, Latvia's GDP grew 5.7% annually from 1996 to 2000, rising to 8.2% p.a. between 2001 and 2005.
Some figures from the miracle years:
Real GDP per capita has more than doubled since independence, to around US$11,985 in 2007.
Unemployment fell to 6% in 2007, down from 14.4% in 2000.
Net wages rose by an average of 9% from 2002 to 2004 before surging by 20% in 2005-2006, 32% in 2007 and 23% in 2008.
In 2006 the economy expanded by 11.9%, followed by a 10.2% GDP rise in 2007.  
Yet as inflation rose to 15.25% in 2008, the fiscal and monetary authorities resorted to scorched-earth policies.  In a process called internal devaluation, access to credit was limited, taxes were raised, wages were reduced and the government reduced spending. The crisis was 'on'.
Budget deficit
With the crisis in full swing in 2009, the massive decline in government revenues was not matched by the reduction in expenditures, leading to a deficit of 8.9% of GDP.
To help the Latvian government as it struggles through the crisis, a group of international lenders including the EU and the IMF pledged to provide €7.5 billion (US$10.5 billion) in financial aid last December 2008. With a population of only 2.3 million, the assistance is much bigger, on a per person basis, than the assistance given to other countries.
The package was intended to increase liquidity in Latvia's financial system, restore economic stability and strengthen competitiveness. However, it requires the government to reduce the current-account deficit and inflation. The budget is to be reduced by cutting expenditures.
Pent-up demand
The immense house price boom was also due to a significant mismatch between supply and demand.
Before independence, more than 10,000 apartments were completed annually. After independence the number of dwelling completions dropped to below 2,000 units between 1995 and 1999, and to less than 1,000 between 2000 and 2003. 
It was only in 2004 that housing construction began to pick up. Dwellings completed increased significantly to and peaked at 9,319 units in 2007.
The massive demand for properties was clear; owner occupancy has risen dramatically, from 21% in 1990 to 87% in 2006. However the sudden increase in supply flooded the market, pushing prices down.
Units started in 2006 and 2007 are still being completed. The overhang continues to pile up. New developments had practically disappeared. Yet oversupply continues to mount with dwelling completed at 8,084 in 2008 and 4,160 in 2009.
Rental yields
Latvia's rental market is still suffering. In the past, rapid property appreciation pushed rental yields down. In August 2009, most apartments in Riga earn yields ranging from 3.7% to 4.5% with the smallest units (around 45 sq. m.) earning the highest yield.
Apartments within the suburbs of Riga earn slightly higher yields, ranging from 4.7% to 5.9%, according to Global Property Guide data.
The recent housing glut and the precipitous drop in house prices has forced a lot of households to rent out units they originally intended to sell. But the number of potential tenants has contracted due to the economic recession.
Recent house price and rent movements point to a continued drop in rental yields. While property prices rose in Q1 2010, average rents were generally stagnant from the previous quarter, according to data from Ober-Haus.
In Q4 2009, the rents in Riga's Exclusive Centre dropped by 35% to 40% from the previous quarter. While in the Old Riga Center, rents fell by 12% to 30% within the same period.
Optimism and challenges for 2011
Despite the overall gloom, the improved economy provides room for optimism. Driven by industrial production and exports, the economy grew by 0.3% q-o-q in Q1 2010, using seasonally adjusted figures - the first quarterly growth in two years.

Although the GDP is expected to contract by around 3% in 2010, economic growth is expected to resume in 2011 with a 3.5% expansion.

Under its bailout agreement, Latvia must reduce its budget deficit to 6% in 2011. The government must cut expenditures, a process made more difficult when the Constitutional Court overturned the government's plan to reduce pensions by 10% and payments to working retirees by 70%. Pensions account for about 20% of government expenditure.

The deflation which started in mid-2009 is expected to continue for the next two years.

Another major challenge for the government is the upcoming elections in October. Prime Minister Valdis Dombrovskis, who currently leads a six-party minority coalition, hopes to retain his post. He vowed to complete all the bailout requirements which includes more unpopular spending cuts. It is still unclear how the composition of the 100-member Saeima, the parliament, will look like after the election. It is highly likely that next government will still be governed by a minority coalition.

The political atmosphere remains volatile. In January 2009, riots and protests in the capital forced then Prime Minister Ivars Godmanis to resign. In March 2010, the People's Party, which has the most seats of 23 in the Saeima, left the ruling coalition in an effort to distance themselves from the unpopular measures.

  
Latvia - More data and information