---
House prices rising in Latvia
Last Updated: June 15, 2014
In Riga, the average price of apartments rose by 5.2% to €1,042 (US$ 1,412) per square metre (sq. m.) during the year to April 2014, according to Ober Haus. When adjusted for inflation, prices rose by 4.4%.   Similarly Arco Real Estate reports that apartment prices in Riga rose 5.5% (4.8% in real terms) to €631 (US$ 855) per sq. m. during the year to April 2014.
During the latest quarter, Riga apartment prices rose by 2.3% (1.5% in real terms).
New apartments in Riga´s Old Town and the city centre range from €1,700 (US$ 2,303) to €4,000 (US$ 5,419) per sq. m., while exclusive projects can cost from €4,500 (US$ 6,096) to €5,000 (US$ 6,774) per sq. m. In residential districts, new apartments are priced from €1,100 (US$ 1,490) to €1,800 (US$ 2,438) per sq. m.
Low interest rates, attractive yields, high growth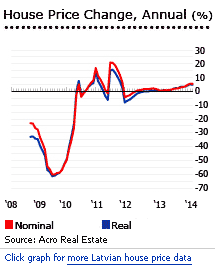 Latvia is in an unusual situation. Gross rental yields are very attractive. Economic growth has been the highest in Europe during the past three years.  Latvia joined the euro in January. It has a new and well-respected prime minister. So the signs are extremely good.
Yet although property prices have been increasing, mortgage lending for housing in Latvia has been declining. The total loans for house purchases fell by 5.7% to € 4.9 billion (US$ 6.7 billion) during the year to April 2014, according to the Bank of Latvia. So there is still some property overhang, the legacy of the boom years.
The average euro-denominated housing loan interest rate was about 3.53% in March 2014.  For US dollar-denominated loans it was 3.41%.
Latvia's economy has grown for the third consecutive year, following the recession from 2008 to 2010.   GDP growth in 2013 was strong at 4.1%, only slightly down on the 5.2% GDP growth in 2012, and the 5.3% GDP growth in 2011.
Economic growth is expected to continue in 2014. The European Commission (EC) forecasts 4.2% growth for Latvia for 2014, the highest growth in the European Union. Latvia's Economic Ministry (EM) forecasts 4.5% GDP growth, based on the continuous increase of exports from Latvia, and other forms of stimulus.
Foreigners get a five-year residence permit in Latvia if they buy residential real estate, under Immigration Law amendments implemented on July 1, 2010. The conditions are (according to Baltic Legal):
The transaction must exceed €142,000 (US$ 192,367) in Riga or Jurmala, or €71,000 (US$ 96,184) in other regions;
Only non-cash funds may be used to buy real estate;
The buyer must not have any real estate tax arrears in Latvia (and must never have had such arrears);
Transaction concluded after July 1 2010.
Latvia's housing boom and bust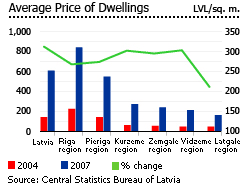 Property speculation played a huge role in the Latvian boom. Surveys suggest that speculators bought around 15% to 30% of all properties during the house price boom.
According to the Central Statistical Bureau of Latvia (CSB)'s figures, property prices doubled, tripled or even quadrupled from 2004 to 2007:
The national average price of dwellings in Latvia rose 311% (228% in real terms) from LVL148 (€210) per sq. m. in 2004 to LVL862 (€529) per sq. m. in 2007, according to the Central Statistical Bureau (CSB).
In Riga average prices rose 267% (193% in inflation-adjusted terms) from LVL229 to LVL841 per sq. m. (from €325 to €1,193) over the same period.
All regions registered remarkable price increases. The average property price rose by around 300% (220% in real terms) from 2004 to 2007 in the regions of Vidzeme and Kurzeme and Zemgale.
The average dwelling price rose least in the Latgale region south-eastern Latvia, up 211% over the same period.
Ober Haus figures also tell a similar story, exhibiting a price surge from 2004 to 2007. Average apartment prices in Riga rose by 166% (113.1% in real terms) from €911 in 2004 to €1,940 in 2007.
However, after years of strong price growth, the Latvian housing market started to weaken in 2007.
In 2007, apartment prices dropped by 5.01% (-16.71% in real terms) from a year earlier.
In 2008, apartment prices plummeted by 30.47% (-37.11% in real terms) y-o-y
In 2009, property prices plunged by another 42.02% (-41.34% in real terms)
Then in 2010, the housing market started to recover with house prices rising by 5.05% (2.49% in real terms), rising another 5.79% in 2011 (1.65% in real terms). But prices were still 57.9% lower than at the July 2007 peak, based on Ober Haus figures.
By end of 2012, a slowdown in price growth was observed, with house prices increasing by only 2.06% (0.48% in real terms), partly due to tighter credit policies, which to an extent discouraged mortgage lending and house purchase. House prices rose a again in 2013, posting 4.15% growth (4.57% in real terms).
Foreigners, mostly Russians, have been reported to be snapping up tracts of land and unfinished real estate developments. Transaction volumes have been steadily rising since late 2009.
Rental yields are moderate to excellent
Latvia's rental market enjoys moderate to excellent rental yields.
Based on Global Property Guide research in July 2013, apartments in Riga city earn yields ranging from 5.23% to 6.40%. Smaller units such as 45 sq. m. and 75 sq. m. flats have higher yields at around 6.30% and 6.40%, respectively. Bigger flats of 200 sq. m. have lower yields at 5.23%.
Apartments in the suburbs of Riga have even higher yields as compared to the city centre. A 45 sq. m. apartment could have a yield of up to 8.16%, while a bigger flat of about 120 sq. m. could yield up to 5.66%.
In 2009, the housing glut and the precipitous drop in house prices forced a lot of households to rent out units they originally intended to sell. But the number of potential tenants contracted due to the economic recession, causing rents to plunge by 40%.
The rental market bounced back in 2010 with average rents growing by 20%, due to growing demand brought by Latvia's improving economy. It was followed by a 15% average rent increase in 2011 and 10% to 15% increase in 2012, as rental demand further increased despite lower apartment prices.
In 2013, average rents were up by 10% to 15%, as demand continues to increase, according to Ober Haus. Rents in the city centre for one or two room apartments, which mostly cater local customers, range from €300 (US$ 409) to €450 (US$ 614) per month. While 2- or 3-room apartments with a total area of 50 to 100 sq. m., mainly demanded by foreign customers, have rents ranging €500 (US$ 682) to €1,500 (US$ 2,046) per month.
When will the supply overhang be absorbed?
Despite the excellent yields, there is a supply overhang.  The supply of new apartments in Riga increased by more than 1,100 units in 2013, so that around 3,000 new apartments were delivered in the capital during the past four years, according to Ober Haus.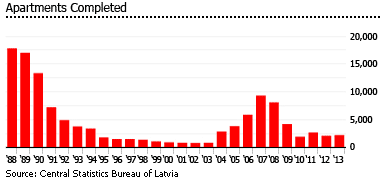 About 1,900 unsold newly developed apartments were available in the market at the start of 2014, 300 more than the previous year.
However, Ober Haus reports that new supply absorption almost doubled in 2013, compared to 2012.  The number of sale transactions increased by 20% in 2013, which was also 45% up on 2011. The rise of transactions was a result of active selling politics by subsidiary companies of banks, according to Ober Haus.
Before independence, more than 10,000 apartments were completed annually. After independence the number of dwelling completions dropped to below 2,000 units between 1995 and 1999, and to less than 1,000 between 2000 and 2003.
It was only in 2004 that housing construction began to pick up. Dwellings completed increased significantly to and peaked at 9,319 units in 2007.
The massive demand for properties was clear; owner occupancy has risen dramatically, from 21% in 1990 to 87% in 2006. However the sudden increase in supply flooded the market, pushing prices down. Dwelling completions totalled 8,084 in 2008, and 4,160 in 2009.
Units started in 2006 and 2007 are still being completed.  According to the Central Statistical Bureau of Latvia (CSB)'s figures, 2,201 units dwellings were completed in 2013 up by 5.5% on the previous year, but a reassuring 76.4% down on the 2006 peak.
Since the foreign real property buyer visa scheme was launched in July 2010, most foreign buyers have been Russians, looking for properties in Riga and Jurmala. But during the first six months of 2013, 107 property buyers were from China, so that the Chinese became one of the most frequent investors, along with buyers from Russia and Uzbekistan.    
Mortgage market shrinks due to tighter loan standards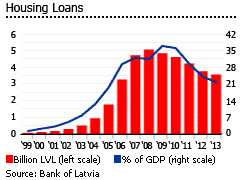 The reason for the supply overhang despite good yields, may partly be that mortgage lending has been shrinking, declining (e.g.) in 2013 by 5.1% from the previous year, because of very tight credit standards.
During the house price boom, the rapid expansion of Latvia's mortgage market was a key factor, propelled by low interest rates and the entry of foreign banks. The pace of growth was amazing - housing loans outstanding expanded by almost 90% annually from 2004 to 2006. Despite early signs of trouble in 2007, the mortgage market nevertheless grew 44% during that year.
Total mortgage debt rose from 2% of GDP in 2000, to 33.75% of GDP in 2007.
It was not until 2008 that mortgage market growth ground to a halt; with growth down to 7.3% in 2008, before contracting in 2009.  Latvia's mortgage market is now back to only 21.7% of GDP. The economy improved from 2010 to 2012, but lending for house purchases continued to decline, contracting by 4.5% in 2010 and almost 11% in 2012. The sharp decline in 2012 was due to tighter lending standards implemented by banks, according to the Bank of Latvia's Survey of Credit Institution Lending in July 2012.
"For some credit institutions, tighter credit standards resulted, in part, from higher costs of funds and balance sheet constraints as well as weaker competition in this segment. Other survey participants pointed to slightly tighter standards for loans for house purchase, e.g. interest margins on ordinary and risky loans were raised," stated the central bank's survey for the first half of 2012.
The Latvian crisis reminisced
The Latvian crisis began with the economy expanding by an average of 8.5% from 2000 to 2007, and during this period property prices rose by almost 700%. However, inflation rose from 2.5% between 1999 and 2003, to over 10% in 2007.
By the second half of 2007, the housing bubble had burst. House prices plummeted. The Latvian economy almost collapsed, with real GDP declining by 3.3% in 2008, by 17.7% in 2009, and by 0.34% in 2010.
Latvia's currency peg meant the Bank of Latvia could not raise interest rates to tame inflation. Instead, when the crisis hit, the authorities resorted to a scorched-earth internal devaluation: access to credit was limited, taxes raised, wages were reduced and government spending cut.
In 2008, Latvia was able to secure a €7.5 billion standby loan from a group lead by the European Union (EU) and the International Monetary Fund (IMF), coupled with rigid austerity measures. The bailout prevented total economic collapse. More than €3.3 billion of the funds were used to pay public sector wages and maintain essential services.
By 2009, Latvia was close to economic collapse. The economy shrank by about 25% from the start of the global crisis in 2008 to end-2010, making it the deepest depression recorded worldwide. Unemployment surged from 6.2% in 2007 to 19% in 2010.  The country's fiscal deficit shot up, capital left the country,  exports fell, and domestic demand collapsed.
New currency, new prime minister and a better outlook in 2014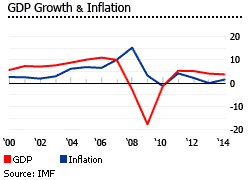 Six years later, the situation in Latvia looks much more hopeful.  On January 1, 2014, Latvia adopted the euro. The adoption of the euro was originally planned on January 1, 2008 but was delayed several times. Its adoption is a recognition of economic success.
The currency adoption will most likely improve trade by lowering costs, and also will likely help economic and financial integration between Latvia and other European Monetary Union (EMU) members. Before the currency adoption, Latvia's old currency (Latvian Lats) was pegged to the euro at Ls 0.702804 = €1 in 2005.
Latvia also has a new prime minister, Laimdota Straujuma.  She assumed office on January 22, and is the first woman to serve as the head of government of Latvia, following the resignation of former Prime Minister Valdis Dombrovskis. 
Straujuma only joined a political party (Unity Party) on January 5, 2014, and had not been a member of any party prior to that. The prime minister is often compared to Germany´s Angela Merkel, is also backed by a four-party coalition consisting of the conservative Unity Party, the right-wing National Alliance, the centre-right Reform Party and the centrist Union of Greens and Farmers.
Latvia's recovery 2011-14 has mainly been driven by exports and an improving business and investment climate. Exports grew by 33% in 2011. The IMF has hailed Latvia's cost-cutting efforts as a model for indebted eurozone countries.
Prior to the strong growth in the past three years, Latvia experienced a deep recession. From the start of the global crisis in 2008 to end-2010, the economy shrank by about 25%, making it then the largest depression recorded worldwide. Unemployment surged from 6.2% in 2007 to 18.7% in 2010. 
In May 2014, unemployment fell by 0.5 percentage points to 9.1%, according to the State Employment Agency. Riga region has the lowest unemployment at 5.8%, while Latgale has an unemployment rate of 19%.
The country's annual inflation rate was only 0.6% in May 2014, according to the Central Statistical Bureau of Latvia (CSB).
Latvia - More data and information