Italy's housing market stable, but Covid-19 clouds outlook
Lalaine C. Delmendo | April 28, 2020

Italy's housing market was stable last year.  There was a strong increase in demand, but less residential construction. However Italy has been hard hit by the coronavirus outbreak, with uncertain implications for the housing market.

The nationwide house price index rose slightly by 0.31% in 2019 (unchanged when adjusted for inflation), according to the ISTAT. Quarter-on-quarter, house prices fell slightly by 0.2% in Q4 2019, but actually increased 0.22% in real terms.

During 2019:

New house prices rose by 0.98% (0.68% inflation-adjusted)
Existing house prices were up by a minuscule 0.1% (down 0.19% when adjusted for inflation)

In the country's eight metropolitan cities, the average price of new homes rose by 2.2% y-o-y to €4,470 (US$4,925) per square metre (sq. m.) in 2019, according to Centro Studi di Abitare Co.

During 2019, new home sales in Italy rose strongly by 9.8% from a year earlier, while sales in the metropolitan cities increased 5.9%. In contrast, the total number of dwellings in new residential buildings fell by 1.4% y-o-y in H1 2019, according to ISTAT.

Property sales and home prices are expected to fall sharply in the first half of 2020, as homebuyers cancel or delay their purchases until the coronavirus outbreak is contained and the overall economy gets back to normal.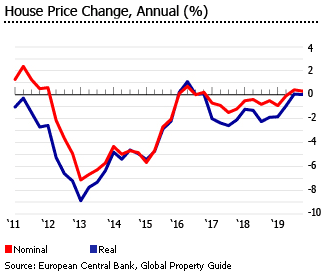 Italy's economy grew by a miniscule 0.3% last year, after expanding 0.8% in 2018 and 1.7% in 2017, amidst trade tensions and a weaker investment outlook. The COVID-19 pandemic is expected to drag Italy's already ailing economy into recession this year.

Oxford Economics projects the eurozone's third largest economy to contract by 3% this year but other forecasts suggest that the economy could shrink by as much as 7%, despite the Italian government committing €25 billion to support the economy over the coming months, including measures to suspend first mortgage loan payments.