Italy's housing market remains steady, despite the pandemic-induced recession. During the year to February 2021, nationwide house prices rose by 1.6% to an average of €1,719 (US$2,055) per square metre (sq. m.), according to real estate portal Idealista. When adjusted for inflation, house prices increased 1.1%.

In Rome, Italy's capital and largest city, homes prices stood at €2,848 (US$3,404) per sq. m., on average, in February 2021, up 0.6% from a year earlier (unchanged when adjusted for inflation).

"Italy's real estate market has withstood the impact of the pandemic well, under the pressure of changed housing needs triggered by the crisis, and with interest rates at historic lows," said Vincenzo De Tommaso of Idealista.

DilettaGiorgoloSpinola of Sotheby's International Realty attributes the housing market's resilience to historically low borrowing costs. "People are more committed to buying at the moment," Spinola said. "Property seems to be a safe place to put money, and people are giving more thought to property in places where life is very sustainable."

The latest figures from National Institute of Statistics (ISTAT) show the nationwide house price index rising by 1% during the year to Q3 2020, and by 1.5% when adjusted for inflation. Over the same period, new house prices rose by 3% (3.5% inflation-adjusted) while existing house prices were up by 0.7% (1.2% when adjusted for inflation).

Venice and Milan have the most expensive housing in the country, with average house prices of €4,467 (US$ 5,340) and €3,994 (US$4,774) per sq. m., respectively.

"The prospects for 2021 are marked by cautious optimism. At the first signs of economic recovery, the real estate market has always been quite quick to recover," De Tommaso noted.

However, the COVID-19 pandemic has taken a heavy toll on the country as a whole, with 102,000 deaths as of mid-March 2021. Italy was the first Western nation to implement a national lockdown. The government eased restrictions in June 2020, but reinstated them in November due to an infection surge. Recently, a travel ban between different regions and provinces was extended until March 27.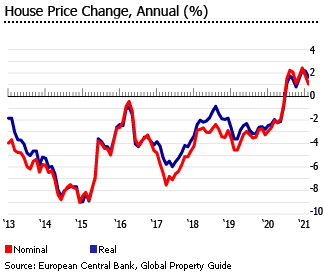 The pandemic dragged Italy into deep recession.  GDP fell by almost 9% in 2020, the steepest decline since World War II, according to ISTAT.

The eurozone's third largest economy is projected to grow by 3.4% this year and by another 3.5% in 2022, according to estimates released by the European Commission.