Italy's house prices are falling in the countryside, rising in many cities
June 29, 2018

When will it end? Italy faces Italy's house prices have been declining for nine years, falling by around 17.5% (-25.1% inflation-adjusted) from Q3 2008 to Q4 2017, according to the European Central Bank (ECB) figures. In Q4 2017, Italy's house price index fell by 0.29% y-o-y, according to the ECB. When adjusted for inflation, the index fell by 1.21%.

Prices of second-hand houses fell by about 3.8% to €1,799 (US$ 2,228.60) per square metre (sq. m.) during the year to Q1 2018, according to the real estate portal Idealista.it. In Rome, the country's capital, the average house price fell 3% during the year to Q1 2018.

Italy's long house-price decline
From 2000 to H1 2008, house prices in Italy rose 85% (53% inflation-adjusted), according to Nomisma. However, house prices started to fall in H2 2008, mainly due to the global financial meltdown.

Then the financial crisis hit, and unlike in Europe's more economically vibrant countries, house prices have not yet recovered. From H2 2008 to 2011, house prices fell 1.9% (-7.8% inflation-adjusted). The price drop worsened dramatically from 2011 to 2014, with the Euro crisis impacting Italy's sluggish economy, and the property tax Tassa sui Servizi Indivisibili (TASI) hindering any recovery. During this period, house prices fell by 13.5% (-16.3% inflation-adjusted), according to the ECB figures.

Cities up, countryside down
However property prices are now rising in cities, though still falling in the countryside. All regions, taken as a whole, saw annual house price declines in Q1 2018, according to Idealista.it. Marche had the sharpest price fall (6.5% y-o-y in Q1 2018). Other regions with large annual price declines included Molise (-6.1%), Umbria (-5.6%), Lombardy (-5.4%), Campania (-5.1%), and Piedmont (-5%).

In cities it was generally a different story. The city of Prato recorded the highest annual price rise of around 6.5% y-o-y in Q1 2018, followed by Verona (5.3%), Bologna (5.1%), Modena (4.6%), Brescia (3.5%), Florence (2.3%), Bolzano-Bozen (2.1%) and Salerno (1.5%). House prices in Milan rose slightly (by 0.6% y-o-y), while prices in Naples fell by 2.4%, and in Genoa declined by 6.2%.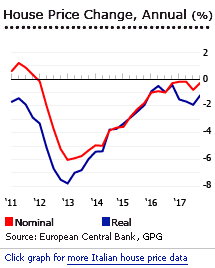 Venice has the country's most expensive houses , with an average price of around €4,380 (US$ 5,426) per sq. m., followed by Florence with €3,519 (US$ 4,359) per sq. m., Bolzano-Bozen with €3,446 (US$ 4,269) per sq. m., Milan with €3,365 (US$ 4,169) per sq. m., Rome with €3,176 (US$ 3,934) per sq. m., and Naples with €2,723 (US$ 3,373) per sq. m.

The number of transactions rose in all the main cities, except in Bologna, according to the Agenzia delle Entrate. Bari had the largest increase, with sales surging by 15.1% y-o-y . Other cities with stronger sales included: Milan (8.1%), Verona (8%), Palermo (7.9%), Florence (7.8%), and Naples (7.4%). Turin (4.9%), Genoa (3.3%), and Rome (3%) had moderate sales increases.


Analysis of Italy Residential Property Market »