Ireland has been an excellent location for overseas investors for a while now. The market still has great potential for both people who are looking to relocate or invest. Here's a small list of tenanted properties we found to be quite interesting:


Market overview

Ireland's house prices continue to accelerate, amidst strong demand and tight supply. In July 2022, the national residential property price index rose strongly by 13.1% (3.67% inflation-adjusted) from a year earlier, up from a y-o-y increase of 8.48% in the same period last year, according to the country's Central Statistics Office (CSO).

This is supported by latest figures from Ireland's largest property website Daft.ie, which showed that the nationwide average house price rose by a robust 8.28% to €311,514 (US$305,259) during the year to Q2 2022.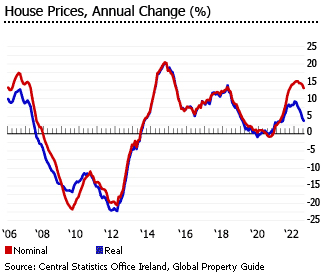 Ireland's economic growth accelerated to 13.5% y-o-y in 2021, buoyed by the exceptional performance of multinational sectors, particularly information/communications technology firms, pharmaceutical, and med-tech manufacturing companies, which are attracted by the country's very open economy and by its relatively low tax inversion rate of 12.5%. In 2020, economic growth slowed to 5.9% - but still the only positive growth in the European Union (EU). The economy grew by an annual average of 10% from 2014 to 2019.

The Irish economy is projected to grow by 5.3% this year and by another 4% in 2023, according to the European Commission.