Irish house price decline slows sharply
February 15, 2013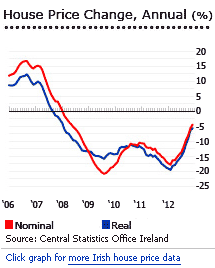 Ireland's residential property price index fell by 4.5% (-5.7% in real terms) during 2012, the slowest year-on-year decline since May 2008, based on figures released by the Central Statistics Office Ireland (CSO). Property prices were actually unchanged (rose by 0.4% in real terms) during the latest quarter.
During the year to December 2012:
House prices fell by 4.2% (-5.3% in real terms)
Apartments experienced a sharper year-on-year price decline of 12.3% (-13.4% in real terms)
In Dublin, Ireland's capital, the residential property price index fell by 2.5% (-3.6% in real terms) in 2012. In the rest of Ireland (excluding Dublin), property prices dropped 6.1% (-7.3% in real terms) over the same period.
ANNUAL HOUSE PRICE CHANGE, DECEMBER 2012

HOUSES

APARTMENTS

SECOND-HAND

Nominal

Real

Nominal

Real

Nominal

Real

Ireland

-4.2

-5.3

-12.3

-13.4

-4.5

-5.7

Dublin

-1.7

-2.9

-10.9

-12.0

-2.5

-3.6

Rest of Ireland

-5.9

-7.0

---

---

-6.1

-7.3

Source: Central Statistics Office Ireland
This was supported by figures released by Daft.ie, which showed that the nationwide average asking price fell by 9.2% y-o-y to €171,000 in Q4 2012. This was 54.8% down from its peak levels seen in 2008.
House price trends in Dublin:
In North County Dublin, the average residential asking price dropped by 4.8% to €204,548 during 2012 (53.3% below its peak levels).
In West County Dublin, the average asking price fell by 6.9% y-o-y to €163,156 in 2012 (57.2% below its peak).
In South County Dublin, the average asking price fell by 3.1% to €333,828 in 2012 (53.1% below its peak).
In Dublin City Centre, the average asking price dropped slightly by 0.1% to €181,220 during 2012, but still 57.8% below its peak levels.
House price trends in other parts of Ireland:
The average residential asking price in Carlow (located in Leinster, eastern part of Ireland) was €136,376, down 13.9% during 2012, and 50.1% below its peak.
Cork County's (located in Munster, Ireland's southernmost region) average asking price was €161,617, down 13.2% during 2012, and down 55% from the peak.
In Galway (located in Connacht, Ireland's western region), the average asking price was €137,659, down 19.2% during 2012, and down 53.9% from the peak.
Monaghan's (located in Ulster, Ireland's northern part) average asking price was €134,122, down 20.9% during 2012, and down 58.2% from the peak.
Ireland's house price boom was one of the longest and biggest in Europe, with prices of second-hand homes surging by around 330% from 1996 to 2006. But when the bubble burst in 2008, it was the world's biggest property bust.
In 2008, property prices fell 12.4% (-13.4% in real terms)
In 2009, property prices fell 18.6% (-14.3% in real terms)
In 2010, house prices fell 10.5% (-11.6% in real terms)
In 2011, house prices fell 16.7% (-18.7% in real terms)
Has the bottom been reached?  Demand is now beginning to increase. Total transactions increased 17% in the first three quarters of 2012, to 14,000 (from 12,000 in 2011) - still a decline of 7% from 15,000 transactions in 2010. 
"There are manifest signs that the country is emerging from the worst of the crisis and that the efforts of the Irish people, despite the hardship, are leading to success," said Finance Minister Michael Noonan.  But in fact, the macro-economic environment is only mildly supportive.  Ireland's economy was estimated to have expanded by 0.9% in 2012, and is projected to grow by 1.5% in 2013.  But the average variable interest rate on new housing loans rose to 3.35% in November 2012, the highest level since September 2011, and outstanding loans for house purchases were 5.6% down in November 2012 on the same period the previous year.
Housing boom and bust
Ireland's house price boom was one of the longest and biggest in Europe, with prices of second-hand homes surging by around 330% from 1996 to 2006. The average price of new houses rose by 250%, according to the Department of Environment, Heritage and Local Government (DoEHLG). Historically low interest rates encouraged variable rate mortgages.
HOUSE PRICE CHANGE 1996 - 2006

NEW

SECOND-HAND

IRELAND

250%

334%

Dublin

318%

391%

Cork

257%

358%

Galway

231%

263%

Limerick

240%

350%

Waterford

237%

296%

Others

231%

263%

Source: DOEI
Lower interest rates; tighter lending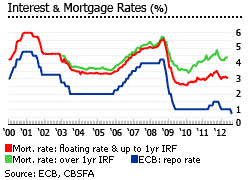 The European Central Bank (ECB) decided to cut its key rate by 25 basis points from 1%, to a historical low rate of 0.75% in July 2012. With this key rate drop, it is likely that the Irish interest rates will also decline. The average interest rate for initial rate fixation (IRF) of up to 1 year was 3.05% in May 2012, down from 3.30% in the previous year. Meanwhile, the mortgage rate for IRF of over 1 year was 4.39%.
Despite these low rates, lending for house purchase fell 2.5% during the year to May 2012, according to the Central Bank of Ireland.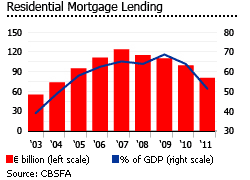 Outstanding housing loans have been continuously declining, reaching €79.874 billion in the first quarter of 2012, down from €125.1 billion in Q1 2008. Residential mortgage lending has dropped from 64% of GDP in 2010, to just 51% of the country's GDP by the end of 2011.
The lower mortgage lending was, in part, due to further tightening of credit standards for the third consecutive quarter and a decline in loan demand in Q1 2012. According to the latest ECB bank lending survey (BLS), more restrictive loan-to-value ratios and reduced loan maturities were observed during Q1 2012. Credit standards are expected to tighten further on loans for house purchases, while loan demand will remain unchanged in Q2 2012.
Stabilizing rents
Rents are stabilizing in Ireland, and modestly rising in some places, especially the main cities.
The housing crash initially resulted in a huge expansion of offers to rent. From 6,200 units in August 2007, the number of properties for rent rose to more than 23,400 in August 2009. But now, the stock of rental properties is at its lowest level since mid-2008, at just above 15,000 units (April 2012).
Ireland's rent index fell by 0.7% during the year to April 2012, according to Daft.ie, just a bit lower than the previous year's 0.8% decline, but a massive improvement from May 2010's 8.9% plunge. The national average rent last January was €813 per month, still far below its late 2007 peak of nearly €1,100.
Rents for Dublin and Cork were €16 per month higher than the previous year, while rents outside the main cities were down by €14 per month.
Rents in Dublin are rising modestly, but in 2012 are still almost 30% lower than the peak. In Q1 2012, the city centre, South Dublin City, and West County Dublin all enjoyed a rent increase of about 2% on the previous year. Rents in other parts of Dublin barely changed.
Yields are quite modest, and slightly improved from the previous year.
The average rental yield across Ireland was 5.1% in Q1 2012, up from 4.0% in Q1 2011.
Yields in Dublin are even higher, at 7.4% in the city centre. Yields in other Dublin counties range from 5.1% to 6.7%.
Oversupply remains; completions falling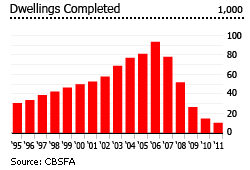 Oversupply is estimated at around 110,365 units (April 2011) plus the 17,972 under-construction units reported by the Unfinished Housing Survey by the (DoEHLG), according to Rob Kitchin, director of the National Institute of Regional and Spatial Analysis. The overall vacancy rate (holiday homes included) is 14.5%, at around 289,451 units.
Around 9 local authorities have vacancy rates of more than 15% headed by Leitrim (22.26%), while South Dublin has a vacancy rate of only 5.37%.
Dwelling completions tripled during the house price boom to 93,000 units in 2006 from 30,000 units in 1995. However, by 2011 completions had fallen to 10,480 units. An even lower amount is expected in 2012, with only just over 3,000 completions reported from January to May.
New property measures
Ireland's 2012 budget included new property-related tax measures:
Stamp duty for non-residential property is now down to a flat rate of 2%, from its previous 6%, but the stamp duty arrangements for residential property remain unchanged. The new rate also applies to farmland.
Gains from properties bought between December 7, 2011 and December 31, 2013 will be exempt from Capital Gains Tax (CGT) as long as the property is held for 7 or more years. The CGT exemption, however, would only be open to properties (residential or commercial) that had been previously acquired at the market peak (2005 to 2008).
The Upwards Only Rent Reviews (UORR) provisions (imposing retrospective rent reviews into existing leases) were dropped.
Mortgage interest relief was increased to 30% for first time buyers who took out their first mortgage from 2004 to 2008. The relief will be available from 2012 to 2017, and all mortgage relief will be abolished from 2018 onwards. First time buyers who purchase in 2012 can also avail a 25% mortgage interest relief, while non-first time buyers could avail it at 15%.
Ireland's standard VAT was increased from 21% to 23% starting January 1, 2012.
A surcharge of 5% will be imposed on individuals obtaining property-based tax reliefs, if they have gross income higher than €100,000.
On January 1, 2012, residential property owners are liable for the household charge on each residential property at €100, and it can be paid in installments.
Ireland succeeds in lowering deficit; unemployment skyrockets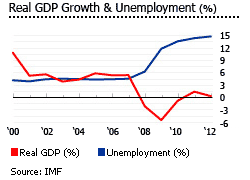 Ireland is steering towards its vow to cut its deficit to EU's limit of 3% of GDP by 2015. According to the ninth quarterly review of troika of international organizations (EU, ECB, and IMF) in February 2013, Ireland was able to meet the requirements of its 2010 bailout program.
The housing market collapse in 2008 also left banks with bad debt and Ireland with a ballooning deficit. In order to save the banking sector from collapsing, Ireland had no choice but to seek a €67.5 billion ($82 billion) bailout from the European Union (EU) and the International Monetary Fund (IMF) in November 2010. In exchange of that bailout, Ireland had to commit in putting a reign to its increasing deficit by undergoing through the harshest austerity programs.
The country also spent around €80 billion to establish the National Asset Management Agency (NAMA) to acquire toxic loans, primarily with a view to improving the availability of credit in the Irish economy, and to remove uncertainty about non-performing assets on bank balance sheets.
In June 2012, Ireland's referendum on the EU's fiscal treaty was passed with 60.29% of voters voting in favor. The referendum endorsing the European fiscal compact on May 31, 2012, resulted in the ratification of a treaty that sets out rules in controlling debt and deficit of euro zone members. This allows Ireland to have an access at the European Stability Mechanism, euro zone's permanent €500 billion ($618 billion) bailout fund.

Ireland's efforts bore fruit in 2011 when the country's deficit went down to 13.1%. The budget deficit fell below 8% 2012, comfortably within the 8.6% target set by the troika. Ireland is committed to a deficit ceiling of 7.5% in 2013.

"Ireland has made good progress to consolidate its public finances and recover much of the competitiveness that was lost in the boom years. After a deep recession, the Irish economy has been growing since 2011 and we expect its expansion to gradually become more robust later this year and in 2014", said Olli Rehn of European Commission.
The Irish economy expanded by 0.9% in 2012, after GDP growth of 1.4% in 2011, and declines of 0.8% in 2010, 5.5% in 2009 and 2.1% in 2008.
The economy is expected to grow by more than 1% this year and by over 2% next year, according to the European Central Bank (ECB).
In December 2012, consumer prices rose by 1.7% y-o-y, according to the Central Statistics Office Ireland (CSO).  In January 2013, Ireland's unemployment rate was unchanged at 14.6%.
Ireland - More data and information