After eight long years of soaring house prices, Iceland's housing market is now losing steam. The nationwide residential property price index rose by a modest 4.17% in July 2019 from a year earlier – the lowest growth since January 2013, according to Statistics Iceland. In fact when adjusted for inflation, residential property prices increased by a miniscule 0.8% over the same period.

During the year to July 2019:

In Reykjavik, prices of single-flat houses rose by 2.37% (-0.67% inflation-adjusted) – the lowest y-o-y increase since August 2014. Prices of multi-flat houses increased 3.47% (0.39% inflation-adjusted).
Outside the capital, residential property prices increased 4.88% (1.76% inflation-adjusted), a sharp slowdown from the prior year's 14.18% growth.

Currently, the average residential property price in Reykjavik ranges from US$375,000 to US$475,000, based on a 2019 report published by REAL Trends. A fancy new flat in the city centre can cost as much as US$7,000 per square metre (sq. m.).

Iceland experienced strong house price rises in recent years, mainly driven by booming tourism and robust economic growth. From 2010 to 2018, residential property prices surged 100% (58% inflation-adjusted), including a growth of 15% per year in 2016 and 2017.

Iceland's economy grew by a robust 4.6% in 2018, following expansions of 4.6% in 2017, 6.6% in 2016 and 4.7% in 2015. However with exports and tourism both slowing, Statistics Iceland now predicts an economic contraction of 0.2% this year, far worse than its earlier forecast of 1.7% growth.

"The worsening outlook is attributed in part to a decline in the island's outsize tourism industry, which has been exacerbated by the collapse of Icelandic low-cost carrier WOW air," said Statistics Iceland.

In the first seven months of 2019, stay-over tourist arrivals fell by 2.4% to 1.13 million people from the same period last year, according to Icelandic Tourism Board, in sharp contrast to the average growth of 24% annually from 2013 to 2018. Most tourists come from the United States, the United Kingdom, Germany, Canada, France, and China.

With falling demand, residential construction shows signs of slowdown, with dwelling starts falling by 11% to 2,525 units in 2018 from a year earlier, according to Statistics Iceland. Though completions remain strong – rising by 30.3% y-o-y to 2,303 units in 2018.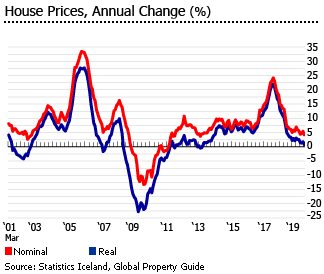 House price increases are expected to slow further during the remainder of the year, amidst worsening economic conditions, based on a 2019 report by Arion Research.

"We forecast minor nominal housing price increases throughout the forecast period, but the rate of increase will slow down as time goes on," said Arion Research. "Real prices will fall as soon as this year as inflation continues to climb."


Analysis of Iceland Residential Property Market »
Rental income taxes are moderate in Iceland
Rental Income: Nonresidents earning rental income are taxed at a flat rate of 22%. Only 50% of the gross rent is taxable for income earned from leasing residential properties.

Capital Gains: Capital gains are taxed either as business income.

Inheritance: Inheritance, tax is imposed on the share of the beneficiary at 10%, with an exemption for the first ISK1,500,000 (€10,490) of the share.

Residents: Residents are taxed on their worldwide income.
Very low transaction costs in Iceland
Round-trip transaction costs are very minimal from 2.40% to 3.40%. The buyer shoulders all costs when buying property, which include real estate agent's fee, stamp duty, and registration fee.
Economy slowing sharply, but public finances improving
In 2018, Iceland's economy grew by a robust 4.6%, following expansions of 4.6% in 2017, 6.6% in 2016 and 4.7% in 2015. However
Statistics Iceland
now predicts an economic contraction of 0.2% this year. Private consumption is projected to increase by a modest 2.4% this year while exports and investment will fall by 2.5% and 5.7%, respectively. The
Central Bank of Iceland
is even more pessimistic, projecting a 0.4% economic decline.
From 2004 to 2007, Iceland's average GDP growth was 7.2% annually, partly because the banking sector went on an ill-advised global lending binge.
However during the global crisis, three of Iceland's largest banks-Glitnir, Landsbanki, and Kaupthing-collapsed, defaulting on US$85 billion of debts in 2008. GDP contracted by 6.8% in 2009 and by another 3.4% in 2010, according to the IMF. Iceland's external debt ballooned to ISK14.88 trillion (US$119.6 billion) in 2008, up 99% from a year earlier. It further rose to ISK15.21 trillion (US$122.3 billion) in 2009.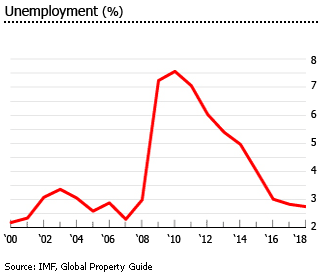 External debt started to fall again in 2010, as the economy recovered. By Q1 2019, the country's external debt was just ISK2.33 trillion (US$18.7 billion), according to the
Central Bank of Iceland
.
In 2018, the Icelandic government recorded a budget surplus of 1.1% of GDP, its third consecutive year of surplus.
The Icelandic krona keeps falling in value. By July 2019, it had lost about 14.6% of its value against the US dollar, with the monthly average exchange rate at ISK 124.662 = US$ 1. The krona also depreciated by about 11% against the euro, with the exchange rate at ISK 139.772 = EUR 1 in July 2019.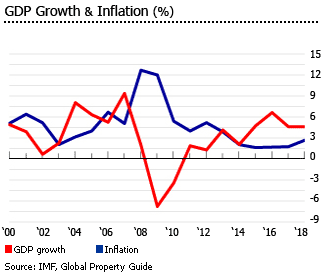 This partly offsets the 38% increase in the value of krona against the US dollar and 21% against the euro from March 2015 to March 2018.
Nationwide inflation stood at 3.1% in July 2019.
In July 2019, the seasonally-adjusted unemployment rate rose to 3.1%, up from 2.5% a year earlier and 1.8% two years ago, according to
Statistics Iceland
.
With a population of only 348,000 in 2018, Iceland is one of the wealthiest and most developed countries in the world. GDP per capita was US$74,278 in 2018, according to the IMF. This small country has also low taxes compared to other OECD countries. The economy is heavily dependent on fishing, which provides 40% of export revenues and employs 7% of the workforce. However in recent years, the country diversified into manufacturing and service industries - most notably, tourism.