---
Hungary's disastrous slump continues; buyers shift to old flats
Last Updated: February 13, 2014
Hungary's housing market is still depressed, after four years of house price falls. The nationwide house price index dropped 8.17% in Q1 2013 (-10.83% inflation-adjusted) y-o-y, according to FHB Bank.  House prices in the capital Budapest have dropped 8.19% (-9.83% inflation-adjusted) y-o-y, according to BIS.
Construction, building permits, mortgage lending, and prices are at catastrophically low levels compared to the height of the boom.  Bad loans are high.  Newbuild construction hardly exists; buyers are choosing used properties instead. However there are some signs of recovery:  GDP is likely to rise 2.5% this year, and rents are rising.
During Hungary's housing boom (1998-2007), house prices soared by 264% (102% inflation-adjusted).  However, the market started to fall in 2008, mainly due to the global financial meltdown.
House prices in Budapest have dropped sharply between 2008 and today, according to KSH:
In 2008, house prices fell by 1.7% y-o-y (-5.7% inflation-adjusted)
In 2009, house prices fell 11.34% (-15.73% inflation adjusted)
In 2010, house prices rose by 0.11% (-4.05% inflation-adjusted)
In 2011, house prices fell 3% (-6.79% inflation-adjusted)
In 2012, house prices fell 5.57% (-10.36% inflation-adjusted)
AVERAGE PRICE PER SECOND HAND DWELLING, HUF MILLIONS
 

Detached

Condominium

Housing Estate

Total

 
2012
Q1-Q3 2013
2012
Q1-Q3 2013
2012
Q1-Q3 2013
2012
Q1-Q3 2013
Central Hungary
17.9
17.2
13.9
13.2
9.2
9.1
14.1
13.3
Central Transdanubia
10.2
9.5
7.5
7.4
6.2
6.0
8.8
8.3
Western Transdanubia
9.7
9.7
9.5
9.6
7.9
8.1
9.5
9.6
Southern Transdanubia
7.2
7.1
8.4
8.3
6.8
6.5
7.5
7.3
Northern Hungary
5.3
5.2
6.9
6.4
5.2
4.6
5.6
5.3
Northern Great Plain
5.7
5.7
8.5
8.1
7.7
7.6
6.6
6.5
Southern Great Plain
5.3
5.7
8.1
7.9
6.0
5.9
6.3
6.5
Hungary (whole)
9.1
8.7
11.3
10.7
7.7
7.6
9.9
9.4
Source: KSH
Longer selling times are observable for all property types. Selling blockhouse flats required 3 months on average, an increase of 26.67% from the 2012 figure. Brick-built flats required 4.5 months on average, an increase of 15.52%. Selling time for brick-built family homes also increased by 7% to 6.57 months on average.
Hungarian economy weak, but some recovery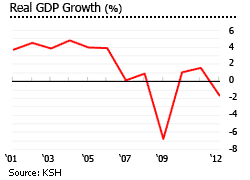 From 1997 to 2006, Hungary enjoyed robust economic growth of about 4% per annum. Economic growth slowed sharply to 0.13% in 2007 and 0.74% in 2008. Then in 2009, real GDP shrank by 6.7%, the worst economic contraction since 1991.
In October 2008, the government was forced to ask the International Monetary Fund (IMF) and the European Central Bank (ECB) for a rescue package worth US$25 billion to restore financial stability and prevent the Hungarian economy from collapsing.
After the election of Prime Minister Viktor Orban in 2010, the new government nationalized US$13 billion worth of private pension-fund assets, and domestic banks were forced to convert their foreign-currency denominated mortgage loans to Hungarian forints.
The Hungarian economy returned to growth in 2010, with real GDP growth rates of 1.1% in 2010 and 1.6% in 2011. However, the economy contracted again by 1.7% in 2012, amidst high debt, high unemployment and the Eurozone debt crisis.  But by mid-2013, Hungary´s economy began to grow again.  Growth in Q4 2013 may have reached around 2.5% compared to the previous year.
Key economic facts:
In Q4 2012, Hungary's fiscal deficit was about 2.3% of GDP.  In 2013 the deficit for the first three quarters remained at 2.5% of GDP.  
Gross public debt was about 79% of GDP last year.
Unemployment stood at 10.7% in the fourth quarter of 2012, and is projected to increase to 11.1% this year, according to the IMF. 
In 2013 the average price rise was 1.7%.
In an effort to buoy the struggling economy, the National Bank of Hungary (MNB), the country's central bank unveiled the introduction of the program called "Funding for Growth Scheme", aimed at increasing lending to businesses and reducing companies' exposure to foreign currency denominated loans.
Under this program, commercial banks would get up to HUF250 billion (US$1.1 billion) in interest-free loans from the NBH while companies would get the same amount to convert their foreign currency denominated loans to forints. The program will start in June.
In addition, the NBH plans to use €3 billion (US$3.82 billion) of its foreign currency reserves to help local banks cut their short-term currency debts.
Severe construction slump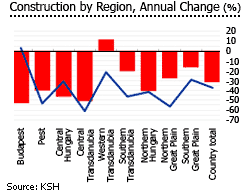 Construction remains very weak. Residential permits plunged 33.4% in 2013 to just 4,099 during the year to November, compared to the same period last year.  In 2012 the number of new residential building permits issued dropped 12%, to 6,099. The number of dwellings built also fell 16.6% to 10,560 units.  For Budapest there was a much greater fall, permits were 53.14 % down to 812 units for the first to third quarter of 2013.
The number of permits for holiday house construction also fell by 39% from 342 to 207 issued permits, while non-residential building permits were down to 4,795 from 5,406, representing an 11% decline.
 

Number of construction permits issued

Number of dwellings built

 
Q1-Q3 2013
Q1-Q3 2013
Q1-Q3 2013
Q1-Q3 2013
Budapest
1733
812
1098
1127
County towns
1735
1543
1815
1185
Other towns
2437
1795
2212
1127
Villages
1889
1177
1384
638
Hungary (whole)
7794
5327
6509
4077
Source: KSH
Budapest saw a 3% rise in homes actually built, to 1,127, which accounted for one-fourth of all dwellings built in the country. Almost half of all new dwellings are in Budapest and Pest County, aside this only Győr Moson-Sopron county reported a significant number (more than 400) of new home completions, according to the latest KSH construction report.
Built Dwellings, annual change (%) Q1-Q3 2013
 

For own use

For lease
For sale
Budapest
-34.27
-78.82
51.97
County towns
-35.93
60.00
-36.15
Other towns
-51.63
84.62
-53.62
Villages
-54.03
NA
-54.43
Hungary (whole)
-46.25
-20.23
-24.07
Source: KSH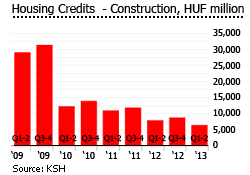 Furthermore, housing credits and subsidies transferred for construction dropped 18.63% in Q1-Q2 2013 compared to the same period of the previous year, and a whopping drop of 77.77% compared to Q1-Q2 2009.
Market for new homes very weak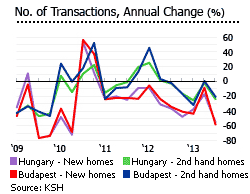 In 2012 only 3.06% of all home sales were new homes (4.49% in Budapest in 2012), a significant drop from 2008 when 9.15% of home sales were new units (14.39% in Budapest). The number of new homes sold country-wide fell to only 2,634 units in 2012, from 14,100 units in 2008.
NUMBER OF TRANSACTIONS
 

2008

2009
2010
2011
2012
Homes for resale
140,000
82,000
85,500
83,900
83,323
New homes
14,100
8,300
4,800
3,900
2,634
Homes for resale, Budapest
34,504
20,674
24,714
22,578
23,916
New homes, Budapest
5,798
3,064
2,015
1,551
1,124
Share of new homes in sales
9.15%
3.10%
5.32%
4.44%
3.06%
Share of new homes in sales, Budapest
14.39%
12.91%
7.54%
6.43%
4.49%
Source: KSH, Otthon Centrum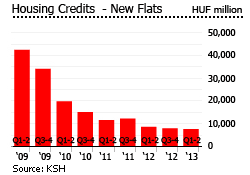 The number of transactions for second hand dwellings dropped 23.82% during the year to Q3 2013, but transactions of new homes fell 54.90%. Budapest displays similar trends, with second hand home transactions dropping 20.7% y-o-y and new home transactions falling 58% y-o-y.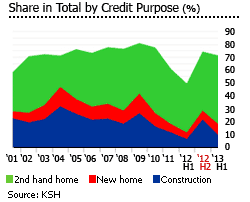 Second-hand dwelling prices fell 2.05% y-o-y in Q3 2013 (-3.54% inflation-adjusted), according to the Hungarian Central Statistical Office (KSH). Primary housing market new dwelling prices fell 0.99% in the same period (-2.5% inflation-adjusted).
Housing credits extended for buying new homes dropped 12.31% y-o-y in Q2 2013, and were down an amazing 82.2% compared to Q2 2009.
There are two main reasons why buyers are turning away from the market of newly-built homes, according to Otthon Centrum. One is the general lack of confidence in developers. Buyers want already completed homes or those that are very close to completion. Second, because less new homes are being built "an update of the stock, a resupply, is missing, therefore buyers face an offer of homes which is not particularly changing", according to Attila Déry of Otthon Centrum.
Rents rising slowly
Rents decreased continuously in the period from 2008 to 2010, but the downward trend changed in 2011. Since then, there has been a moderate but steady increase in rentals, though rentals haven't returned to pre-crisis levels.
Prices per square metre per month:

Type of second hand property

Q1-Q3 2011

Q1-Q3 2012

Q1-Q3 2013

Brick built flats
HUF 1,290 (US$5.71)
HUF 1,370 (US$6.06)
HUF 1,400 (US$6.20)
Blockhouse flats
HUF 960 (US$4.25)
HUF 980 (US$4.34)
HUF 1,090 (US$4.82)
Brick built family homes
HUF 960 (US$4.25)
HUF 960 (US$4.25)
HUF 1,050 (US$4.65)
Source: Otthon Centrum
Interest rates falling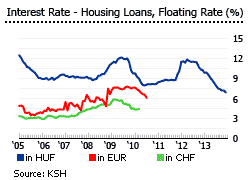 Interest rates have been falling, with the average APR below 10%, according to the Hungarian National Bank (MNB).
Despite decreasing interest rates, the household sector will be net loan repayer even in the first quarter of 2015, according to NBH.
The reason behind the significant drop in the estimated demand is the fragility of economic outlook, negative expectations and the cautiousness of households, according to Otthon Centrum.
Mortgage loans stabilizing
Hungary's residential mortgage market ground to a halt in 2009 as a result of the decline in the value of the Forint against the Euro.  A large portion of mortgages were backed by foreign currency loans, burdening homeowners with swelling repayments, and prompting buyers to exit the market.  In 2010, total loan values increased by over 9% and foreign currency loans by over 14%, but this results entirely from the weak HUF against the Euro and, especially, the Swiss franc, along with the accumulating non-performing loans.
Foreign currency mortgages were banned in August 2010, and a number of measures were introduced in order to manage the foreign currency loan crisis:
an early repayment scheme
exchange rate fixing
foreclosure quota
home protection interest subsidy
establishment of the National Asset Management Company
The introduction of an early repayment scheme in September 2011 unilaterally changed the terms of all foreign currency loan contracts. This allowed debtors to make a one-off repayment of their loans at a discounted exchange rate. Banks must cover the difference between the discounted exchange rate and the current exchange rate.
Those who have foreign currency loans but cannot afford early repayment have been able to get help since 2012 by paying the installments on a fixed exchange rate (exchange rate fixing). In May 2013, the fixed-rate repayment plan became permanent.
More than 160,000 contracts for the fixed-rate repayment scheme were concluded in 31 July 2013, a huge improvement from 115,000 five months earlier. The stock of collective invoice loans amounted to HUF 1,340 billion (US$5.93 billion), up from January's HUF 1,034 billion (US$4.58 billion), according to data from Hungarian Financial Supervisory Authority (HFSA). The number and volume of housing loans account for about 60% of the stock of foreign currency loans.
Under the foreclosure quota system entered into effect in October 2011, banks are limited to designating 2% of homes in their non-performing loan portfolios as "for sale" in Q4 2011. The quota is 3% per quarter in 2012. It will rise to 4% per quarter in 2013 and 5% in 2014. The quota will end in 2015.
At the beginning of 2013, the government increased the amount of 5-year loan subsidies, the maximum value of subsidized loans, as well as the price threshold for buying second-hand flats. These changes in the interest subsidy, however, have not yet resulted in significant demand for loans, partly due to the low willingness of the potential clients to buy homes on credit.
At the end of 2011, the total value of home loans decreased for the first time. The downward trend continued in 2012, with mortgage loan values falling more than 17%, while foreign currency loans declined by over 28% y-o-y in 2012. This decline resulted from the early repayment scheme and the moratorium on taking out new foreign currency loans. This sharp decline did not persist in the first half of 2013.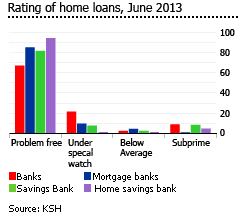 In terms of credit rating in the first six months of 2013, 77% of the current loan stock was "problem-free" (4% worse than at year-end 2012) and 15% was "under special monitoring". Sub-prime, doubtful and bad loans accounted for a combined share of 8%.
Second hand home sales played a major role both in number and volume in the first two quarters of 2012. At that time 16,000 loans were granted amounting to HUF 53 billion (US$0.23 billion). Now, the occurrence frequency of credit for second hand home sales fell by 33.33% and its volume by 10%. However, the purchase of a second hand home, as a credit purpose, continued to exceed the combined volume of credits extended for construction and new home purchases both in number and volume.
Hungary - More data and information