---
Hungarian housing market sinks deeper
Last Updated: September 27, 2010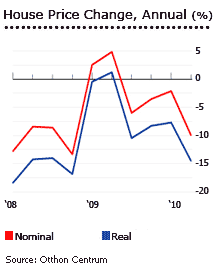 Hungarian house prices plummeted further during the year to Q2 2010. In Q2 2010, nationwide house prices were down 9.93% (-14.50 inflation-adjusted) from a year earlier, and fell 3.89% (-5.52% inflation-adjusted) from a quarter earlier. The average transaction price of houses was HUF230,349 (US$1,188) per square metre, according to Otthon Centrum, a real estate agent. (FHB and Origo, the two other sources of house price index, have not released their 2010 indices yet.)
Construction activities have been dismal. Residential building permits issued were down 46%, while the volume of construction of buildings was down by 5% in July 2010, from a year ago.  Moreover, house sales were down by 50% at end-2009, according to a survey conducted by Business Monitor International.
Two main factors led to the housing market downturn:
the economy was in recession in 2009; and
credit providers have tightened issuance of mortgages.
Due to poor global economic environment and unsustainable public debt, the Hungarian economy shrank 6.5% in 2009. The economy stabilized in Q1 2010, and slightly expanded 0.20% over the year to Q2 2010. Output will remain subdued until the end of 2010.
 
After September 2008, because of Hungary's huge external debt, substantial budget deficit and heavy mortgage-market reliance on foreign currency borrowing (mainly in Swiss Franc or CHF with some in euro), investors dumped Hungarian forint (HUF) assets.
This led to a currency depreciation of 20% within weeks. Consequently, banks and other financial institutions virtually stopped giving loans in Swiss Franc, which account for 80% - 90% of new housing loans granted during in 2007 and 2008.     
 
A massive €20 billion (US$25 billion) financial rescue package was provided by the IMF, the EU and the World Bank, during October 2008. But banks and other financial institutions virtually stopped giving loans in Swiss Francs, which accounted for 80% - 90% of new housing loans granted in 2007 and 2008.
The housing subsidy boom ends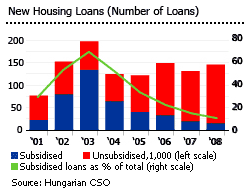 Hungary experienced a house price rally from 2003 to mid-2004, with inflation-adjusted house prices rising by an average of 5.45% y-o-y.
This was mainly due to new housing subsidies being offered by the government in 2001. The government began to give:
interest rate subsidies for mortgages
grants for younger couples with children to construct, enlarge or buy homes
VAT relief for new housing
stamp duty waivers
By 2003, proportion of new housing loans subsidized had risen from 29% to 68%. In monetary terms, 85% (HUF713.685 billion) of new loans were subsidized, and around 87% of housing-related expenditures were government-financed. 
These generous housing subsidies were part of the failed re-election gimmickry of the conservative centre-right government, led by Fidesz (Alliance of Young Democrats).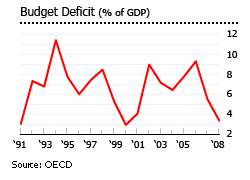 There was, it is true, widespread discontent with Hungary's housing. The shift to a market-based economy in the early-1990s had seen massive housing privatization, pushing owner-occupancy rates up to 92% by 2003. However, most dwellings were in poor condition. Only 48.2% had central heating in 1996, only 75.6% had a lavatory, and only 84.4% had piped water.
Yet the subsidies were too expensive to maintain, reaching around 1.8% of GDP in 2003.
The budget deficit jumped from 2.95% of GDP in 2000, to 8.95% in 2002, and 7.15% in 2003.
It was the left-wing Hungarian Socialist Party (MSZP) government which finally reduced the amount of subsidies, in Dec 2003 and January 2004, from 51% of new loans in 2004, to 10% in 2008.
The Swiss franc boom ends
Despite the drop in housing loan subsidies, Hungary's mortgage market grew strongly, from HUF 1.6 billion in 2003, to HUF4.09 billion in 2008, sustained, from 2004, by the entry of foreign-owned banks, and Swiss franc (CHF) denominated loans.
Swiss franc-denominated housing loans rose from HUF 124 billion in 2004, to HUF2.33 billion in 2008. The Swiss franc share of outstanding housing loans rose from 6% in 2004, to 57% in 2008.
In 2006, the average interest rate for a floating CHF housing loan was 3.29% while the rate for a similar type mortgage was 9.13% for a HUF loan, and 4.3% for a euro-loan. 
Then in October 2008 it ended. Swiss franc housing loans have been withdrawn. The value of foreign denominated housing loans, as measured in their original currency, has dropped. 
Construction has slowed
Construction has declined significantly, since the subsidy reductions, with permits down from a peak level of 59,241 dwellings in 2003, to an average of 44,300 dwellings from 2006 to 2008.  
This was in contrast to early 2000, which saw a substantial increase in dwellings completed, from less than 25,000 annually (1998 to 2000), to 43,913 units in 2004, and 41,084 units in 2005, according to the Hungarian Central Statistics Office (CSO).
Budapest has been most severely affected by the recent slowdown, with construction volumes dropping by about 25% in 2008, from a year earlier. 
A shift to Euro-denominated loans may somewhat save the housing market, as they have similar conditions and risk premiums to Swiss franc loans, but lower interest rates.  But the net effect of the disappearance of Swiss franc loans will likely be to weaken the the mortgage market.
Foreign demand
Foreign demand for real estate in Budapest has greatly weakened. Demand from Spanish and Irish investors who account for up to 80% of total buyers, went down substantially reports Otthon Centrum, a real estate research firm. The number of transactions went down, the amount involved greatly reduced and the bargaining lengthened.
The first wave of post-opening foreigners bought in the 7th, 8th, and 9th Districts, which have a lot of historic charm.  "Many foreigners bought investment apartments in 2001-2002," says Andras Patkai of Budapestate.com. 
"The foreigners bought in streets which often looked a mess, thinking these areas were beautiful but dirty," says Patkai. "They imagined that the graffiti would be cleaned up and that they would look like Vienna.  Well, the graffiti is still there and it doesn't look like Vienna.  It has taken much longer to clean these areas up than anyone imagined."
"These were refurbished in a low quality, superficial way. This is no longer good enough!," Patkai adds.   
The supply of quality units is extremely limited to specific centres in the capital.
In July 2008, rental yields for Pest apartments averaged 5.6%, while Buda yields tailed slightly behind at 5.57%. Pest remains the city's financial and commercial centre. Prices range from €82,240 on 40 sq.m. apartments, to €613,395 for 215 sq.m. apartments.
The Buda side of city is becoming a favorite of longer-term investors.  With the market downturn, foreigners are tending to focus on university neighborhoods and high traffic areas, looking for used properties that can be refurbished.
A grim recession ahead
The fiscal deficit as a percentage of the GDP was successfully trimmed to 5.5% in 2007, and to 3.4% in 2008. Alas, this came with a huge cost to the economy. Economic growth was a mere 1.3% in 2007, down from average growth from 2000 to 2006 of 4.38%.
The global financial meltdown has pushed GDP growth further down to 0.5% in 2008. The economy was entered recession in 2009, with the GDP contracting by 6.5% by the end of the year. By the start of 2010, Hungary emerged from recession. The GDP grew by 0.20% in Q1 2010, and further increased by 0.80% in Q2 2010 from a year earlier.
Many measures have been implemented by the government to keep the budget deficit below 3% of GDP in 2009-2010. The limit on the deficit is part of the key Maastricht Treaty requirements for EU countries adopting the euro. Some of the measures are directed to the real estate industry. They include the elimination of energy subsidies for homeowners, and the introduction of additional real estate tax burdens for more expensive properties.
Hungary - More data and information