House prices are rising again in France
October 07, 2016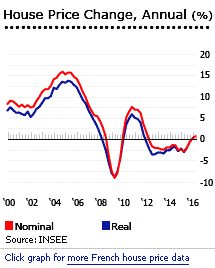 Prices in Paris have risen for three consecutive quarters, and in France generally house prices are slightly up.
Apartment prices in Paris rose by an average of 2.66% (2.67% inflation-adjusted) to €8,100 (US$ 9,126) per square metre (sq. m.) during the year to Q2 2016, according to the La Chambre des Notaires de Paris.
In Île-de-France, the country's wealthiest and most populated region, the average apartment price rose by 1.53% y-o-y (1.54% inflation-adjusted) to €5,310 (US$ 5,983) per sq. m. to Q2 2016.
In the Petite Couronne (Small Crown), the average price of apartments rose by 0.95% y-o-y (0.95% inflation-adjusted) to €4,270 (US$ 4,811) per sq. m.
In the Grande Couronne (Great Crown), the average price of apartments fell by 0.35% y-o-y (0.34% inflation-adjusted) to €2,880 (US$ 3,245) per sq. m.
In Metropolitan France generally, house prices rose by 0.78% during the year to Q2 2016, the second consecutive quarter of year-on-year price hikes, according to the National Institute for Statistical and Economic Studies (INSEE). When adjusted for inflation, house prices rose by 0.79% over the same period. House prices in Metropolitan France remained unchanged (-0.93% inflation-adjusted) from the previous quarter.
The price rises were partly attributable to low mortgage interest rates. "The dynamics of the real estate market in this early part of the year was largely conditioned by lower interest rates," said MeilleursAgents' CEO Sébastien de Lafond.
The price rises were backed by rising demand. From January to July 2016, 15.2% more existing homes were sold in France than during the same period last year, according to the Conseil général de I'environnement et du développement durable (CGEDD).  In Paris, the total number of existing apartments sold rose 13% y-o-y in Q2 2016 , according to  La Chambre des Notaires de Paris. In Île-de-France, sales of existing apartments increased by 14%, and in Petit Couronne and Grande Couronne by 14% and 15% respectively. Existing homes sales rose 19% in Petit Couronne , 10% in Grande Couronne, and 13% in Île-de-France.
Residential construction is up. House permits issued rose by 2.5% to 390,625 units in 2015 from the previous year, according to the Ministère de l'Écologie, du Développement Durable et de l'Énergie.
New housing starts rose by 3.13% to 173,448 units during the year to July 2016.
Total authorized dwellings increased by 12.56% to 242,730 units, during the same period.
There are no restrictions on foreign ownership in France. Most property is likely to be freehold. Apartments are likely to be held in two forms of freehold: co-ownership (which has meetings of co-owners, with votes taken and accounts kept), and volumes, adapted mostly for mixed-use developments. There are also leaseholds, for up to 99 years.
Recent history of the French housing market
During the boom from 1997 to 2007, French house prices surged by 150% (112.5% inflation-adjusted).
The housing market started to weaken in 2008, but price falls have been moderate:
In 2008, house prices in France fell by 3.82% (-5.48% inflation-adjusted)
In 2009, house prices fell by 4.07% (-4.41% inflation-adjusted)
In 2010, house prices rose by 7.57% (5.83% inflation-adjusted)
In 2011, house prices rose by 3.66% (1.19% inflation-adjusted)
In 2012, house prices fell by 2.08% (-3.56% inflation-adjusted)
In 2013, house prices fell by 1.85% (-2.48% inflation-adjusted)
In 2014, house prices fell by 2.54% (-2.81% inflation-adjusted)
In 2015, house prices fell by 0.48% (-0.58% inflation-adjusted)
French house-buyers can now track house price changes week-by-week, after the launch of the LPI (Les Prix de l'Immobilier) index in September 2014. The LPI shows weekly house price changes, using data from banks and financial institutions including Sogeprom, Gecina, Crédit Foncier, as well as from the Syndicat National des Professionnels Immobiliers (SNPI).
The impact of the Loi Duflot rent control law
In France, initial rents have till recently been freely determined, but revisable only once a year, and not by more than the (new) INSEE rental index.   However on 19 February 2014 the French Parliament passed a new bill, the Loi pour l´accès au logement et un urbanisme rénové (ALUR: improving access to housing and updating town planning), also known as the 'Loi Duflot', after housing minister Cécile Duflot. The bill, which was passed into law on March 24, 2014, set new rules regarding housing and property rentals:
The law put a rent cap on long-term rentals. Rents should not be higher than 20% above the median rent set by the Prefect in the urban areas.  This new rent control, imposed on 28 cities with more than 500,000 inhabitants, will affect areas with high demand on rental properties such as Paris.
Short-term rentals still need to seek authorization from the City of Paris, or the local town hall in areas with housing shortages.
Property owners are required to grant exclusivity to one letting or property agent.
A new mechanism for the Universal Guarantee of Rents (GUL) was introduced; tenants will no longer provide guarantors or pay a deposit, since the government will underwrite any non-payment of rent.
The Global Property Guide has long been firmly against rent controls, which harm tenants and landlords alike.  "It is the surest way to destroy a city without bombing it" noted our former chief economist Prince Cruz in The pros and cons of rent control.  We however approve of rules tending to increase security of tenure, without seeking to control rents, so long as the security is only medium-term.
As of 2013, around 57.8% of France's housing stock belongs to owner-occupiers, which means that almost half France's population are renting. Of primary residences, around 21.8% are privately rented, while 17.3% are socially rented.
Around 97% of French private rented dwellings have private individual landlords, while only 3% are owned by companies or institutions, according to Dr. Joris Hoekstra, researcher at OTB (TU Delft).
When combined with the significant protection given to tenants, who can stay in their properties long-term, these new laws are persuading landlords to sell their buy-to-let properties, thus putting downward pressure on prices and increasing transaction volumes.
Poor rental yields; impact of rent controls on Paris
From 2000 to 2015, apartment prices in France rose by 131.88% (177% in Paris), way higher than the increase of the of the country's rent index, which was only up by 37% during the same period. The slower rise of rent index was partly attributed to the lower allowable rent increase relative to inflation in certain periods.
Gross rental yields in Paris range from 3.59% to 4.21%, with smaller apartments having relatively higher yields, based on the figures from the Global Property Guide research in August 2016. During the second quarter of 2016, France's rent index remained unchanged from the same period last year.
Average apartment rents in Paris range from €32 (US$ 36.04) to €35 (US$ 39.42) per square metre (sq. m.). Smaller apartments tend to rent for proportionately more.
In August 1, 2015, the rent cap mentioned in Loi ALUR became effective in Paris. The law was observed to be effective in trimming rents on properties with rents above the limits, as 29% of rentals (out of 30,000 sample rentals) were observed to surpass the rent price ceiling since August 1,2015, down from 46% of rentals recorded from January to July 2015, according to MeilleursAgents CEO Sébastien de Lafond.
However, enforcement has been difficult. According to a study by MeilleursAgents for France Bleu, around 30% of advertisements still exceeded the maximum rent limit in September 2015. The share of excessive rentals also varies depending on location. For example, 69% of rentals in Jardin des Plantes have exceeded their legal limit since August 1, 2015, while only 13% of rentals in Roquette have been higher than the legal limit. Tenants are encouraged to take this issue to the authorities, but no cases had been filed four months after the law's implementation.
It also seems that rental investors have fled Paris to invest in adjacent areas and other areas in the Île-de-France region where the rent caps are not applicable. According to Century 21, sales to investors in Paris fell by 21.9% during the year to Q3 2015, while in Île-de-France and the rest of France, sales to investors rose by 34.1% and 12.6%, respectively.
Mortgage rates are at historic lows
Mortgage interest rates in France are at their historic lows:
The average interest rate on new housing loans with initial rate of fixation (IRF) of more than one year was 1.78% in July 2016, down from 2.16% in July 2015.
Interest rates on loans with IRF of one year or less fell 1.61%, down from 2.05% a year earlier.
20-year fixed mortgage rates were at a record-low of 2.25% in April 2016, a 36% decline from 3.5% in May 2014, according to the French Private Finance.
The decline of mortgage rates is largely attributed to the European Central Bank's (ECB) decision to reduce its key rate by 5 basis points to 0.00% in March 2016. This was the 8th ECB rate cut since end-2011.
"The Governing Council expects key interest rates to remain at present or lower levels for long period of time and well past the horizon of our net asset purchases," according to ECB President Mario Draghi.   Aside from the rate cut, the ECB also cut its deposit rate by 10 basis points to -0.40%, and has expanded its monthly asset purchases to €80 billion (US$ 89.71 billion) from €60 billion (US$ 67.28 billion), since April 2016.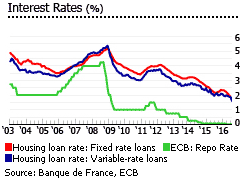 The new cuts and expanded quantitative easing are in line with the ECB's central aim, which is to assist the euro zone's economic recovery. The ECB's euro zone's growth forecast for 2016 has been revised down again, to 1.4% from 1.7%, while the inflation forecast is down to 0.1% from 1%. "While very low or even negative inflation rates are unavoidable over the next few months as a result of movement in oil prices, it is crucial to avoid second-round effects," according to Draghi.
According to the latest European Central Bank's (ECB) bank lending survey, credit standards for housing loans to households in France eased in Q2 2016.
The French mortgage market is mostly fixed rate, helping housing market stability
Over the past 15 years, the French mortgage market has expanded tremendously - from 21% of GDP in 2000, to 44% of GDP in 2015. France's mortgage market grew by 3.95% in 2015, up from the previous year's 2.25% growth. Over 80% of all owner-occupied dwellings in France are bought with mortgages.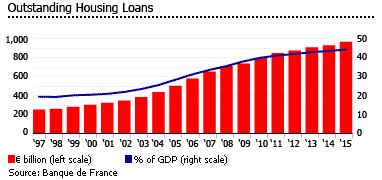 Due to the dominance of fixed rate mortgages, France's housing market is likely to be much less prone to sharp upturns and downturns than housing markets in other countries, where floating rate housing loans are a major source of instability.  Floating-rate loans only make up 6% of new loans in France, and around 15.6% of outstanding housing loans, according to the Autorité de contrôle prudentiel et de résolution (ACPR).
French economy is quite weak; presidential elections in 2017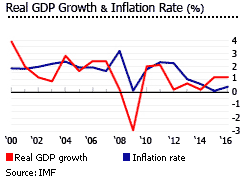 GDP rose by 1.3% during the year to Q2 2016.  However the French economy slightly contracted marginally during the second quarter (by 0.1% q-o-q, after 0.7% q-o-q growth in Q1 2016, according to the National Institute for Statistical and Economic Studies (INSEE).
The economic contraction in Q2 2016 was due to a sharp decline in domestic demand. Private consumption expenditure fell by 0.1% in Q2 2016, and gross fixed capital formation also dropped by 0.2%.
From 2004 to 2007, the French economy expanded by an average of 2.3% per year. In 2009, real GDP fell almost 3%, the country's sharpest recession since World War II.
Despite the worsening eurozone debt crisis, the French economy managed to expand by almost 2% in 2010 and by another 2.1% in 2011. In 2012, the economy stagnated, with growth of 0.2% as President Francois Hollande squeezed the budget deficit and firms slashed thousands of jobs. France's weak economic expansion continued in 2013 and in 2014, with growth rates of around 0.7% and 0.2%, respectively. In 2015 France's GDP expanded by 1.3%, according to INSEE.
France's economy is expected to expand by 1.4% in 2016 due to low interest rates, tax cuts and low energy prices, according to the OECD. "The risks to the outlook are now firmly on the downside, with much higher uncertainty around financial conditions and political developments in Europe," says the IMF.
Aside from Brexit, internal issues affecting the country's growth include:
The recent terror attacks in Nice (in July 2016), Paris (in November 2015), and the shooting at the satirical magazine Charlie Hebdo (January 2015) may be hurting the county's tourism sector as the number of hotel arrivals fell by 7.5% in the first half of 2016. Tourist arrivals also fell by 8% in Q1 2016, according to Euromonitor International.
The hosting the Euro 2016 tournament actually brought economic losses and a decline in productivity.
Strikes, which recently led to an amendment of some provisions in the Khomri Law (named after Labour Minister Mariam El Khomri) that was intended to introduce labour reforms.
High unemployment is one of France's major problems. In Q2 2016, unemployment in France was still high at around 9.9%, although it fell from 10.2% in the first quarter.
Inflation was 0.2% in August 2016, higher than the 0.05% inflation recorded the same month last year.
The European Commission expects France's public debt to rise to 96.4% of GDP in 2016, up dramatically from 85.8% of GDP in 2011, and far higher than previous estimates. The government was able to cut the deficit to 3.6% of GDP in 2015, down from 4% in 2014.
In May 2012 Francois Hollande became the country's first Socialist president since Francois Mitterand (1981-1995), In August 2014, France entered political turmoil triggered by Economy Minister Arnaud Montebourg´s demand for an end to austerity policies. Montebourg demanded a fiscal stimulus to boost growth, arguing that France shouldn't be "slavish" and "dogmatic" in pursuing deficit cuts.
In response President Hollande asked Manuel Valls, Prime Minister since March 2014, to form a new government "consistent with the direction set for the country". Montebourg was replaced as Economy Minister by Emmanuel Macron, a former investment banker at Rothschild. Michel Sapin, a career politician, was appointed Finance Minister, all of which signals a determination to continue France´s present austerity policies.
The country is gearing up for presidential elections in April to May 2017. Some notable potential contenders include former president Nicolas Sarkozy, current prime minister Manuel Valls, economy minister Emmanuel Macron, former prime minister Alain Juppé, and National Front party president Marine Le Pen.
France - More data and information