Increasing house prices in Finland
February 26, 2017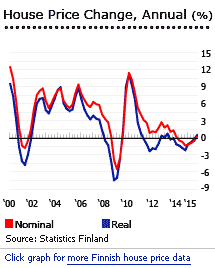 The Finnish housing market is stable, but transaction volumes are heating up, as is construction activity.
During the last quarter of 2016, the average price of old dwellings rose by 1.2% y-o-y (0.5% inflation-adjusted) to around €2,295 (US$ 2,454) per sq. m., according to Statistics Finland.
The average price of old dwellings in Greater Helsinki increased by 2.8% to €3,664 (US$ 3,918) per sq. m. during the year to Q4 2016. The average price of blocks of flats rose 3% to €3,863 (US$ 4,130) per sq. m. The average price of terraced houses rose 2.4% to €3,304 (US$ 3,533) per sq. m.
In the rest of the country, the average price of old dwellings fell by 0.4% y-o-y to €1,681 (US$ 1,797) in Q4 2016. Blocks of flats had an average price of €1,685 (US$ 1,802) per sq. m., slightly up by 0.2% y-o-y. Terraced houses, on the other hand, had a price drop of 0.9% y-o-y to an average price of €1,678 (US$ 1,794) per sq. m.
New dwelling prices, in general, were up by 1.6% (0.9% inflation-adjusted) to €3,609 (US$ 3,859) per sq. m. New dwelling prices in Helsinki fell by 3.9% (-4.6% inflation-adjusted). In the rest of the country, average prices rose by 4.6% (3.9% inflation-adjusted) to €3,228 (US$ 3,451) per sq. m.
Housing starts were up at around 5,129 units, higher than in the previous decade, with an average of 4,500 new housing units being completed annually since 2012, according to the City of Helsinki.
Danske Bank expects housing construction to remain strong in 2017, although they expect that growth figures are "set to peak already", with continued construction of apartments cooling rents and house prices.
House prices are expected to "creep up" in the capital region, according to Juhana Brotherus, chief economist of the Mortgage Society of Finland (Hypo), in an interview with Uusi Suomi. However, increased construction will rein in prices in Helsinki. "It is reassuring that an unprecedented construction boom is under-way in Helsinki, which has kept the prices in check. With the supply growing, the prices won´t get totally out of hand," said Brotherus.
Low interest rates attract more investors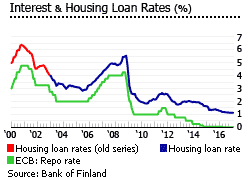 Finland´s housing loan interest rates are still at historic lows at 1.12% in December 2016, down from 1.27% the previous year. The European Central Bank (ECB) made another rate cut in March 2016, reducing its refinancing rate to 0.0% from 0.05%.
During the first three quarters of 2016 residential property transaction volumes ballooned to around €2.1 billion (US$ 2.25 billion), almost double last year´s transaction volumes of €1.25 billion (US$ 1.34 billion), and sharply up rise from the €600 to €700 million (US$ 642.72 to US$ 749.84 million) worth of transactions in 2013 to 2014, according to KTI Finland.
In their Autumn 2016 Market Review, KTI noted that the interest rates are predicted to remain low in the upcoming years, which "further strengthens the position of property in the investment markets". This also increases the attractiveness of debt financing in housing investments.
Increased construction activity; apartments are in-demand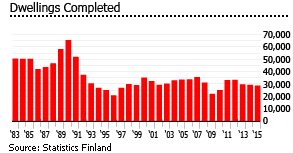 The increased housing market demand from both domestic and foreign investors has propelled residential construction in 2016.
Residential starts from January to November 2016 were around 35,297 dwellings, 17.87% higher than the previous year. Detached houses starts barely increased, posting a 0.85% y-o-y rise. In contrast, blocks of flats housing had a sharp increase of 25.94% y-o-y during the same period.
The number of dwelling permits issued for residential dwellings were also up by almost 20% y-o-y to around 35,243 units, as of November 2016. Permits for detached houses rose by 6.22%, while permits for blocks of flats surged by 26.26%.
Finland's long housing boom has been encouraged by a decade of under-building. Less than 30,000 dwellings were completed annually from 1994 to 1999, down on 40,000 units annually from 1983 to 1991 (with a peak level of 65,397 units in 1990).
Low to moderate rental yields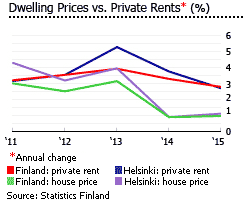 Rental apartments have low to moderate returns, with gross rental yields in Helsinki ranging from 2.86% to 4.11%, according to the Global Property Guide research of August 2016. 
Smaller apartments in Helsinki ranging from 60 sq. m. to 90 sq. m. have rental yields around 4.03% and 3.68%, respectively. Larger apartments of approximately 120 sq m. to 200 sq. m. have average rental yields of 3.49%.
Rents in Finland increased slightly in Q3 2016. The average monthly rent in Q3 2016 was at €12.72 (US$ 13.75) per sq. m., up by 2.09% from the average rent in Q3 2015, according to Statistics Finland. Private rents rose by 3.25% to €13.67 (US$ 14.77) per sq. m., higher than the 0.52% increase to €11.58 (US$ 12.52) per sq. m. on government-subsidized rents.
Greater Helsinki rents were up by 3.39% to €15.54 (US$ 16.80) per sq. m. Private rents were around €17.99 (US$ 19.44) per sq. m., comparably higher than government-subsidized rents, averaging at €12.76 (US$ 13.79) per sq. m.  In Q3 2016, average rents of government-subsidized dwellings are 29% lower than private rents in Helsinki, and 15% cheaper in Finland as whole.
Despite the complete deregulation of the private rental market in 1995, private rents are still distorted by the large social housing sector.   After the initial rapid rent increases following rent liberalization, rental growth was slow. From 2001 to 2007, house prices in Finland rose by around 50%, while private rental rises trailed with growth of only 17%. In Helsinki, house prices rose 55% while private rents rose by only 12%, leading to the relatively low rental yields.
The Finnish tax system still privileges owner-occupation. Despite reforms during the 1980s, a flat 29% tax deduction on mortgage interest remains in place, while imputed rental income and capital gains on permanent homes are untaxed.
In 2015, around 31.8% of all dwellings in Finland were rented. Out of those, 60.8% are privately rented, while 39.2% are government-subsidized.
A history of extreme house price cycles
From 1980 to Q1 2009, the country experienced several dramatic house-price cycles:
INFLATION-ADJUSTED PRICE CHANGE OF EXISTING DWELLINGS

 
Finland
Helsinki
Rest of Finland
1983 – 1989
64.00%
68.50%
--
1989 – 1993
-49.20%
-53.40%
-44.40%
1993 – 1994
6.60%
10.30%
3.20%
1994 – 1995
-4.80%
-6.30%
-1.90%
1995 – 1999
45.00%
62.80%
38.00%
1999 – 2001
-6.90%
-5.50%
-12.00%
2001 – Q2 2008
42.00%
45.70%
33.40%
Q2 -2008 – Q1 2009
-6.40%
-8.60%
-4.00%
Source: Statistics Finland
The relative volatility of house prices in Finland has 3 main causes:
the export-oriented economy's sensitivity to global shocks;
the housing market's high interest rate sensitivity. In 1994, about 70% of new mortgages were variable rate. Since 2001, more than 90% of new mortgages have been variable rate, taking advantage of historic low interest rates from 2003 to 2006.
an insufficiently responsive supply side. Finland's long housing boom was encouraged by a decade of under-building. Less than 30,000 dwellings were completed annually from 1994 to 1999, down on 40,000 units annually from 1983 to 1991 (with a peak level of 65,397 units in 1990).
Finland's most recent house price boom from 2001 to Q2 2008 was typical. There was strong economic and wage growth, plus a decline in interest rates. The interest rate drop has lead to the rise of housing loans during the period. Outstanding housing loans to Finnish households sharply increased by 147.5% from €27.3 billion (US$ 29.24 billion) in 2001 to €67.6 billion (US$ 72.41 billion) in 2008; or from 18.9% of GDP to 34.9% of GDP.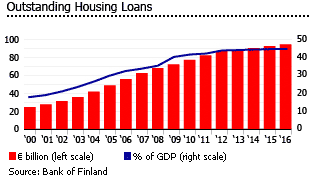 Finland´s mortgage market has enjoyed strong growth during the past two decades, with outstanding mortgage loans rising from 16.2% of GDP in 1995 to 44% of GDP in 2016, according to the Bank of Finland. From 1998 to 2007, outstanding housing loans experienced double-digit annual expansions averaging around 14%.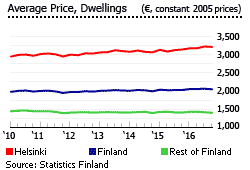 The highest increases in mortgage loan growth were in 2004 (17.44%) and 2005 (16.72%), when the ECB's base rate was around 2%, and average interest rates on new housing loans ranged from 2.8% to 3.2%, before rising to 5.53% in October 2008. The correlation between low interest rates and strong loan growth is obvious.
Domestic demand drives Finland´s economy in 2016, expansion to continue in 2017
After a three-year recession and meagre growth during the last four years, in the third quarter of 2016, the Finnish economy expanded by 1.6% y-o-y (0.4% q-o-q), following 0.9% y-o-y growth in Q2 and robust 2.1% y-o-y growth in Q1 2016, according to Statistics Finland.
The recovery was driven by the domestic demand, with private consumption expanding by 2.1% y-o-y and government consumption by 0.7% y-o-y.
The Finnish economy is expected to have grown by 1% in 2016, thanks to the positive economic trends in the first three quarters, as well as the continued support of domestic demand. It is predicted to expand further by 1.3% in 2017, according to the Bank of Finland.
The eurozone debt crisis dragged Finland´s economy back to recession in 2012, three years after an 8.3% contraction during the 2009 global financial crisis. The economy shrunk by 1.5% in 2012, and the contractions continued in 2013 and 2014, declining by 0.8% and 0.7%, respectively.
In 2015, the economy, although freed from recession, barely grew at 0.2%. During the same year, Finland was named the weakest economy in the euro zone, which prompted the country´s finance minister to label it "the new sick man of Europe".
At the heart of this has been the rise of the Smartphone and the inability of Nokia to compete.  Between 1998 and 2007, Nokia was responsible for 20% of all of Finland´s exports, and in 2000 Nokia alone accounted for 4% of the country´s entire GDP. But by 2008-9 the writing was on the wall, and the February 2011 partnership with Windows failed to save the company; by mid-2012 Nokia was almost bankrupt, and its contribution to Finnish GDP was actually negative.  In April 2014 Nokia sold its mobile phone business to Microsoft.  Nokia´s decline (though it is still the second largest mobile company in the world by sales volumes, but its business is low-end and profitability is low) left over 40,000 highly-skilled Finnish ICT workers unemployed.
In 2016, Finland´s employment rate rose to 68.7% from 68.1% in 2015. Unemployment fell to 7.9% in December 2016 from last year´s 9.2%.
However, while there are new jobs in construction, trade, and services, the manufacturing sector still has low levels of employment due to the continued weak performance of exports.
Aside from Nokia´s weakened activity in the recent years, the country´s exports was also plagued by the economic recession in Russia ― Finland´s major trading partner, as well as the country´s stiff labor market and high labour costs.
In June 2016, a Competitiveness Pact was signed to ensure a boost in exports. This pact was aimed at improving price competitiveness and ultimately improve exports through the reduction of labour costs. The agreement includes the following conditions, which mostly are effective in 2017:
A wage freeze for one year;
An increase of 24 hours in the annual working time (still without raising wages);
A higher share of social security payments to employees; and
A reduction of holiday bonuses in the public sector.
The government pledged income tax concessions for participating employers, which was included in the 2017 budget, worth approximately around €315 million (US$ 335 million) to €515 million (US$ 547 million), depending on the agreement´s coverage.
While this pact promises export gains, its positive impact is likely only to be long-term. Moreover, the wage freeze is expected to adversely affect consumption this year.
Aside from the recent recession, the country´s rising debt has brought government finances under pressure. In October 2014, Standard & Poor´s (S&P) cut Finland´s credit rating to ´AA+´ from AAA.
In March 2016, Fitch followed the rate cut, downgrading Finland´s credit rating to Aa+ with a stable outlook.
Finland´s debt-to-GDP ratio was around 63.6% in 2015, above the 60% of GDP ceiling imposed by EU. The debt-to-GDP ratio is expected to have risen further to 65.6% in 2016, according to Statistics Finland. The country had a budget deficit of 2.8% in 2015.
The country´s inflation rate in 2016 was around 0.4%, up from -0.2% last year.
Finland - More data and information