House prices in Finland stable, but slow economic growth is hurting sentiment
February 17, 2014
House prices in Finland have risen slightly, with the country's economic outlook modestly improving. But sentiment is not positive, as indicated by weak housing starts, construction, and dwellings permits numbers.
During 2013, there was a 1.4% increase in the price index of of old dwellings in blocks of flats and terraced houses (0.05% when adjusted for inflation) according to Statistics Finland, with average prices at €2,261 per square meter (sq. m.).
Blocks of flats had a stronger price increase of 3.1%, to €2,406 per sq. m. during the same period. Terraced houses suffered a 1.1% price drop, to an average of €2,064 per sq. m.
The average price of old dwellings in Greater Helsinki was up by 2.5% y-o-y to €3,549 per sq. m. in Q4 2013. The average price of blocks of flats was €3,709 per sq. m., €3,237 per sq. m. for terraced houses.
In the rest of the country, the average price of old dwellings increased 0.5% to €1,680 per sq. m. Blocks of flats had an average price of €1,684, and terraced houses at €1,675 per sq. m.
The casualty is new dwelling prices, which fell by 2.1% to €3,385 in 2013 (-3.4% inflation-adjusted). In Helsinki, the average price was at €4,607, down by 3.3% in 2013. Prices in the rest of the country also fell by an average of 1.3%, to €2,946. The decline in new dwellings prices can be explained by lower demand, as reflected in lower building permits issued, 20.1% lower y-o-y as of November 2013. Permits for detached houses fell by 23.4%, while permits for blocks of flats were down by 17.9%.
Construction activity also dropped. Housing starts of residential buildings fell by 4.3% y-o-y to Q3 2013, while completions were down by 5.3%.
Housing prices in Finland are expected to remain stable In 2014, according to YIT, because consumers' access to financing is expected to improve, and mortgage interest rates are expected to remain low this year.
The economic outlook for Finland is for an expected 0.8% growth in 2014, after a 1.2% GDP drop in 2013.
Violent house price cycles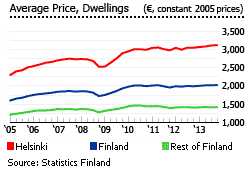 Finland's house price boom lasted from 2001 to Q2 2008. The upsurge in house prices was mainly due to:
Strong economic and wage growth.
Changes in the mortgage market, combined with low interest rates, which made housing more affordable for all income brackets. Outstanding housing loans to Finnish households grew 153% from €24.3 billion in 2000, to €67.6 billion in 2008; or from 18.4% of GDP to 36.3% of GDP.
The tax system. Owner-occupation is still privileged by the tax system, for despite reforms during the 1980s, a flat 29% tax deduction on mortgage interest remains in place, while imputed rental income and capital gains on permanent homes are untaxed.
From 1980 to Q1 2009, the country experienced four distinct house-price cycles:
INFLATION-ADJUSTED PRICE CHANGE OF EXISTING DWELLINGS

Finland
Helsinki
Rest of Finland
1983 – 1989
64.00%
68.50%
--
1989 – 1993
-49.20%
-53.40%
-44.40%
1993 – 1994
6.60%
10.30%
3.20%
1994 -1995
-4.80%
-6.30%
-1.90%
1995 – 1999
45.00%
62.80%
38.00%
1999 – 2001
-6.90%
-5.50%
-12.00%
2001 - Q2 2008
42.00%
45.70%
33.40%
Q2 -2008 – Q1 2009
-6.40%
-8.60%
-4.00%
Source: Statistics Finland
The relative volatility of house prices in Finland is mainly due to:
the export-oriented economy's sensitivity to global shocks;
the housing market's high interest rate sensitivity; and
an insufficiently responsive supply side.
The house price decline in Finland was primarily because the two main causes of the house price boom (a strong economy, and low interest rates) no longer apply. But an additional factor is that the market has become more interest-rate sensitive:
In 1994, about 70% of new mortgages were variable rate.
Since 2001, more than 90% of new mortgages have been at variable rates, taking advantage of the historic low interest rates from 2003 to 2006.
After a price fall of 5.5% in Q1 2009 (-7.01 inflation-adjusted), house prices bottomed out, and rapidly rose as consumer confidence strengthened again. A year later house prices reached another peak, rising by 11.43% y-o-y to Q1 2010 (11.25% inflation-adjusted).
The house price surge eventually died away in late 2011 when the housing market was affected by economic uncertainty. Although there were 1.76% nominal price increases from Q2 2011 to Q3 2012, prices actually fell by an average of 1.41% when adjusted for inflation.
Currently, house prices are stabilizing.
Construction activity declines
Finland's weak sentiment is mirrored in the numbers - weak construction, weak housing starts and weak dwelling permits figures.

Construction of new dwellings in Finland declined in 2013. Residential completions were down by 5.3% y-o-y in Q3 2013 to a total of 21,084 dwellings, with completions of blocks of flats down 8.6% and detached houses down 0.08%.
Housing starts also dropped by 4.3% to 21,850 dwellings. Detached houses starts declined by 13.6% y-o-y, but blocks of flats housing rose 4.8%.
The number of dwelling permits issued fell by 20.1% y-o-y to a total of 23,963, in November 2013. Permits for blocks of flats were down 17.9%, for detached houses down 23.4%.
Finland's long housing boom was encouraged by a decade of under-building. Less than 30,000 dwellings were completed annually from 1994 to 1999, down on 40,000 units annually from 1983 to 1991 (with a peak level of 65,397 units in 1990).
Around 65% of dwellings are owner-occupied, 31% are for rental while other forms of tenure account for the remaining 4%.
Mortgage market vibrant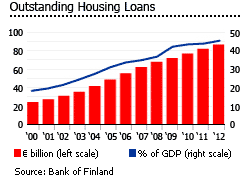 Finland's mortgage market has grown strongly during the past two decades. From 16.7% of GDP in 1995, outstanding mortgage loans rose to around 44.8% of GDP in 2012. However, in 2013, new mortgage loans were only at an average of €1.460 billion per month, a decline from €1.789 billion per month in 2012, based on the figures from the Bank of Finland.
The expansion of the mortgage market was largely attributable to the house price boom in the early 2000s.
From 1998 to 2007, outstanding housing loans experienced double-digit annual expansions averaging at around 14%. The highest outstanding loan increases were recorded in 2004 (17.44%) and 2005 (16.72%), which is also the time when ECB's base rate was at its then lowest at 2% and the average interest rate for Finland's new housing loans ranged from 2.8% to 3.2%.
Interest rates very low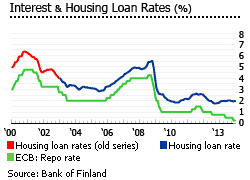 It was a severe shock to the housing market when interest rates on new loans rose to 5.53%,in October 2008. Following a spike in inflation due to rising food import prices, the European Central Bank (ECB) had raised its repo rate by rapid steps to 4.25% in July 2008, from a record low of 2.0% in November 2005.
These rate hikes, combined with the global recession, soon set off a severe economic downturn across Europe, and in May 2009 the ECB was forced to bring the base rate down again to 1%. Finland's average new housing loan mortgage rates fell to 2.55%.
In 2013, after the ECB cut the base rate from 0.75% to 0.50% in May, another surprising rate cut was made by the ECB to 0.25% in November, a reaction to euro zone's inflation rate of only 0.7% in October 2013.
In December 2013, the average interest rate for new housing loans in Finland was at about 1.97%.
Low to moderate yields; prevalence of subsidized rents
Finland's rental yields ranges from low to moderate. Gross rental yields range from 3.30% to 4.96%, with smaller apartments having higher yields than bigger ones, based on the Global Property Guide research in August 2012.
In Helsinki, yields for 40 sq. m. and 75 sq. m. apartments were an average of 4.96% and 4.70%, respectively. A 120 sq. m. apartment could yield up to 4.05%, while an even larger apartment of 200 sq. m. at 3.30%.
Rents increased during 2013. The average rent was up by 3.7% to €11.71 per sq. m., according to Statistics Finland. Private rents rose by almost 4% y-o-y to €12.56 per sq. m., higher than the 3.4% increase to €10.71 per sq. m. on government-subsidized rents.
In Greater Helsinki, the average rent was around €14.06 per sq. m., having risen 4.4% in 2013. Private rents are around €16.13 per sq. m., compared to subsidized rents which average €11.75 per sq. m. In the rest of the country, average rents rose 3.2%, to €10.53 per sq. m. Subsidized rents average €10.16 per sq. m., while private rents average €10.84 per sq. m.
In 2012, around 30.5% of all dwellings in Finland were rented. Out of those, almost 55% are privately rented, while 45% are government-subsidized. Even with the complete deregulation of the private rental market in 1995, private rents are still distorted, due to the large social housing sector. Government subsidized rents are 25% lower than private rents in Helsinki, and 15% cheaper for Finland as a whole.
After the initial rapid rent increases after rent liberalization, recent rental growth has been slow. From 2001 to 2007, house prices in Finland rose by around 50%, while private rents trailed with growth of only 17%. In Helsinki, house prices rose 55% while private rents rose by only 12% over the same period. This has led to relatively low rental yields in Finland, ranging from 3.7% to 5.8% per annum in August 2008, according to the Global Property Guide.
In 2008, private rents rose 4.06% y-o-y, while government-subsidized rents rose by 5.3%.
Outlook for Finnish economy in 2014 - some growth (not much)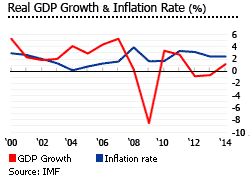 Finland's small population of 5.4 million, and its huge land area (338,145 sq. km), make it one of the world's least densely-populated countries. Its estimated GDP per capita stood at US$47,625 in 2013, making it one of the richest nations in the world.
Finland is considered to have one of the best educational systems, and is one of the most peaceful, competitive and livable countries in the world. It is the only Nordic country to have adopted the euro as its official currency.
In 2012, the country went back into recession, its economy shrinking by around 0.8% in 2012, and continuing to contract in 2013 by 1.2%, according to the Ministry of Finance. The ministry expects growth of 0.8% in 2014, despite a predicted 3.6% recovery in exports. A much better economic outlook awaits in 2015 with an expected growth rate of 1.8%.
Despite its poor economic performance during the crisis, Finland remained the only country in the euro zone to hold a triple-A credit rating with a stable outlook from all three international credit rating agencies. However, the country's rising debt as well as the recent recession it putting government finances under pressure.
In 2012, Finland's debt-to-GDP ratio was around 53.6%, almost near the 60% of GDP ceiling imposed by EU. The Bank of Finland has warned that Finland may eventually be included in the euro zone's list of most indebted countries, if government spending is not reformed. Based on the central bank's calculation, debt might actually exceed to 110% of GDP in 2030 if no measures are implemented.
Finland's budget deficit is still within the 3% of GDP limit, at around 2.2% in 2013, and is expected to be around 2.3% in 2014. In 2012, the budget deficit stood at 1.8% of GDP, from 0.7% in 2011 and 2.5% in 2010.
Unemployment slightly rose in December 2013 to around 7.9% a one percentage point increase from the same period last year. The overall unemployment rate in 2013 was 8.3%, up from 7.7% in 2012, according to Statistics Finland. Average inflation for 2013 was 1.5%.
Finland - More data and information