Copenhagen - another housing bubble?
June 27, 2014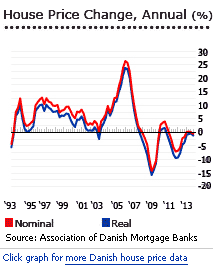 House prices in Copenhagen and near the Danish capital are climbing so quickly, they may soon surpass pre-financial crisis levels.   "We are not yet on the cusp of another housing bubble, but we are moving towards one and we can see it," Steen Bocian, chief economist at Danske Bank, told Børsen business newspaper.
Copenhagen's property prices shot up by 14.4%, to DKK25,625 (USD4,663) per square metre (sq. m.) in 2013 (13.65% inflation adjusted).
Denmark experienced a long house-price boom dating from 1994, which reached a crescendo from 2003 to 2007, then declined after the financial crisis. 
Pre-crisis prices will be reached in six months if the trend continues, according to Denmark's biggest lender, Danske Bank.  Detached/terraced houses in Copenhagen are now only around 10% less expensive than its peak value in late 2006 at DKK28,321 (USD 5,174) per sq. m..
Nation-wide, the average price of owner-occupied flats rose by 6% in 2013, to DKK19,297 (USD3,512) per sq. m. (5.25% inflation-adjusted).  Holiday home prices rose 1.39% to DKK13,962 (USD2,541) per sq. m..  
Houses fared less well.  The price of houses in Denmark fell 0.5% to DKK10,894 (USD1,983) per sq. m. during 2013 (-1.15% inflation adjusted), according to the Association of Danish Mortgage Banks (ADMB). 
In 2013:
In the capital region, the average detached/terraced houses price rose 3.4%, to DKK18,619 (USD3,388) per sq. m. (2.8% inflation-adjusted)
In Central Denmark region, house prices dropped by 0.8% to DKK10,226 (USD1,861) per sq. m. (-1.5% inflation-adjusted)
In North Jutland, house prices fell 2.3% to DKK7,799 (USD1,419) per sq. m. (-3% inflation-adjusted)
In Southern Denmark, house prices fell by 2.9% to DKK8,475 (USD1,542) per sq. m. (-3.5% inflation-adjusted)
In Zealand region, house prices dropped by 4% to DKK9,011 (USD1,640) per sq. m. (-4.7% inflation-adjusted)
For houses, average days on market decreased to 208 in Q4 2013, down from 221 days in Q4 2012.
Holiday homes sold in an average of 309 days in Q4 2013, down from 319 in Q4 2012.
Owner-occupied flats sold in an average of 124 days in Q4 2013, down 20.5% y-o-y.
However the talk of bubble is difficult to credit, since gross rental yields are good, at from 5.18% to 6.24%.
Housing Boom and Bust
Property prices in Denmark peaked in Q2 2007, after huge rises from 2003-2007:
Prices in the capital region rose by 88.3%, from Q1 2003 to Q2 2007 (75.6% in real terms), the highest regional gain.
Prices in the Central Denmark rose 72.2% (60.6% in real terms) during this period. 
Zealand prices rose 70.13% (58.7% in real terms).
Price increases in other regions ranged from 63.3% (52.3% in real terms) for Southern Denmark, to 57.7% (47.1% real) for North Jutland.
The national average rose 75.4%, or 63.6% in real terms (all figures from ADMB).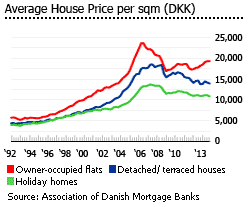 After the global financial meltdown, the biggest price-drop occurred in the Capital Region where house prices fell by 25.3% (-28.8% real). House price falls in other regions ranged from 21.3% (-24.9% real) for Zealand, to 2.2% (-6.7% real) in North Zutland.  Copenhagen house prices dropped by 21.6% (-25.2% in real terms).
Many regional lenders went bankrupt, pushing the economy into recession. The regions that experienced the highest price rises during the boom generally had the biggest price falls during this period.
After a short-lived recovery from Q3 2009 to Q3 2010 (with property prices rising by 4% or 1.6% when adjusted for inflation), property prices have been falling again, mainly due to the adverse impact of the eurozone debt crisis.
Copenhagen prices way above national average
In Q4 2013, Copenhagen detached/terraced houses were worth around 135% more than the national average, according to ADMB.  The gap is the widest it's ever been in percentage terms. Although Copenhagen prices have always been higher, the gap was less than 50% before 1998.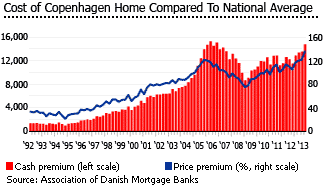 Sales slowly picking up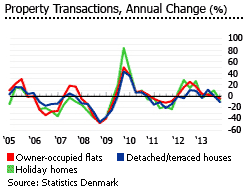 For the whole year of 2013, sales of detached/terraced houses declined 0.4% from 2012, while sales of owner-occupied flats and holiday homes increased 0.3% and 1.7%, respectively.  A total of 43,263 properties were sold in 2013.
Days on market are falling, indicating a rising market:
Average days on market of detached/terraced houses decreased to 208 days in Q4 2013, down from 221 days in Q4 2012.
Holiday homes were sold in an average of 309 days in Q4 2013, down from 319 in Q4 2012.
Owner-occupied flats sold in an average of 124 days in Q4 2013, down 20.5% y-o-y.
Completions, construction starts, and construction permits all fell in 2013: 
Residential completions dropped 13.2% in 2013 to 11,210 units. In the first quarter of 2014 completions fell 12.7% y-o-y to 2,350 units, according to Statistics Denmark.  
Multi-dwelling construction starts declined 55.5% in 2013. Detached and semi-detached dwelling starts declined 13.5% and 56.1%, respectively.
Construction permits also declined by 18% in 2013 to 8,252, the second lowest number since 1996. Permits for semi-detached houses declined by 29.1%, for detached houses by 26.7% and for multi-dwelling units declined by 0.44%.  
But the first quarter figures give hope for 2014. Construction permits for multi-dwelling units and semi-detached houses increased 46.8% and 38%, respectively – the highest y-o-y growth for both property types since Q2 2011. Permits for detached houses, however, declined 45%.
Denmark strays from ECB rate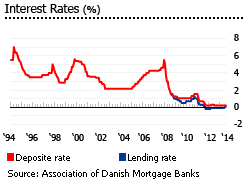 Denmark chose not to follow the European Central Bank with its negative interest rate, keeping interest rates unchanged to strengthen the krone.
Denmark's deposit rate was kept at 0.05% and the main lending rate was left at 0.2%, according to the Danmarks NationalBank. Most banks, including Scandinavia's biggest, Nordea Bank AB, predict no change in rates. But Danske Bank A/S expects Denmark to deliver a cut given the scope of the ECB's stimulus measures.
"As usual, we're monitoring what the ECB does and this time we decided not to follow," according to Danish central bank spokesman Karsten Biltoft, quoted by Bloomberg. "We left the rate unchanged, which will normally expand money market rate spreads." It "was our assessment" that doing so would strengthen the krone, he said.

Bright prospects for 2014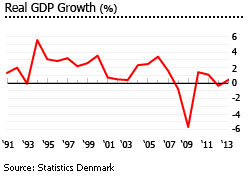 Denmark has started to emerge from the fallout of 2008.  The nation returned to growth with economy expanding 1.4% y-o-y in the first quarter, following 0.4% growth in 2013.  The EU Commission predicts Danish GDP growth of 1.7% in 2014, and 1.8% in 2015.  A report last May showed consumer confidence at its highest since 2007.
"Denmark is making the long hard pull to leave the crisis behind," says Helge Pedersen, chief economist at Nordea Bank AB. "Domestic demand is on the move and international indicators suggest the most important export markets in Germany, Sweden and the U.K. have gained momentum."
In 2008, Denmark became one of the first countries in Europe to go into recession. The economy contracted by 0.8% in 2008 and by 5.7% in 2009. Boosted by government spending and the recovery of the global economy, Denmark's GDP grew by around 1.6% in 2010 and by another 1.1% in 2011. However, the economy contracted again by 0.5% in 2012, according to Statistics Denmark.
Prime Minister Helle Thorning-Schmidt has pledged to defend Denmark's AAA credit rating by promoting stable finances while stimulating the economy within the European Union's set budget deficit limit of 3%, according to a report by Bloomberg.
Unemployment low in Denmark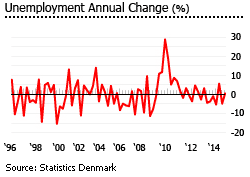 Denmark's unemployment rate stood at 4.8% y-o-y in the last quarter of 2013, according to Statistics Denmark.  Unemployment has been on a downward trend since the spring of 2012 and is projected to decline further.   
In May 2014, inflation was just 0.5%, according to Statistics Denmark. From 2010 to 2012, the average annual inflation rate stood at 2.5%.
Danish mortgage market could be in deep trouble, when rates rise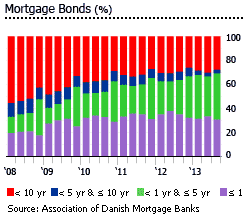 Denmark is the most indebted country among the 34 members of the OECD, according to Financial Times.  Danish households' personal debt equals about 309% of income. 
Borrowers are very exposed to any rise in interest rates.   In 2004 only 10% of Danish mortgages had long interest-only periods. By 2013 that number had climbed to 57%, and adjustable-rate mortgages are now 71% of all mortgages (from 38% a decade ago).
Danes are paying down their mortgages at a rate of only 2% a year on average. Their monthly payments rise sharply when the interest-only periods end (typically ten years into the loan). The tendency is for some to not be able to afford them: the recovery has been weak, and employment has fallen in recent years. Refinancing is an option for many, but not for the most precarious borrowers, due to legal restrictions on loans of more than 80% of a property's value, according to the Economist.
Denmark's USD550billion mortgage bond market is heading for a "potential crisis", British private bank Arbuthnot Latham has cautioned.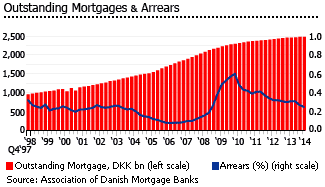 Most Danish mortgage bonds have maturities of less than five years, when mortgages should be long-term.  The share of bonds with maturities of less than five years has more than doubled to 69% during the past five years, according to the Association of Danish Mortgage Banks (ADMB). The mismatch means that some bonds must be rolled over each year.
Rating companies are still worried.  Although a recent law extends maturities on bonds which finance longer-term loans by 12 months, if refinancing auctions fail, or if rates climb more than 5 percentage points.   "Some of the consequences of the Danish funding structure are addressed in the bill, but the causes are not," says ratings agency, Fitch.
"The law, as we understand it, will not discourage the use of short-term F1 mortgage loans," said Alexander Ekbom, analyst at Standard and Poor's, referring to loans that are financed annually. "Therefore mortgage lenders' dependence on short-term liabilities will remain high, perpetuating the status quo," he added.
The European Banking Authority (EBA) has recommended limiting covered bonds' use in bank liquidity buffers, which, according to S&P, would have a more significant impact than the new law. However, since new regulations require banks to hold a certain level of liquid assets, such a change would make failed bond auctions likelier. So Denmark is lobbying against the proposed change with its European partners and the European Commission.
If the EBA does lower the status of Danish mortgage bonds, banks would presumably have to offer higher interest to attract enough buyers. The increase would then be passed on to borrowers, further stretching their finances, said Ane Arnth Jensen of ADMB.
Yet on some dimensions, the Danish mortgage market is healthy.  Mortgage arrears fell to 0.25% in Q4 2013, the lowest since Q2 2008. Likewise, the total number of repossessed dwellings dropped 22.15% to 1,916 in 2013.  Total mortgages outstanding in the fourth quarter of 2013 rose 0.9% to DKK2.48 trillion (USD453 billion) from last year, according to the ADMB.
Rental yields moderate to good, despite highly regulated market
Denmark's housing market is fundamentally distorted by misguided social policies. The private rental market is strongly pro-tenant (see Landlord and Tenant section). Rents are non-responsive to market forces because there are five different forms of rent control, depending upon the age of the building. Private sector rents are regulated based on historic costs, and there is a huge social rental sector.
The result has been to discourage the private rental sector:
Before the 1980s, a huge chunk of the total households in Denmark was occupied by tenants. In 1977, for instance, dwellings occupied by tenants comprised more than 86% of the total households in the country.
By the 1980s up to the present, the share of dwellings occupied by tenants was reduced to only 40%-49%. In 2008, more than half (51%) of the 2.5 million households were owner-occupied, according to Statistics Denmark. The rental market comprised about 47% of the housing stock, while other categories comprised the remaining 2%.
In 2013, the rental sector comprised about 49% of the 2.59 million households.
Only rental dwellings constructed after 1991 are exempt from rent control (less than 1% of dwelling stock, or about 10,000 to 15,000 units). Approximately 60% of all private rented dwellings were built before 1940, and only about 11% were built after 1980. In fact, rather few new private rental dwellings are now being built.
Although there has been a slight decline in owner-occupancy in favour of social housing, this is due to the rise of single person households.
Owner-occupied dwellings, which cater mainly to families, receive generous benefits from the government. Aside from mortgage tax relief, house owners are also entitled to a standard deduction for home maintenance. About 21% of households in Denmark receive housing subsidies from the government, the highest rate in the EU.
Rapid price increases in the past led to low rental yields in Denmark.  But in the past few year yields have recovered (see rental yields in Denmark), and average rental yields in Copenhagen typically range from 5.18% to 6.54%, according to Global Property Guide research.
Denmark - More data and information