INDIVIDUAL TAXATION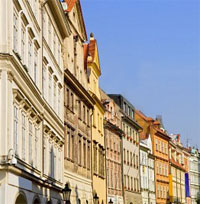 Tax residents in the Czech Republic are taxed on their worldwide income. An individual becomes a tax resident if he has a permanent home in the country or he stays for 183 days in the calendar year, except for stays for studies or medical treatment.
INCOME TAX
Resident taxpayers are taxable on almost all kinds of income. Income is classified according to the following categories: (1) business income, (2) employment income, (3) investment income, (4) rental income, (5) capital gains, and (6) other income.
Taxable income is computed separately for each category of income by deducting allowable expenses and deductions. Taxable income is then aggregated and taxed at progressive rates.
INCOME TAX

TAXABLE INCOME, CZK (€)
TAX RATE
Up to 1,701,168 (65,758)
15%
Over 1,701,168 (65,758)
23% on all income over €65,758
Source: Global Property Guide
The following items are deductible from the aggregate taxable income:
Donations made to approved charitable, educational and political organizations that are at least 2% of the taxable base or CZK1,000 (€39) and not more than 10% of the taxable base.
Mortgage interest and interest on housing saving loan for the taxpayer´s main residence up to CZK 300,000 (€11,596) per year
Premiums paid for private life insurance not more than CZK12,000 (€464) per year, provided that the benefits will only be paid after 60 months and not before the insured reaches the age of 60 years.
Contributions made to a state-contributory settlement pension fund not less than CZK6,000 (€232) and not more than CZK12,000 (€464) a year.
The following tax credits are granted to residents, and nonresidents earning at least 90% of their income from sources in the Czech Republic:
A basic personal tax credit of CZK27,840 (€1,076)
may be set off against the income tax liability.
A spouse allowance of CZK24,840 (€960)
A child allowance of CZK13,404 (€518) per dependent child (up to 18 years or 26 years if the child is still studying)
RENTAL INCOME
Rental income from a non-business property jointly owned by a married couple shall be taxed as income of only one of them. Taxable rental income can be computed in two ways:
Income less actual expenses and deductions; maximum of CZK600,000 (€23,193)
Standard deduction of 30% of gross rent in lieu of itemized deduction of actual expenses; maximum of CZK600,000 (€23,193)
CAPITAL GAINS
Gains from the sale of immovable property are included in the calculation for aggregate taxable income. Capital gains are generally computed as selling price less acquisition costs and allowable deductions.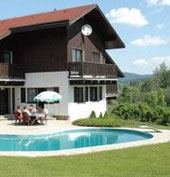 Capital gains realized from the sale of a non-business property are exempt from taxation if the property has been held by the taxpayer for at least five years prior to the sale.
Capital gains from the sale of a property that was used as the taxpayer´s primary residence for at least two years are exempt from tax. If the property was used for less than two years, the exemption is granted if the gains will be used for the taxpayer´s housing.
PROPERTY TAX
Real Estate Tax
Real estate tax is levied on all properties in the Czech Republic, payable by the owner. Applicable rates vary depending on the kind of real estate.
For land, tax rates vary depending on land use and land area. For building land, land tax is CZK2 (€0.08) per square metre, and CZK0.20 (€0.01) for other types of land.
For building or flats, tax rates vary from CZK2 (€0.07) to CZK10 (€0.39) per square metre. Residential and agricultural buildings are subject to real estate tax at CZK2 (€0.08) per square metre.
For some types of property, the real estate tax rates are also multiplied by a coefficient of one to five, depending on the location of the property.
CORPORATE TAXATION
INCOME TAX
Income and capital gains earned by companies in the Czech Republic is taxed at a rate of 19%. The taxable income of a corporation is generally computed as gross income less income-generating expenses.
Capital gains from the sale of properties that have been in the company´s possession for at least 5 years are exempt from tax.