After eight years of strong house price rises, Bulgaria's housing market remains vibrant. The nationwide house price index rose sharply by 14.6% during the year to Q2 2022, accelerating from a y-o-y rise of 9.1% during the same period last year, according to the National Statistical Institute (NSI) – the strongest house price growth since Q3 2008.

However in real terms, house prices actually fell by 1.9% y-o-y in Q2 2022, amidst surging inflation. Overall inflation accelerated to 17.7% in August 2022, sharply up from just 3.7% in the prior year and the highest reading since May 1998.

Quarter-on-quarter, nationwide house prices rose by 3.1% in Q2 2022 but actually declined 1.4% in real terms.

By property type:

Prices of new dwellings rose by 12.3% during the year to Q2 2022, up from the previous year's 7.2% y-o-y rise. When adjusted for inflation, prices dropped 3.9%. During the latest quarter, prices of new dwellings were up 2.4% (-2.1% inflation-adjusted).
Prices of existing dwellings rose by a huge 16% (-0.7% inflation-adjusted) in Q2 2022 from a year earlier, the biggest y-o-y growth in recent history. Quarter-on-quarter, existing house prices increased 3.5% (-1% inflation-adjusted).

Demand continues to rise strongly, thanks to growing household incomes, low mortgage rates, as well as low unemployment. In the second quarter of 2022, the number and value of residential property transactions in Bulgaria soared by 26.8% and 38%, respectively, as compared to the same period last year, according to figures from the NSI.

Despite rising demand, residential construction activity is now showing signs of slowdown, due to the rising prices of building materials, coupled with supply chain disruptions. In the first half of 2022, dwelling completions fell by 6% y-o-y to 8,125 units.

Bulgaria's housing market is projected to continue growing in the medium term, albeit at a slower pace, amidst weaker economic growth and an expected rise in interest rates. The nervous political situation in the country also increases uncertainty in the housing market, with President Rumen Radev calling for a snap election on October 2 – Bulgaria's fourth parliamentary vote within two years – after the collapse of ex-Prime Minister Kiril Petkov's government in June. The country is currently under the caretaker government of Prime Minister Galab Donev until a new administration is formed.

National Real Estate Association Chairperson Dobromir Ganev expects house prices in the country to increase by just 2% to 3% by end-2022. Yet Ganev reiterated that prices are unlikely to fall due to limited housing supply, especially in Sofia.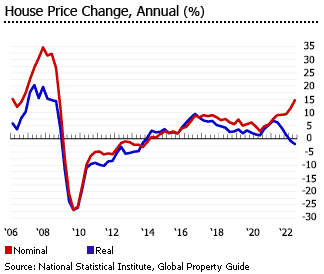 Bulgaria's economy had been expanding by an annual average of 3.6% in 2015-19, before it contracted by 4.4% in 2020 due to the Covid-19 pandemic. The economy returned to growth in 2021, registering a real GDP growth rate of 4.2%. Economic growth is expected to slow to 2.8% this year, according to the European Commission.

European Union citizens can purchase properties in Bulgaria, including land. Before January 2012 foreigners could purchase land only in the name of a legal entity and were not allowed to own a property.