Is Bulgaria's property rebound beginning?
December 07, 2010
House prices in Bulgaria continued to fall in Q3 2010, albeit at a slower rate. Although economic growth has returned to Bulgaria since Q2 2010, it is at a snail's pace, not enough to dent high unemployment or push up consumption.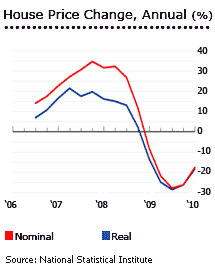 The average price of existing flats in Bulgaria dropped 6% to BGN960 (€491) from a year earlier. The relatively small price drop is a significant improvement on the more than 20% price falls experienced in 2009, and the 17.8% decline during the year to Q1 2010, according to the National Statistical Institute (NSI).
Average prices at Q3 are 32% below the peak two years earlier (BGN1,418 (€726) per sq. m.). During the house price boom, residential property prices in Bulgaria surged by around 300% between 2000 and 2008.
Sofia province has rebounded strongly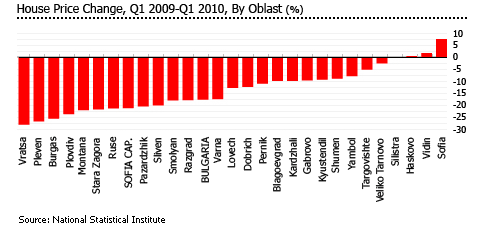 The situation looks better in Sofia, the capital city. For the first time since Q3 2008, the average price of existing dwellings rose by 2.2% q-o-q to Q3 2010. However, the average price of BGN1,593 (€815) per sq. m. was lower by 2.9% from a year earlier.
Of the other 27 provinces, six registered positive annual price changes in Q3 2010; including Sofia Province with an impressive rebound of 22.2% increase.   On a quarterly basis, house prices in 11 provinces posted increases.  
Foreign demand has fallen off a cliff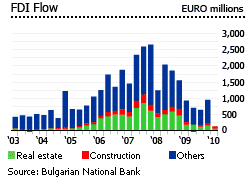 A large part of foreign investments (FDI) entering Bulgaria in recent years went into real estate, and these have shrunk dramatically. Real estate FDI was only €61 million in Q1 2010, down from €182.2 million a year ago, and massively down from the peak of €853.6 million of Q3 2007.  
The housing downturn in Bulgaria started when the global financial crisis hit Europe in late 2008.
Sales are picking up
Despite the weak prices, some agents say sales surged by 40% in Q1 compared to the same quarter last year.  According to Colliers Bulgaria, sales began to pick up as early as August 2009, after months of stagnation. Houses priced below €1,000 per square metre were the most marketable. 
British and Russians are the top foreign buyers of Bulgarian real estate, buying holiday houses near the Black Sea and the Danube River.  Hit by the financial crisis, in Q1 2010 there was a net outflow of €30 million of UK investment from Bulgaria, in sharp contrast to the inflow of €129.8 million in Q1 2009.
Russians remain net buyers.  There was an investment inflow from Russia of €43.6 million in Q1 2010, down from €73.7 million the year earlier, in Q1 2009.
The economy has emerged from recession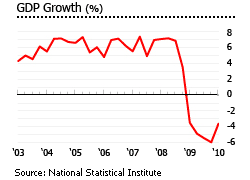 Bulgaria's GDP rose 0.3% seasonally-adjusted q-o-q to Q3 2010, after a 0.5% expansion in Q2. From a year earlier, the economy expanded 0.2% in Q3 after a -0.3% in Q2 and -0.8% in Q1 2010.  The over-all change in GDP for 2010 is expected to be around -0.5%.
Economic growth is expected to accelerate in 2011, with a GDP expansion of 2.6%.  Then 3.2% growth is likely in 2012, according to the European Commission. 
Unemployment is expected to climb to 9.8% by the end of 2010, from 6.3% in 2008 and 9.1% in 2009. Unemployment is anticipated to ease slightly to 9.1% in 2011 and 8% in 2012.
The global financial crisis sent Bulgaria into recession in 2009. After growing by 6% in 2008, the Bulgarian economy shrank  5% in 2009. Exports, consumption and capital formation were all down. The economy continued to deteriorate in Q1 2010, with GDP down by 4% from Q1 2009 – the second largest GDP fall among European Union countries.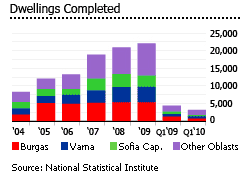 The unemployment rate rose to 10.2% in Q1 2010, significantly higher than last year's 6.8%. This was also the highest since 2006.
Many housing construction projects have been halted. Dwellings completed in Q1 2010 were 26.9% down from Q1 2009, and building permits were 32.8% lower. But the really significant decline had happened a year earlier - Yambol and the capital city of Sofia had huge declines of more than 70% year-on-year to Q1 2009.   
The struggling mortgage market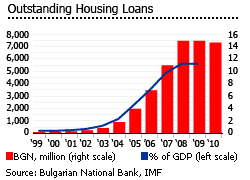 Weak credit demand and stringent loan policies have meant a decrease in the amount of housing loans New housing loans granted from January to May 2010 amounted to BGN501.3 million, 4.9% higher than during the same period last year, but 65.9% lower than during the same months in 2008.
In May 2010, non-performing housing loans reached BGN 48.6 million, or 13.1% of the Bulgaria's total bad debts. In response, banks lowered the maximum loan-to-value ratio to 50%, and have implemented strict income and property requirements.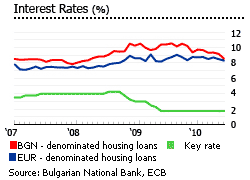 The average mortgage interest rate in May was down to 8.55%, from 10.09% in 2009, for BGN-denominated loans. Euro-denominated loan rates were down to 8.29%, from 8.59% in 2009.
Bulgaria - More data and information