Bulgaria's housing market recovering slowly
April 07, 2014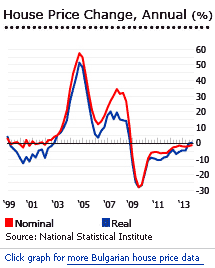 Bulgaria's housing market is now recovering slowly, amidst an improving economy. House prices are now stabilizing, and property transactions are starting to pick up.
In 2013, the average price of existing flats in Bulgaria dropped by just 1.21% to BGN 864.52 (€442.12) per square metre (sq. m.), the slowest year-on-year decline in the past five years, according to the National Statistical Institute (NSI). However, when adjusted for inflation, the price of dwellings actually increased slightly by 0.38%.
On a quarterly basis, the average price of existing flats in the country fell by 0.15% (-0.93% in real terms) in the last quarter of 2013.
Property prices in Bulgaria are now 39% (-45.1% in real terms) lower than at their Q3 2008 peak, when they reached BGN 1,418 (€725.17) per sq. m.
In Sofia, the capital, the average price of dwellings was down by 0.9% in 2013 from a year earlier, at BGN 1,439.79 (€736.32) per sq. m.
Out of 28 provinces of Bulgaria, only 3 provinces, which included Ruse, Targovishte, and Veliko Tarnovo, saw annual house price increases in 2013. Sharp price drops were recorded in Vratsa, Pazardzhik, and Sliven.
From 2000 to 2008, Bulgaria had a house price boom. Residential property prices surged around 300%. However, the property bubble burst towards the end of 2008, mainly due to the global economic and financial crisis.
In 2009, Bulgaria's average dwelling price plummeted by 26.31% (-26.72% in real terms) from a year earlier;
In 2010, the average dwelling price fell by 5.58% (-9.68% in real terms);
In 2011, the average dwelling price plunged by 6.16% (-8.67% in real terms);
In 2012, the average dwelling price dropped by 1.4% (-5.42% in real terms).
The Bulgarian property market is expected to continue recovering in 2014, thanks to the stable income and cash savings of homebuyers, according to local real estate agency Adres.
"Deposit interest rates are expected to drop further in the next 12 months and the decline of real estate prices will stop, which will activate buyers," said Georgi Pavlov of Adres. "We expect that a lot of people who have savings accounts will consider investing in real estate, once they note the decrease in interest rates. Property investment is a safe bet, and a possible price hike would make it even more profitable," Pavlov added.
European Union citizens can now purchase properties in Bulgaria, including land. The 5-year moratorium on land purchases, set as a condition in the Accession Treaty between Republic of Bulgaria and The European Union, was lifted in January 1, 2012.
Previously, foreigners could purchase land only in the name of a legal entity and were not allowed to own a property. The lifting of the ban now gives European citizens the right to own property as individuals.
Foreign demand has collapsed since the boom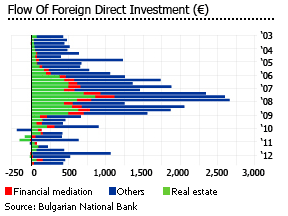 From 2006 to 2008, real estate was a quarter of total foreign direct investment (FDI) in Bulgaria, with a quarterly average of €541 million. However, real estate FDI has shrunk since 2009. In Q3 2012, real estate FDI was only €7.6 million, down from the previous year's €66.6 millio
Demand starts to revive
In Sofia, property sales have already revived, with the number of transactions rising by 10% in 2013 from the previous year, according to Polina Stoykova, MRICS' Head of Operations and Property Research. In addition, the sales of seaside holiday homes also rose by about 20% over the same period.
Modest economic growth in 2014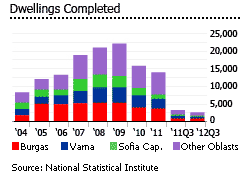 In the fourth quarter of 2013, Bulgaria's real GDP growth rate accelerated to 1% from the same period last year, up from the annual growth of 0.7% in Q3 2013 and the fastest pace since Q1 2012, thanks to higher consumption. This followed 0.4% growth in 2010, 1.8% growth in 2011 and 0.8% growth in 2012, according to the National Statistical Institute (NSI).
In 2014, the Bulgarian government expects the economy to expand by 1.8%, slightly more optimistic than the IMF's projection of 1.6% growth and European Commission's 1.5%.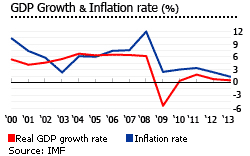 Bulgaria has one of the lowest budget deficits and overall debt levels in Europe. In 2013 its budget deficit stood at 1.8% of GDP, below the government target of 2%, according to the Finance Ministry. Bulgaria's overall debt rose to 18.5% of GDP in 2013, from 16.3% of GDP in 2012, still one of the lowest in Europe.
In January 2014, inflation stood at 1.3%. Bulgaria's average annual inflation rate is expected to slow to 0.8% in 2014, and to stand at 1.2% in 2015, according to UniCredit Bulbank.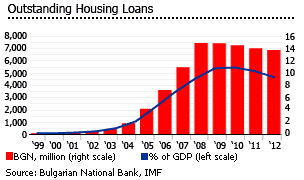 Unemployment rose to 12.9% in 2013, up from 12.3% the previous year, according to the NSI.
But in February 2014, the country's jobless rate fell slightly to 12.1%, according to Eurostat.
Interest rates are declining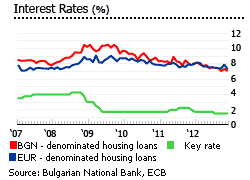 Credit demand remains weak. The total of new housing loans granted from January to November 2012 amounted to BGN 1,048.2 million, 8.2% down on the same period in 2011, and 65.8% down on the same months in 2008.
In May 2010, non-performing housing loans reached BGN 48.6 million, or 13.1% of the Bulgaria's total bad debts. In response, banks lowered the maximum loan-to-value ratio to 50%, and have implemented strict income and property requirements.
The average mortgage interest rate for BGN-dominated loans was 7.12% in November 2012, down from 8.23% in 2011. The Euro-dominated loan rate was 7.40%, down from 7.85% in 2011. The declining mortgage rate trend is likely to continue in 2013, according to Levon Hampartzoumian, chairman of the Bulgarian Association of Banks.
Bulgaria - More data and information