Andorra's property market struggles
February 13, 2013

Andorra's property market continues to struggle, after being adversely impacted by the global financial and economic crisis. Demand waned. Property prices dropped. Construction activity declined sharply. However, Andorra's luxury housing market was more resilient, with prices holding steady, according to local real estate experts.

Andorra saw a great housing boom during the early-2000s, led by demand from foreign homebuyers. Andorra is very attractive to expatriates because it is a tax haven with no income and inheritance taxes, and no capital gains tax on property held for more than 12 years. In addition, Andorra is less expensive than its rival Monaco. Andorra is also one of the region's most popular ski destinations.
According to local property experts:

In 2005, property prices in Andorra rose by 19%.
In 2006, property prices soared again by about 16%.
In 2007, Andorra saw more double-digit property price rises.
Then in 2008, Andorran property prices started to decline, mainly due to the global crisis. "House prices have dropped 20 to 25 per cent across the board since then," says Christian Muñoz of the local real estate agency Roc Propietats. "Some apartments have fallen in value by a bit more, but overall price drops have not been as sharp as in Spain."
The property market has remained depresssed since then.

Local property prices vary widely. At the low-end, the average property price stood at about €2,500 per square meter (sq. m.). At the luxury-end, property prices can go as high as €15,000 per sq. m.

In the country's ski resorts of Soldeu, La Massana and Ordino, property prices start at about €165,000 for a two-bedroom apartment to around €1 million to €3.5 million for luxury chalets or apartments of four to five bedrooms.

Andorra La Vella, the country's capital, the main shopping centre and home to about a third of the country's population, offers new houses and apartments. On the other hand, Canillo, one of the other major towns situated between mountains, also offers new apartments near some ski resorts. In the smaller communities of Ordino and La Massana, a popular center for hiking and mountain biking, detached houses usually called chalets, are commonly found.

Construction activity remains down. In 2012, there were just 5 residential construction permits in Andorra, the lowest level since 2000, based on figures from the Departament d'Estadística. During the construction boom of 2004, the total number of residential construction permits was 121.

To boost the housing market, the General Council, Andorra's government, is now attracting wealthy individuals such as professional athletes and business people by means of passing new residency rules in 2012 and offering incentives.

Previously, foreigners could gain passive resident status in Andorra by residing in the country for at least 183 days per year. Moreover to receive tax status, foreigners were required to make a minimum investment of €400,00 in property, government bonds and/or company shares. Under the new rules, foreigners need only spend just 90 days per year in Andorra to qualify for residency. Moreover, foreigners now have the same property ownership rights as citizens.

The government introduced three new categories of residency permits:

First category - a person who is retired or at least not working in Andorra can obtain a residency permit by making a financial investment in the country of at least €400,000.
Second category - a foreigner can also obtain a professional permit, which applies to business owners who live in Andorra but operate businesses elsewhere.
Third category - this is for international sports and science professionals and celebrities from the performing arts.
Andorra's residential rental market is heavily pro-tenant. Currently, the average monthly rent for one-bedroom apartments ranged from €350 to €500; for two-bedroom apartments, €500 - €800 per month; for three-bedroom apartments, €650 - €1,300 per month; and for chalet or terrace house, €1,500 - €4,000 per month.

In June 2013, Andorra announced that in 2016 it would collect its first income tax, thus succumbing to pressure from the Organisation for Economic Cooperation and Development (OECD). The new tax law applies to both Andorrans and passive residents. The first €24,000 of income is tax free, with the next €16,000 taxed at 5%. Any additional income exceeding the initial €40,000 is taxed at 10%.

Andorra's property market is expected to improve in the medium term, fuelled by the relaxation of residency rules and the construction of the new Pyrenees airport and a new heliport in the capital, with a service to Barcelona.


Analysis of Andorra Residential Property Market »
Countryside sample in Andorra produces low yields
Our sample of properties in Andorra is rather skewed. By selecting countryside properties, we have unfortunately pre-selected relatively expensive, relatively low-yielding properties (low yields are typical for country properties everywhere). But it is hard to find a sufficiently large city-centre data sample to generate yields estimates.

Property buying costs. Round trip transaction costs on the purchase of residential property in Andorra are relatively high. See our Andorra residential property Buying Guide and Andorra property transaction sosts compared to the rest of Europe.
Andorra's rental income tax is low
Rental Income: Rental income earned by nonresidents is taxed at a flat rate of 10%.

Capital Gains: Capital gains tax on sales of real properties is set between 0% and 15%. Properties held for over 15 years are not liable for capital gains tax.

Inheritance: There is no inheritance tax in Andorra.

Residents: Being an Andorran resident for more that 20 years entitles you to the same property acquisition rights as a citizen.
Total transaction costs are moderate in Andorra

Total roundtrip costs, i.e., the cost of buying and selling a property, range from 11% to 19%. The buyer pays 4.50% to 5%, while the remaining 7.07% to 14% is paid by the seller.

The real estate agent's commission, around 5% to 10%, is the biggest part of the transaction cost. The agent's commission is paid by the seller, but is invariably reflected in the property asking price.
Andorran tenant protection laws are...
No information yet.

If you can recommend a helpful property lawyer in Andorra, please mail: [email protected]
Boozy Britons will not save Andorra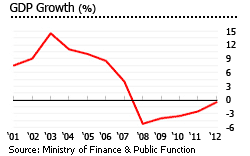 A pocket-sized princedom, Andorra is squeezed between France and Spain in the Pyrennes. Though tiny, it contains some of the most dramatic scenery, with mountainous landscapes and meandering rivers.
Authority over the co-principality is shared between Spain and France. The French President and the Bishop of Urgell are its co-princes.
Andorra makes its living from being a tax haven and from ski tourism, nowadays far more important. This small country (pop 67,000) has a somewhat down-market reputation - it is low cost and there are tax-free drinks and cigarettes. Boozy Britons figure prominently among the tourists.
Tourism accounts for more than 80% of Andorran GDP. About 10 million people visit the principality each year. There were more winter-sports enthusiasts from the UK than the US, Canada and Switzerland combined.
However in 2012, the total number of visitors in the Principality dropped by 1% to 7,900,440 from the previous year. The number of tourists fell by 0.2% y-o-y to 2,237,939 in 2012 while the number of same-day visitors dropped by 1.4% to 5,662,501 over the same period.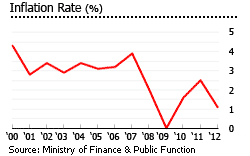 The banking sector, with its partial "tax haven" status, also contributes substantially to the economy.
Andorra is in its fifth year of recession. Real GDP contracted by 0.5% in 2012, mainly due to declines in construction, manufacturing, accommodation and food services, and transport and storage. The economy also declined by 2.5% in 2011, by 3.5% in 2010, by 4% in 2009, and by 5.2% in 2008, according to figures from the Ministry of Finance and Public Function.
Overall inflation rate stood at 1.1% in 2012, from 2.5% in 2011, 1.6% in 2010 and 0% in 2009.
In June 2013, Andorra introduces personal income tax for the first time, under pressure from the European Union to control tax evasion.
Andorra is a member of the EU Customs Union. It is treated as an EU member for trade in manufactured goods (no tariffs), but as a non-EU member for agricultural products.
Andorra's population is rapidly growing. Although Andorran citizens and native-born Andorrans are outnumbered by non-Andorran residents, the 'native' population keeps on rising.