Inheritance tax and inheritance law in US Virgin Is.
June 07, 2013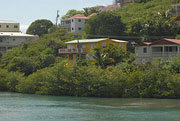 INHERITANCE
Property located in the US Virgin Islands is exempt from US federal estate and gift taxes, if owned by non-US citizens and non-US permanent residents.
Although there is a Virgin Islands inheritance tax set out, all inheritances after 1984 are exempt from taxation.
ESTATE TAX 2010

TAX BASE US$

TAX RATE

Up to US$2,300

15%

US$2,300 - US$5.350

25%

US$5,350 - US$8,200

28%

US$8,200 - US$11,200

33%

Over US$11,200

35%
US Virgin Is. - More data and information