Turks and Caicos' property market bounced back strongly in 2018, from the previous year's hurricane season that severely damaged North Caicos and the island of Grand Turk. Property sales are now at record highs, thanks to strong foreign demand. Residential real estate prices are rising robustly again.

"Turks & Caicos Islands is now a household name in the luxury sector with high demand from the rich and famous and other discerning travelers," said Joe Zahm, the president of Sotherby's International Realty Turks and Caicos. "One can hardly go a week without a young celebrity posting amazing images to the world in their social media. There is a major buzz in the air that started on our humble shores and now permeates in major cities and elite neighborhoods in North America and beyond."

Condominium prices rose by 6.75% y-o-y in 2018 to an average of US$916,742, according to Sotheby's International Realty. The condo market was led by the development of five-star condominium resorts such as Grace Bay Club, The Shore Club Condominiums, The Palms, Seven Stars, and a bevy of other five and four-star condo resorts.

Likewise, the average price of single-family homes rose by 6.24% in 2018 from a year earlier, to about US$1.46 million. Some of the most exquisite standalone luxury villas in Turks and Caicos include Saving Grace, Coral House, and Hawksbill on Grace Bay, Turtle Tail Estate in Turtle Tail, Mandalay and Long Bay House in Long Bay. Other new managed villa projects in the islands that are gaining international attention include The Residences by Grace Bay Resorts, Beach Enclave North Shore, Beach Enclave Long Bay, Beach Enclave Grace Bay, Gansevoort Villas, The Dunes, Blue Cay Estate, Shore Club Villas and Rock House by Grace Bay Resorts.

Land prices increased 2.12% in in 2018 from a year earlier, to an average of US$310,740 per transaction.

Demand is strong. During 2018, there were 347 residential real estate transactions, up 9.8% from a year earlier, Sotheby's International Realty. Likewise, the value of transactions rose by 9% y-o-y to US$255.78 million.

By property type:

The number of single-family homes sold rose by 3.7% to 84 units during 2018 and the value increased 10.2% to US$123.03 million. It included more than 20 home sales over the US$3 million mark, including the highest recorded home sale at US$7 million.
The number of condominiums sold rose by 2.7% to 77 units during 2018 and the total value increased 9.6% to US$70.59 million.
There were 173 land transactions in 2018, up 14.6% from a year earlier. Likewise, the value of lots sold soared 17% y-o-y to US$53.76 million. There were 12 land sales over US$1 million.

The luxury housing market is expected to remain robust in the coming years, amidst a surge in demand, especially from foreign buyers coupled with the arrival of several high-end residential developments.

"With other exciting developments in the pipeline such as the under-construction Ritz Carlton, Grace Bay Resorts' Rock House, The Club at Beach Enclave Long Bay, Southbank – a residential resort and marina - the Bight Hotel, Vista/ Hyatt ANDAZ and others, we can expect this exciting trend to continue," Zahm said.

Tourism is the bedrock of the economy. The government is yet to release the overall number for tourist arrivals in 2018, but preliminary figures showed that cruise ship passenger arrivals surged 22.8% y-o-y to 1,021,741, in contrast to a 2.1% decline in 2017. In fact, the number of cruise ships to Turks and Caicos increased 22.1% to 320 during 2018, according to the Statistics Department. Almost half of Turks and Caicos' gross domestic product (GDP) is generated by the hotel and restaurant sector. In 2018, the economy grew by 2.5%, an improvement from a contraction of 1.5% in 2017 but down from an average of 5% per year from 2014 to 2016.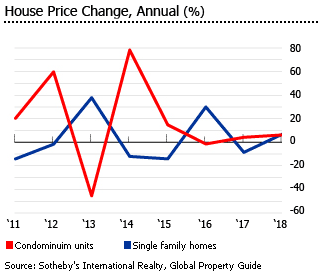 The economy is expected to strengthen further with projected GDP growth of 3.5% this year, mainly driven by an increase in construction activity led by tourism-related and public sector rebuilding projects, according to the Caribbean Development Bank (CDB).

There are no restrictions on foreign ownership. Foreigners wishing to buy property in Turks and Caicos need not ask permission from the Government.


Analysis of Turks & Caicos Is. Residential Property Market »