Turks and Caicos' luxury property market is healthy
May 18, 2017
In 2016 saw plenty of activity in Turks and Caicos real estate, according to Sotheby's International Realty.
Condominium prices soared by almost 30% y-o-y in 2016 to an average of US$939,198. The thriving condo market was led by the development of five-star condominium resorts such as Grace Bay Club, The Palms, Seven Stars and Gansevoort, and a bevy of other five and four-star condo resorts.
Villa prices fell by 4.16% y-o-y in 2016 to about US$1.37 million. Some of the most exquisite standalone luxury villas in Turks and Caicos include Saving Grace, Coral House, and Hawksbill on Grace Bay, Turtle Tail Estate in Turtle Tail, Mandalay and Long Bay House in Long Bay. Other new managed villa projects in the islands that are gaining international attention include The Residences by Grace Bay Resorts, Beach Enclave North Shore, Beach Enclave Long Bay, Beach Enclave Grace Bay, Gansevoort Villas, The Dunes, Blue Cay Estate, Shore Club Villas and Rock House by Grace Bay Resorts.
On the other hand, land prices fell sharply by more than 51% to just an average of US$268,898 in 2016 from a year earlier. The sharp decline in land prices was mainly due to the fact that larger land parcels were sold in the past four years, according to Sotheby's International Realty.
Property demand remains strong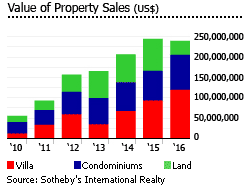 During 2016, there were 311 real estate transactions, down 3.1% from a year earlier but up 157% from 2010.
About 87 villas were sold in 2016, up from 65 villas sold in 2015 and just 19 villas sold in 2010.
There were 92 condominium units sold in 2016, down by 101 condo sales a year ago but up from 34 condo sales in 2010.
There were 127 land parcels sold in 2016, down from 143 lots a year earlier but up from 63 lots in 2010.
The value of property sales was US$242.13 million in 2016, down by 3.9% from a year earlier but up more than fourfold the sales recorded in 2010.
The total value of villas sold rose by 28.3% y-o-y to US$119.11 million.
The total value of condominiums sold rose by 18.4% y-o-y to US$86.41 million.
The value of lots sold fell by 57% y-o-y to US$34.15 million.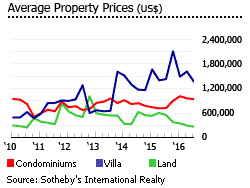 "If you compare Turks and Caicos to other top comparable islands in the Caribbean, Turks and Caicos is still under-priced and offers tremendous value to foreign investors," said Blair MacPherson of RE/MAX Real Estate Group Turks & Caicos Islands.
There are no restrictions on foreign ownership. Foreigners wishing to buy property in Turks and Caicos need not ask permission from the Government.
Background: a hidden gem in the Caribbean
The 40-island archipelago is divided into two main island groups. The first group is the Turks Islands, comprised of the Grand Turk (the country's historic capital), the Salt Cay and other adjacent cays. The other group includes the world-famous Providenciales (where almost 80% of the islands' total population of 38,000 live), South Caicos, East Caicos, Middle or Grand Caicos, North Caicos, West Caicos, and several other private islands like the Pine Cay, the Ambergris Cay and the Parrot Cay. A British overseas territory, the Turks and Caicos Islands are located off the West Indies, approximately 575 miles southeast of Miami and 30 miles south of the Bahamas.
Grand Turk. Home to the Grand Turk Cruise Center, the historic island of Grand Turk is the capital of the Turks and Caicos Islands. Although it lags behind the progressive island of Providenciales in terms of tourism, population growth, and economy, the capital island still has so much to offer. In 2016, there were 846,963 visitors to Grand Turk via the Grand Turk Cruise, down from 929,737 cruise ship passengers in 2015 but up from 677,000 passengers in 2012. The number of cruise passengers is expected to reach 1 million these coming years. Grand Turk was named as the 2nd best cruise destination in the region in 2016, next to St. Maarten, according to leading cruise reviews site Cruise Critic®.
The island is also the seat of the national government and the Financial Services Commission.
Grand Turk's slower population growth compared to Providenciales means more properties in prime locations are still available for development. It is also home to the country's most historic sites and other notable events such as the Grand Turk Carnival in July and the Grand Turk Summer Jam in summer.
Providenciales. Although only the third largest island in Turks and Caicos, the island of Providenciales is the most populous, with nearly 24,000 residents (a majority foreigners). It is the main entry point to the Turks and Caicos islands as it houses the country's largest international airport.
The island is home to the 12-mile beach of Grace Bay, consistently rated one of the world's best beaches by Trip Advisor, Conde Nast, and The Times.
North Caicos. The seat of the government of the Turks and Caicos Islands in the 19th century, the North Caicos is the second largest of the 9 inhabited islands of the Turks and Caicos. It is known for its lush green lands and abundant wildlife, thus, the island is more commonly known as the "Garden Island" and the "bread basket of Turks and Caicos." Most of the agricultural supply of the archipelago is produced inthe 41-sq. mile island.
North Caicos has benefited from the high tourist arrivals to nearby Providenciales, which is accessible via daily ferry service. Most vacation homes on North Caicos are in the Whitby area, home to white sandy beaches. Several luxury property developments are underway.
Middle Caicos. The 48-sq. mile Middle Caicos (also known as the Grand Caicos) is the largest island in Turks and Caicos, but one of the least populated. It was the home of the indigenous Lucayan Indians, the original inhabitants.
Visitors go to Middle Caicos to enjoy an array of water activities such as snorkeling, kayaking, bone fishing, and sailboat racing. It also features the Conch Bar Caves, the largest above ground cave system in all of the Bahamas and Turks and Caicos archipelago. Middle Caicos still remains undeveloped with only a few guest houses and villas for rent. Regular ferries travel to North Caicos, which connects to Middle Caicos via a causeway.
South Caicos. Popular for its rich marine life, avian species, diving and rich history, this is the fishing capital of Turks and Caicos Islands. A Fisherman's Day was introduced locally in honor of the contributions of the local fishermen to the economy of the South Caicos.
South Caicos also hosts one of the most anticipated annual events in the country, the Big South Regatta, every May in commemoration of the visit of Her Majesty Queen Elizabeth II in South Caicos in 1966.
The newest development for vacation homes is Sailrock, located in the Peninsula Passage.
Salt Cay. As its name implies, Salt Cay, the smallest inhabited island in Turks and Caicos, used to be home to the country's bustling salt production industry. The salt industry's rich history includes providing salt to George Washington during the American Revolutionary War and aiding Canadian and American fishing fleets with preserving their catches. Buildings constructed during the island's glory days remain, along with the salinas from which salt was harvested. The Salt Cay became a UNESCO World Heritage Site in 2012 along with other historic sites in the island including the White House, the Historic District, and the District Commissioner's House.
Salt Cay also offers one of the best scuba diving and whale watching spots in the world especially during the months of January and April which are the migration seasons for humpback whales passing through the Columbus Pass. Another popular activity is bird watching, as migratory birds like blue heron and pink flamingos stop at the island to rest during migration.
Other private islands. The other smaller cays including the Parrot Cay, Pine Cay, and the Ambergris Cay are home to the most luxurious resorts and residential homes in the Turks and Caicos Islands. Parrot Cay island resort hosts the vacation homes of stars like Bruce Willis, Christie Brinkley and Keith Richards. The private residential island of Ambergris Cay in southeastern Caicos is home to the Turks & Caicos Sporting Club, which is regarded as one of the best private islands in the Caribbean. Pine Cay houses the Meridian Club, also a luxury property development.
In the world-famous Grace Bay, property prices range from US$300,000 for a studio apartment to more than US$10 million for the finest penthouse, according to Sotheby's International Realty.
In Leeward, a posh gated community located on the east end of Providenciales, canal lot homes are priced from US$1.5 million to US$5 million, according to RE/MAX Real Estate Group Turks & Caicos.
Luxury property developments are plentiful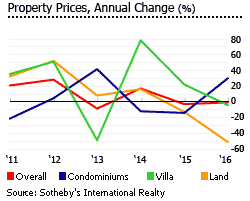 Here are some prices in the most popular developments:
The Amanyara Resort offers 33 different villas on the coast of Northwest Pointon the island of Providenciales.The three, four or five-bedroom residences are situated either along the oceanfront, overlooking a tranquil pond or nestled in island vegetation. A four-bedroom villa is currently priced at US$9.5 million.
In Parrot Cay Resort, one of the finest and most secluded resort islands in the Caribbean, a four-bedroom beach house is currently offered at US$6.9 million, while villas are priced at an average of US$10 million. Estates are also offered starting at US$9 million up to US$48 million for Oliver's Cover on Parrot Cay. Moreover, individual parcels of beachfront land are also available starting at a price of about US$5 million.
In Blue Cay Estate, located in the gated community of Leeward, Providenciales, five-bedroom beachfront villas are priced between US$4.25 million to US$5 million. Four-bedroom canalfront villas are offered for US$2.35 million. The Blue Cay Estate offers 16 four- and five-bedroom residences.
At The Dunes, located at North Shore Beachfront Turtle Cove, Providenciales, five-bedroom single-family homes are for sale for US$4.25 million.
At the Residences, in Grace Bay Resorts in Providenciales, 4-bedroom beachfront villas start at US$3.7 million.
In the Shore Club, on the exclusive Long Bay Beach in Providenciales, luxury six-bedroom villas are offered in the market for US$5.5 million. The Shore Club also offers a total of 38 two- and three-bedroom condominium units for US$1.65 million to US$2.1 million.
The Estates at Grace Bay Club offers 22 private condominium units on Grace Bay Beachfrom US$1.95 million to US$3.75 million.
The Regent Palms is a US$95 million resort that features 72 one, two and three-bedroom condominiums with balconies and terraces on Grace Bay Resort. Two-bedroom condos are priced from US$850,000 to US$1.4 million while three-bedroom condos are offered from US$1.6 million.
The Gansevoort Turks and Caicos offers a total of 52 studio, one-, two-, and three-bedroom apartments situated on a sweeping curve of pristine Grace Bay Beach in Providenciales. Two-bedroom apartments are priced at US$1,295,000.
Beach Enclave Long Bay offers five luxury beachfront homes on a stunning stretch of Long Bay beach. A four-bedroom beachfront home at the Beach Enclave Long Bay is currently listed at US$4.15 million.
Property market highly accessible to foreigners
Among the advantages the Turks and Caicos Islands have over its regional neighbors are minimal flight times from major US cities and Canada; low density physical infrastructure; no traffic jams; low crime rate; and the use of US money, says Kathryn Brown, former president of the TREA.
The completion of Providenciales International Airport expansion, and the opening of two new private air terminals for private jet flights, whose number ranks third in the Caribbean, are now boosting demand further.
There are no restrictions on foreign property ownership, and no requirements to develop land within a certain period of time. Undeveloped land can be held indefinitely for future use or investment.
Furthermore, after payment of a one-time stamp duty charge payable to the Turks and Caicos Government on the purchase of property, the buyer is no longer burdened by taxes.
There are no income taxes on revenue from property; no capital gains tax on property transfers; no estate or inheritance taxes; and no corporate taxes or exchange controls. Indirect taxation only comes in the form of customs duties, stamp duty on certain transactions, and departure tax, according to Sotheby's International Realty.
As a British territory, the Turks and Caicos Islands' political environment and legal system is considered more stable than other Caribbean neighbors. Another attractive factor is that Turks and Caicos uses the United States dollar.
Remarkable growth of the Islands' rental market
Rental yields - i.e., returns on investment from rentals - are hard to pin down, given that most rental property is short-term and subject to unpredictable vacancy rates. According to Conch Development's Blog, up to 10% rental yields are to be expected at 95% occupancy. According to PropertyWorld.com, one can expect a rental yield of 6% or more for rental properties in the country. However, neither source is at all reliable.
Foreign homebuyers fuel the high-end market
The islands' population has expanded by 58.2% from 2001 to 2012. Foreigners without family connection to the islands now comprise a majority of the adult population: 57.5% of the population aged 18 and older are "Non-Turks and Caicos Islanders". In 2016, the islands' total population was estimated at around 38,000 people, according to the Turks and Caicos Strategic Policy and Planning Department.
Foreigners particularly outnumber locals in Providenciales and North Caicos, according to the 2013 Turks and Caicos Business Guide.
Wide variety of mortgages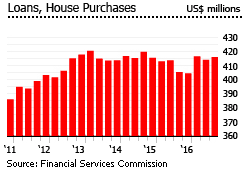 A wide array of mortgage options is available to home buyers. They can acquire financing through banks, trust companies, and private funds from investors.
The primary lenders are RBC, Scotiabank and CIBC First Caribbean, all Canadian banks doing business in the Turks and Caicos. Trust companies take investor money and lend them out as mortgages. These loans generally go up to 50% of the value of the property. The third option is usually facilitated by law firms on the islands who hold their clients' money to invest.
According to the Financial Services Commission, the amount of loans extended to borrowers for property purchase, which makes up around 85% of total personal loans, increased by 2.6% y-o-y to US$416.11 million in 2016.
Banks in Turks and Caicos follow United States interest rates, ranging from 0.4% to 2% for deposits to 4.5%-6.5% for secured lending and 9%-17% for unsecured lending, according to the Financial Services Commission.
Tourism-based economy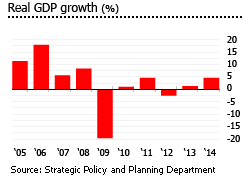 Rapid economic growth blessed the Turks and Caicos Islands from the 1990s until 2006, with growing investment inflows, visitor numbers, employment, and revenues. Growth peaked at 13% in 1995, and averaged 8% after that.
However after the 2008 financial crisis the country's economy went into decline. The islands were also hit by hurricanes Hannah and Ike, which devastated the capital, Grand Turk, and smaller islands. Many hotels and resorts slashed their room rates from 30% up to 50% to attract guests. Tourism developments ground to a halt. GDP fell by 18.49% in 2009 followed by a further decline of 2.33% in 2010, according to the Turks and Caicos Islands Development Strategy 2013-2017.
At the same time a commission of inquiry set by the Foreign and Commonwealth Office found widespread "political amorality." The UK´s Foreign Office partially suspended Turks and Caicos' constitution, dissolved the government and the House of Assembly, and imposed direct rule in August 2009.
Home rule was restored in November 2012 and a new parliament was elected.
The economy expanded by 4.6% in 2014, fuelled by strong growth in the tourism sector. For the first time, the number of tourist arrivals crossed the 1.3 million mark.The economy was estimated to have grown by 4.4% last year, after expanding by 5.9% in 2015.
The economy is expected to expand by a robust 4.3% this year and by another 5.3% in 2018. "This projected growth will be driven mainly by strong performance in the tourism sector and projected private sector investments worth more than $400 million" said SPPD Acting Director Shirlen Forbes.  Tourism is the bedrock of the economy. Almost half of Turks and Caicos' gross domestic product (GDP) is generated by the hotel and restaurant sector.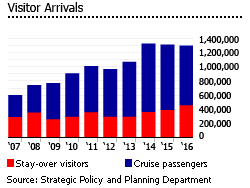 Stay-over visitors increased 17.5% to 453,612 people in 2016 from a year earlier, while cruise ship passengers dropped 8.9% to 846,963 people, according to the Turks and Caicos Strategic Policy and Planning Department. More than 80% of the stay-over visitors were from the United States.
Tourism growth is largely concentrated in the island of Providenciales, famous for the beautiful 12-mile Grace Bay Beach. It caters to a total of over 360,000 stay-over visitors each year while the Grand Turk Cruise Center, the country's first cruise port, has hosted more than 700,000 tourists every year since its opening in 2007.
To grow tourism, the country has been reaching out to the South American travel market – particularly Brazil – while exploring opportunities to attract Asian luxury travelers. The country recently received "Approved Destination Status" from the Chinese government.
In July 2014, Turks and Caicos received its first-ever sovereign credit rating from Standard & Poor's (S&P), receiving a rating of BBB+/Stable/A-2, which reflects its vibrant economy and net general government asset position. Turks and Caicos was able to maintain its favourable sovereign credit rating since.
"TCI continues to see strong economic growth in its tourist-based economy, largely due to the ongoing economic recovery in its largest visitor market, the US," the S&P report said.
Well-developed construction sector
While no official figures have been released for the past two years, residential construction activity in Turks and Caicos remains strong due to the construction of Beach Enclave Long Bay, Beach Enclave Grace Bay, and Rock House by Grace Bay Resorts, among others. In 2014, dwelling permits issued rose 24.2% from a year earlier, according to the Turks and Caicos Strategic Policy and Planning Department. Issued permits for apartments increased five times in 2014 compared to the previous year.
In terms of value, dwelling permits issued more than doubled, while apartment permits more than quadrupled in 2014 from the previous year.
While commercial work dried up during the crisis, high-end single-family home construction has grown in the succeeding years, keeping many local firms afloat. New commercial projects in the pipeline will represent a big boost to the construction sector, according to Steve Thompson, managing director of Projetech, a long-established local firm.
Turks and Caicos has one of the region's highest construction costs, according to BCQS International, as annual exposure to tropical storms and other weather conditions have necessitated high-quality building codes. Turks and Caicos now meets or even exceeds the standards of Florida.
TURKS AND CAICOS CONSTRUCTION COSTS

DEVELOPMENT
COST (US$/sq. ft.)
Residential high quality
250-410
Residential medium quality
140-230
Residential modest quality
110-180
Hotels/condos five star urban
280-460
Hotels/condos five star low-rise
300-490
Hotels/condos three star economy
160-260
Source: BCQS International 2013/2014 Market Trend Report
Turks & Caicos Is. - More data and information