Buying costs are high in Turks & Caicos
August 30, 2016
How high are realtors' and lawyers' fees in Turks & Caicos Is.? What about other property purchase costs?
How difficult is the property purchase process in Turks & Caicos Is.?
There are no restrictions on foreign ownership. Foreigners wishing to buy property in Turks and Caicos need not ask permission from the Government.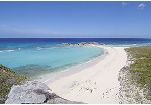 It is very helpful to have an agent and a lawyer when entering into a real estate transaction in Turks and Caicos. When a property has been chosen and a price has been settled, a sales agreement is normally signed by both parties. This requires the buyer to provide a 10% deposit to secure the transaction. The transaction is expected to close within 30 days from the date of the agreement.
The seller's lawyer usually provides the buyer's lawyer with the transfer document in exchange for the outstanding balance in the sale price in trust. The buyer's lawyer then submits the document for registration, where the property's value is assessed (it may be different from the sale price) and the Stamp Duty is determined and paid. Once registered, the balance is released to the seller.
---
Footnotes to Transaction Costs Table
The round trip transaction costs include all costs of buying and then re-selling a property - lawyers' fees, notaries' fees, registration fees, taxes, agents' fees, etc.

Currency:
The Turks and Caicos Islands uses the US Dollar (USD).

Property is located in Providenciales, also known as Provo.


Stamp Duty:
Stamp duty on property transfers is levied at progressive rates, depending on the property value.
STAMP DUTY ON PROPERTY TRANSFERS

PROPERTY VALUE, US$
RATE
Up to US$10,000
2.5%
US$10,000 - US$75,000
5%
Over US$75,000
8%


Legal Fees:
Legal fees are generally negotiable, however, the Turks and Caicos Islands Bar Association recommends the following scale.
LEGAL FEES

PROPERTY VALUE, US$
LEGAL FEES
First US$100,000
2.00%
Over US$100,000
1.50%
Some lawyers are offer legal fees of 1% for properties worth US$700,000 and above, and 0.85% for values above US$1 million. Some lawyers charge a minimum amount of US$1,250. Each party pays for their own lawyer.


Real Estate Agent's Fee:
The real estate agent's commission depends on the type of property. If the property is an undeveloped land, the real estate agent's commission is at 10%. If the property is developed, the real estate agent's commission is at 6%.
Turks & Caicos Is. - More data and information