Mortgage crisis looms for Trinidad and Tobago's housing market
Lalaine C. Delmendo | June 20, 2019

Trinidad and Tobago's economy is struggling. Dependence on oil and gas reserves has shown itself a mixed blessing in recent years when oil markets have been weak. Tourist arrivals continue to fall. And the weak economy, following an earlier boom, means that a mortgage crisis may be looming.

The country recovered more slowly from the global financial crisis than some neighbors, with property prices falling 20% from 2007 to 2009. That was because foreign homebuyers, who mostly come from Britain, Germany, the United States and Canada, were blocked by a requirement introduced in 2007 that foreign investors obtain a license for land purchases in Tobago.

Things have now got worse. After a short-lived recovery in 2015, the housing market contracted again in 2016 and has remained flat since, due to the decline in oil prices.

The economy contracted by 6.5% in 2016 and by 2% in 2017, before minuscule growth of 0.3% in 2018. Zero growth is expected this year, according to the International Monetary Fund (IMF).

House prices in the islands range from around TT$1 million (US$147,400) to TT$8 million (US$1.18 million) - though of course there are super-luxurious and also low-end houses that fall outside this range.

In Trinidad, the price of one-bedroom apartments typically ranges from TT$900,000 (US$132,700) to TT$1.5 million (US$221,200). In the desirable neighborhoods of West Trinidad, modern homes are priced from about TT$3.7 million (US$545,500). Residential lots in Trinidad sell for around TT$40 (US$6) to TT$55 (US$8) per square foot (sq. ft.).

At The Crossings, located on the outskirts of the bustling town of Arima in Trinidad, three bedroom houses are currently being offered from around TT$1.8 million (US$265,400) to TT$2.2 million (US$324,400). On the other hand, residential land in The Crossings sells for less than TT$120 (US$18) per sq. ft.

In Tobago, the price of small condominiums starts at around TT$2.4 million (US$353,900) while single-family homes start at about TT$3.4 million (US$501,300).

The housing market is expected to remain weak this year, as the economy continues to face the dual challenge of gas shortages and a low price environment, according to local real estate experts.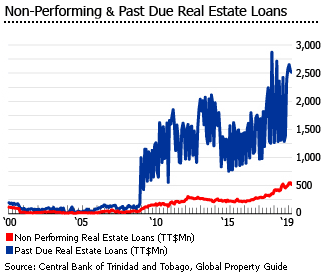 In Trinidad, foreign real estate buyers can buy up to one acre of property for residential use without a license. In Tobago, by contrast, no license has been issued to foreign buyers since a requirement for licenses was introduced in October 2007.

Buyers are required to pay stamp duty ranging from 0% to 7.5%, plus legal fees which typically amount to 1.5% of the purchase price.


Analysis of Trinidad and Tobago Residential Property Market »