Mid-range properties are 'hot' in St. Lucia
Maria de Guzman | August 31, 2018

St Lucia's property market seemed in a better condition in 2017, but still recovering at a gradual pace from the global economic crisis almost ten years earlier, according to St. Lucia Sotheby's International Realty CEO Christos Poravas.

Property prices dropped 20% to 30% from 2009 to 2014, due to the global crisis. The housing market started to pick up only at the end of 2014.

"The market has been very depressed since the 2008/2009 recession," according to Doubloon Real Estate's Managing Director David Farrin. However, there is a growing interest in St. Lucia's property market, especially in the mid-level properties. "This is the best it has been in seven years. We're seeing growth around the $500,000 market; it is quite active at that price range," Farrin added.

Mid-range homes priced around the US$350,000 mark are also gaining popularity at Blue Reef Real Estate, especially among foreign buyers from Canada and the United States. "We have continuous growth around that price," according to Blue Reef Real Estate's Sales and Marketing Co-Director Donnelly John.

John also expressed optimism in the housing market's future, despite currently being "not the greatest time [for the real estate sector]". "It is a good time to take advantage of all-time low prices – sometimes 15 to 25 per cent off the listing price. We only see growth from here."

Overall, the property market remains a buyer's market. The "vast majority of transactions" are by vacation-home buyers, according to Poravas.

Poravas noted that he has numerous listings ranging from US$500,000 to US$10 million.

The north and south areas of St. Lucia currently have "a wide variety" of new houses and condominiums, according to Bellevue Properties managing director Heather Flossiac. A single-family home can be bought at US$166,000, while villas in high-end resorts are priced at around US$9 million.

In The Landings, in Rodney Bay on St Lucia's northwest, two-bedroom apartment prices now start at US$700,000. The Landings was St. Lucia's first residential private yacht harbour. It opened in December 2007. About 70% of buyers are British.
In Mount du Cap estate, situated in Gros Islet, three to four-bedroom luxury homes are priced from US$2.5 million.
Also located in Cap Estate, Gros Islet is the Tradewinds Golf Villas development, where prices of high-end villas start from US$1.1 million.
In the Windjammer Landing, located in the Gros Islet, prices of private suites and villas ranging from one to four bedrooms start from US$700,000.
At The Ocean Breeze development on Mount Layau, prices of three to four-bedroom villas start from US$437,000.

"Tourism is the engine that drives real estate" in St. Lucia, says Poravas. However "it is still very much an up-and-coming destination, a much smaller market in its early stages of development" compared to other Caribbean countries like Barbados, St. Martin and Antigua. It was tagged as the fastest growing tourism destination in the region in 2017 by the Caribbean Tourism Organization.

Most foreign homebuyers in St. Lucia come from the United States, Canada, and the United Kingdom.

Tourism arrivals in St. Lucia reached a record high in 2017, rising by 10.9% y-o-y to 1,113,579 people, according to St. Lucia Tourist Board.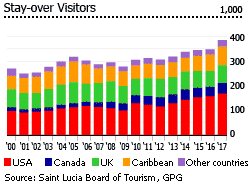 In addition, in January 1, 2016, St. Lucia started to accept applicants to its Citizenship by Investment program, joining Dominica, Grenada, Antigua & Barbuda, and St. Kitts & Nevis, as a Caribbean country offering citizenship to foreign investors. The program was expanded in 2017, implementing changes including the removal of the 500-applicants cap allowed to apply every year.

"There is a lot of investor interest for projects that have been on pause or for new projects [and] there is land being sold to developers or people who plan to develop," says John. This was proven by the continued upswing of the construction sector in  2017. Aside from an over 850 new hotel rooms added to the island's inventory in 2017, there are also reports of major hotel chains heading to St. Lucia in the near future:

a 350-room "Hilton" branded property on the island, as well as a150-room beachfront property by its sister brand 'Curio, by Hilton' in Rodney Bay Village;
Honeymoon Bay Resort's 250-room all-inclusive resort, and an 80-room luxury property in Cannelles, Vieux Fort;
a 120-room resort and 37 villas in Choiseul by Fairmont Hotels;
Ritz Carlton Black Bay Development including a 180-room Ritz Carlton hotel in Black Bay, Vieux Fort.

Analysis of St. Lucia Residential Property Market »