Saint Kitts and Nevis continues to improve its Citizenship-by-Investment scheme to attract the wealthy.

"St Kitts and Nevis is the safest, most beautiful and prosperous country in the Caribbean to offer economic citizenship and we remain so during these difficult times," said Prime Minister Timothy Harris.

"While COVID-19 has placed the world under enormous strain, St Kitts and Nevis' record to date of zero hospitalisations and zero fatalities from the disease underlines the character and enduring appeal of our great country."

In July 2020, the government temporarily reduced from US$150,000 from US$195,000 the contribution that families of four need make to secure citizenship, until December 31, 2020. Likewise, stamp duty for real estate investors was reduced to 2.5% during this period.

The government is now planning to introduce other alternative investment options during 2021.

"For example, we shall reconsider the sale of high end property under prescribed conditions under the CBI," said PM Harris.

"So, no longer then will the real estate property be part of a generally broad approved project. A single home which meets the necessary thresholds will be considered under the CBI project. We have had deep interest in doing this and we are finalizing our policy response to this particular market need."

From April 1, 2018, applicants for Citizenship by Investment have been offered two real estate investment options:

Single applicants must invest at least US$400,000 in any approved real estate development in St. Kitts and Nevis. The buyer can sell the property after five years.
Two applicants can now invest US$200,000 each in any government-approved luxury resort development. But the property can only be sold after seven years.

Earlier, St. Kitts & Nevis introduced an accelerated application process for its Citizenship-by-Investment (CBI) Program. Foreigners can get citizenship applications processed in just 60 days, down from about 3 to 4 months.

"After the closure of the sugar industry in 2006, we made a strategic decision to shift our visitor demographic towards the higher end of the market," said former Minister of Tourism Richard Skerritt.

St. Kitts & Nevis opened a new private jet terminal to cater to this elite, and with the profits from what turned out to be a mini-boom, the government has also managed to improve conditions for its own poor.

As a result of these positive changes, the twin-island nation's CBI Program has improved significantly, particularly in terms of high security standards, residence requirements, convenient travel, and a more efficient citizenship timeline, according to the Financial Times Professional Wealth Management's 2020 CBI Index.

And it has helped the property market to grow rapidly in recent years. "I would estimate that at least 60% of real estate sales are linked to the Citizenship-by-Investment Program," says Nevis Style Realty's proprietor Wayne Tyson.

In St Kitts, the pace of development has increased rapidly in recent years, spurred by the arrival of the Marriott Hotel in Frigate Bay, and by an increased number of air flights into the islands. "Since the Marriott opened, property sales and prices have increased dramatically," says local real estate agent Brian Kassab.

One of the newest developments in St. Kitts is the five-star Park Hyatt Hotel, which is partly financed by the government's citizenship-by-investment programme. Property investors who pay XC$1.16 million (US$430,000) upfront acquire a limited partnership share in Park Hyatt hotel and get permanent St. Kitts & Nevis citizenship for himself and his dependents. There is no residency requirement.

"Park Hyatt raises our visibility as a tourist destination throughout the world," says Skerritt. "The Citizenship by Investment has been in place for years, and generally worked well, but this is taking the concept to a new level."

In Nevis, construction activity has been increasing. Notable developments either under construction or in planning stage include Wyndham Grand Hotels and Resorts, Aman Resort, Oasis Hotel, and Spring Air Resort.

"The arrival of the Four Seasons Resort in 1991, and the creation of their first branded residences [in 1995], put Nevis on the map," says Suzanne Gordon, owner of Sugar Mill Real Estate. "That heralded the beginning of the boom in luxury developments."

"Nevis has always been known as the more exclusive island," says Aman Resort developer Simon Lowe.

"Nevis is essentially a villa island," adds Gordon, "attracting artists, celebrities, and people in the know, since the 1970s."

These developments, coupled with the newly completed second cruise pier at Port Zante, are expected to buoy the property market in the coming years, local real estate experts believe.

From 2015 to 2019, tourist arrivals in St. Kitts and Nevis averaged 1.16 million people annually, up from 655,000 visitors in 2008-14 and 318,000 visitors in 2000-07, according to the Eastern Caribbean Central Bank (ECCB).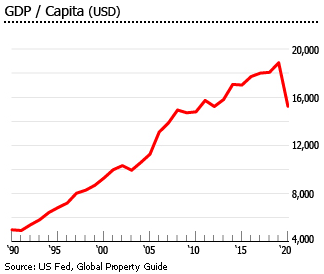 Most stay-over visitors come from the US, the UK, Canada, and other Caribbean nations.

The Eastern Caribbean dollar, the official currency of St. Kitts and Nevis, is pegged to the US dollar, at XC$2.7 to US$1. This offers long-term financial security. There is no capital gains tax or tax on personal income.