Puerto Rico's housing market continues to strengthen, after several years of house price falls, thanks to surging demand. During the year to Q2 2021, the seasonally-adjusted purchase-only house price index surged 15.4% (12.4% inflation-adjusted), a sharp acceleration from the previous year's minuscule growth of 0.2%, according to the Federal Housing Finance Agency (FHFA). It was the second highest y-o-y growth ever recorded since FHFA started publishing data in 1995.

During the latest quarter, house prices increased slightly by 0.9% in Q2 2021, almost unchanged when adjusted for inflation.

"There is no inventory to supply the demand, which makes prices soar," said Francisco Díaz Fournier, owner of Luxury Collection Real State. He noted that residential prices in Puerto Rico have reached more than US$1,000 per square foot, almost similar to Miami, New York and San Francisco.

Demand is rising strongly, mainly driven by wealthy Americans attracted with Puerto Rico's tax haven status. In the first half of 2021, the houses sold total soared 84% y-o-y to 6,593 units, following an 8.3% fall during 2020 due to the pandemic, according to the Office of the Commissioner of Financial Institutions. Existing houses, which accounted for 92% of the total number of houses sold, saw a 91.4% y-o-y increase in sales in H1 2021 while sales of newly built houses rose by 26.1%.

Yet construction activity remains weak, with the total value of housing construction in the islands falling by 3% to US$516 million in 2020 from a year earlier, following a 9.4% increase in 2019, according to Puerto Rico Planning Board.

During the past decade the island has experienced a prolonged economic crisis, massive debt, high unemployment and continuing population loss. With US$70 billion in debt and US$50 billion in pension liabilities, Puerto Rico's bankruptcy filing in May 2017 was the biggest in the history of the United States.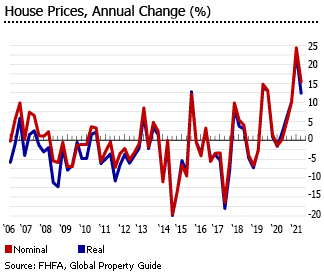 After expanding by 1.2% in 2019, Puerto Rico's economy contracted again by 7.5% during 2020, mainly due to the pandemic as well as regular earthquakes. The economy slumped by 4.7% in 2018, 2.9% in 2017, 1.3% in 2016, 1% in 2015, 1.2% in 2014, and 0.3% in 2013. The economy is expected to remain volatile, with projected GDP growth of just 2.5% this year and 0.7% in 2022, according to the latest projections released by the International Monetary Fund (IMF).

Foreigners can freely buy property in Puerto Rico. It is important to hire a real estate agent as knowledge of Spanish is essential. A foreigner can alternatively buy through a corporation (US$300 for Corporate Resolution). Registering a property by a corporation can be completed in around 15 days.