Puerto Rico's property market remains depressed, amidst continued economic woes
August 02, 2017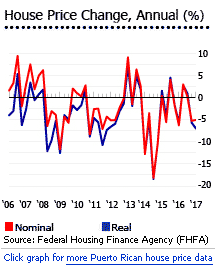 Demand continues to fall, amidst continued economic woes, massive debt, and population loss. During the year to end-Q1 2017, the seasonally-adjusted purchase-only house price index fell by 5.01% (6.96% inflation-adjusted), compared to a y-o-y decline of 6.25% a year earlier, according to the Federal Housing Finance Agency (FHFA). On a quarterly basis, house prices dropped 1.03% (-1.62% inflation-adjusted) in Q1 2017.
In April 2017, the total number of houses sold in Puerto Rico fell by 4.6% to 893 units from the same period last year, according to the Puerto Rico Planning Board. Sales of newly-built housing units fell 28%.
The total value of real estate loans outstanding fell 4% to US$22.67 billion in 2016, after y-o-y declines of 12% in 2015, 2% in 2014 and another 12% in 2013, according to the Government Development Bank (GDB).
Residential construction activity remains weak. In2016, the value of residential construction was US$609.8 million, up 2.8% from a year earlier but far below the peak of US$2.33 billion recorded in 2007.
"The real estate in Puerto Rico has not recovered and continues to go down," said Joanna Rolston of AbroadDreams.com.
The economic crisis and the housing market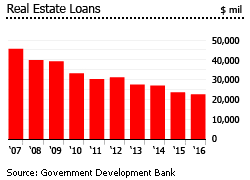 Historically, Puerto Rico´s economy has closely mirrored trends in the United States. However the latest economic downturn has been more intense and has lingered longer in Puerto Rico.
Puerto Rico´s recession began in the fourth quarter of 2006.  GDP has grown very little or declined over the past eight years, contracting every year from 2007 to 2016, with an exception in 2012 when the economy grew slightly by 0.5%.
There´s been high unemployment, massive emigration, and a near-catastrophic national debt crisis and credit rating downgrades.In 2016, Puerto Rico´s real GNP growth was -1.1%., after falling 0.7% in 2015, 1.8% in 2014 and 0.1% in 2013, according to GDB.
Puerto Rico has lost about 20% of its jobs since 2007. The population has shrunk by about 10% in the past decade. The poverty rate is now at 45%. And public health and retirement systems are now insolvent.
Puerto Ricofiled for the equivalent of bankruptcy protection in May 2017, unable to pay its massive debt or provide its citizens effective services. With US$70 billion in debt and US$50 billion in pension liabilities, Puerto Rico´s bankruptcy filing is the biggest in the history of the United States.
The housing market has suffered tremendously.  After huge annual house price increases in the early 2000s, the housing market came crashing down in 2008. Prices have dropped 30% (37% inflation-adjusted) from Q1 2008 to Q1 2017.
Many Puerto Ricans have been forced to sell at a loss, given the high unemployment rate - at an average of 15.3% in 2009, 16.4% in 2010, and 15.9% in 2011. While unemployment has fallen, gradually reaching 11.5% in April 2017, it remains far above the United States´ 4.4% jobless rate.
The loss of net worth among Puerto Ricans from the drop in real estate prices is close to USD30 billion, according to economic consulting firm Estudios Tecnicos ´s director, Jose Villamil.
Puerto Rico´s banking sector is also in crisis, with nonperforming loans at elevated levels.  Most of the problem is in the housing market, which accounts for about 2/3 of total loans, according to Scotia Bank. At the start of 2006, before the crisis, the prime interest rate was at 7.26%. It fell to 3.25% in 2009 and interest remain very low, but despite this around 80,000 families have been unable to refinance their loans and risk losing their homes.
To remedy the situation many new initiatives have been introduced, including tax incentives and other housing stimulus measures. But demand, though now gradually rising, remains far below pre-crisis levels, and residential construction remains depressed.
Puerto Rico files for biggest local government bankruptcy in US history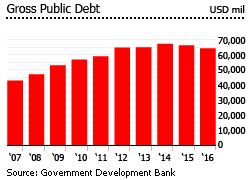 In May 2017, Puerto Rico filed for bankruptcy protection under Title III of a federal rescue law known as PROMESA (Spanish for "promise) - the biggest municipal bankruptcy ever in the history of the US, dwarfing Detroit´s US$18 billion bankruptcy filing in 2013.
"The result is that Puerto Rico can no longer fully pay its debt and pay for government services," said Puerto Rico´s oversight board in the court filing. "Nor can Puerto Rico refinance its debt - it no longer has access to the capital markets. In short, Puerto Rico´s crisis has reached a breaking point."
While the bankruptcy process will give Puerto Rico the legal ability to cut its massive debt, it is also expected to frighten investors and prolong the island´s lack of access to debt markets.
Luxury market is resilient
Ironically, Puerto Rico´s luxury segment is quite hot, despite the island´s economic crisis. "The luxury market is thriving," said Roberto Trápaga of the Association of Home Builders of Puerto Rico. "We have a supply shortage." This is because of the tax incentives being offered by the Puerto Rican government to high net worth individuals and businessmen. Between 2012, when Acts 30 and 22 in 2012 with their generous tax exemptions were passed, and 2016, almost 600 people moved to the island, according to José Joaquín Villamil of Estudios Técnicos.
Puerto Rico´s luxury segment saw a spectacular 105% sales growth in 2013-14, according to Christie´s International Real Estate, after Puerto Rica was established as a tax haven in 2012.
Demand for luxury beachfront properties in exclusive areas such as Dorado, Palmas del Mar and Rio Grande is expected to outstrip supply in the coming years, according to Carlos Xavier Velez of real estate consulting firm, RE Advisors.
Prices of beachfront luxury homes have remained stable or in some cases increased from 2012 to 2016, according to Leticia Brunet Gonzalez of Trillion Realty Group. Prices range from US$400 to US$600 per square foot. More specifically in Condado and DoradoBeach, prices of luxury properties can reach US$1,000 per square foot, said Hiram Albino of Luxury Estates Puerto Rico.
Foreigners can freely buy property in Puerto Rico. It is important to hire a real estate agent as knowledge of Spanish is essential. A foreigner can alternatively take the corporate route to acquiring property in Puerto Rico. Costs for registering a property obtained through a corporation include US$300 for Corporate Resolution. The whole process of registering a property by a corporation can be completed in around 15 days.
Acts 20 and 22 are attracting foreign businesses to Puerto Rico
What has attracted foreigners has been two laws, whichcame into effect in early 2012, which have provided significant new tax benefits to individuals and businesses:
The Export Services Act 20 offers tax incentives to export services.
The Individual Investors Act 22 providestotal exemption from Puerto Rican income taxes on all passive income realized or accrued after becoming a bona fide resident of Puerto Rico.
The government has recently expanded the coverage of both Act 20 and 22. When Act 22 went into effect in January 2012, it was only applicable to new migrants to Puerto Rico who had not been residents for the last 15 years. That period has now been reduced to 6 years. And Senate Bill 1020, also signed into law in December 2014, has also expanded the types of businesses eligible to take advantage of the Act 20 program.
"I have seen more people come to Puerto Rico in the last two years than I have seen in a long time," says Ignacio Alvarez, chief legal officer of Banco Popular.  "Act 20 and 22 ... are putting Puerto Rico back on the map."
"I think that San Juan represents one of the great investment opportunities of my generation," says Nick Prouty, CEO of Putnam Bridge Funding, who has moved his office and family from Greenwich, Connecticut, to Puerto Rico.
New law to expedite permits
In another move to attract investment "Act 19-2017", better known as the Puerto Rico Permit Process Reform Act, was signed into law in April 2017 to increase transparency and to streamline the evaluation and issuance of land use approvals and permits in Puerto Rico.
The new law aims to improve the island´s competitiveness, attract investment and buoy the ailing economy. Major effects:
The introduction of a single permit, in which all licenses, authorizations and certifications will be consolidated;
The imposition of time limits for the issuance of permits, ranging from 30 days from ministerial permits to 180 days for projects that require either a public hearing or an environmental impact evaluation.
The establishment of Unified Information System for the filing and processing of permits, authorizations, licenses and certifications for land uses and operation of businesses;
Rental yields are good, though rents are falling
Despite the dire economic situation, rental yields in Puerto Rico remain good, according to the Global Property Guide research of March 2016. Average rental yields on 2 bedroom apartments in San Juan stood at 7.1%, slightly down from 7.3% a year earlier. For 3-bedroom apartments, the average rental yield stood at 7.3%, down from 8.3% the previous year.
There were insufficient data on apartments in coastal areas of Puerto Rico such as Condado, Miramar and Dorado, but two years ago they had much lower rental returns at 3.8%.
San Juan metro area´s average monthly rent for 2-bedroom apartments amounted to US$717 in March 2016, down from US$801 a year earlier and US$1,011 per month three years ago.  The average rent on 3-bedroom apartments was US$854 per month, down from US$1,121 a year ago and US$1,329 three years earlier.
Round trip transaction costs, i.e., the costs of buying and selling a property, are very low in Puerto Rico.
Residential construction remains weak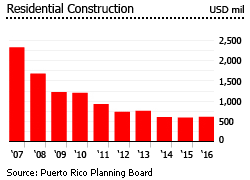 In2016, the value of residential construction increased 2.8% y-o-y to US$609.8 million, according to the Puerto Rico Planning Board - but remains far below 2007´s US$2.33 billion.
During 2016:
Private residential construction increased slightly by 0.7% to US$575.2 million from a year earlier, but still far below the US$2.1 billion residential construction recorded in 2007.
Public residential construction was US$34.6 million, up 57.3% from a year earlier but just one-seventh of 2007´s US$223.1 million residential construction.
Cement sales, the construction industry´s key indicator, dropped 11.5% to 11.6 million bags in in 2016 from the previous year, according to the GDB.
The Housing Stimulus Act
To rescue the island´s plunging housing market, former Governor Luis Fortuño implemented the stimulus program "Impulso a la Vivienda" (Act 152) in 2010.  The idea was to cut home inventories and stimulate new housing construction. Even before the ratification of Act 152, a "combo program" allowed people to buy second homes at a reduced rate, through a USD25,000 incentive, plus a USD10,000 voucher covering closing costs.
Act 152 provided:
Loan-to-value mortgage ratios of 105%, allowing loans to be made without a down payment
A 100% exemption from net rental income tax, for a 10-year period.
A 100% tax exemption during a 10-month window, plus a 100% exemption from capital gains tax at the time of resale of new property, and a 100% exemption from fees, stamps and vouchers. There also is a 100% exemption on temporary property tax, and a five-year exemption from property taxes.
The government then launched the "Ahorro Hipotecario" program in July 2014, offering mortgage-refinancing to some 10,000 low- to moderate-income Puerto Rican families, backed by a USD63 million fund.
Under the scheme, qualifying homeowners can get new loans worth 100% of the appraised value of their property. This permits a considerable reduction in their interest rate, resulting in lower monthly payments. The program is offered to owners of primary residences paying interest rates higher than 5.5%, whose loans are smaller than USD250,000. The refinance loans will be granted by private banks and will have terms not exceeding 30 years.
To qualify, the applicant must not have more than two late mortgage payments of more than 30 days with 12 months of applying, and must have a credit score of 600 or more. Loans exceeding the property-related debt cannot be granted, and loans cannot be used to pay down credit card debts - but may serve as payment for motor vehicle loans and personal loans.
However, although these laws were well-received by developers, they have not yet led to a recovery in the housing market.
Unemployment fuels unprecedented migration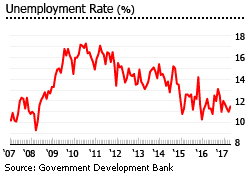 In April 2017, the overall unemployment rate in Puerto Rico stood at 11.5%, up from 11.3% during the same period last year, according to the GDB.
Since 2004, the total number of jobs has fallen by 15.4%. Puerto Rico´s labour force participation has also dropped, with only 40.5% of Puerto Ricans taking part in productive economic activities in April 2017, comparing unfavorably to the United States and Latin America, where the average rate is about 60%.
Hundreds of thousands of Puerto Ricans have been forced to migrate to the United States, according to the Census Bureau´s Community Survey. From 2010 to 2016, Puerto Rico´s population was reduced by about 310,000, the largest migration wave since the 1950s, when close to 500,000 Puerto Ricans migrated to the mainland. As a result, Puerto Rico´s population dropped by about 8.3% to 3.4 million in 2016 from six years ago.
Aside from migration, the island suffers from an ageing population and a declining birth rate. In 2016, there were just 31,000 births (9.1 births per 1,000 population), sharply down from 47,000 births (12.4 births per 1,000 population) in 2007, according to the Instituto de Estadisticas de Puerto Rico.
Can tourism save Puerto Rico´s economy?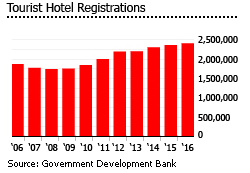 The Puerto Rican government plans to boost tourism´s share of GDP from 6% to 8% in 2017, an increase of USD1.2 billion. The plan includes adding more than 5,000 new hotel rooms by 2017, new flights, and two new ports for cruise lines.
In 2016, there were about 5,077,200 visitor arrivals in Puerto Rico, up slightly by 0.5% from a year earlier and the highest level since 2008, according to Puerto Rico Planning Board. The number of stay-over visitors increased 5.5% y-o-y to 3,735,700 people in 2016 while excursionists dropped 11.1% to 1,341,500 over the same period.Total visitors´ expenditures also rose by 4.2% to US$3.98 billion in 2016 from a year earlier. During the fiscal year 2016, the total number of tourist hotel registrations rose by 2% y-o-y to 2.53 million, according to the GDB. By end-2016, the occupancy rate in tourist hotels stood at 68.7%, slightly down from 71.3% a year ago.
About 87% of stay-over visitors in Puerto Rico in 2016 came from the United States.
"If you want quick impact to the economy, tourism is where it´s at," said Ingrid Rivera, executive director of Puerto Rico Tourism. "We are small but we are potent."
But the island needs more airline services to accommodate more visitors, Rivera said. Currently, Puerto Rico has air connections with 17 countries and 24 destinations.. The agency is aiming for 10 million annual passengers, up from 8.4 million today. The island has a weekly flight from Frankfurt, Germany as well as several weekly flights from Panama and Colombia, and flights from Madrid, Spain two times a week. But there are no direct service flights from the United Kingdom or Mexico, two countries that, according to Rivera, could send travelers to Puerto Rico by the hundreds.
The government is also working to regain annual cruise ship visitors, which fell by nearly one-third after the 2008 financial crisis. Ponce, on the southern shore, and Mayaguez, on the west coast, both plan to develop infrastructure to support large cruise ship calls. "The attractions are there," Rivera told Bloomberg.
Puerto Rico - More data and information