---
Puerto Rico's reforms may turn around its property market
Last Updated: November 15, 2012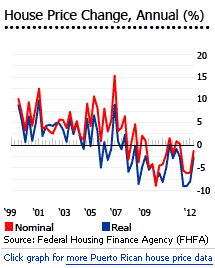 Puerto Rico's house prices fell by 1.3% (2.66% in real terms) y-o-y in the second quarter of 2012, according to the Federal Housing Finance Agency (FHFA), a decline noticeably lower than during each of the previous three quarters, which saw average price falls of 5.9% y-o-y (8.7% in real terms).
Zillow recorded a median house prices fall of 0.8% during the year to September 2012 (median house prices fell to US$ 198,500, from US$ 200,000 the previous year).
Property sales in 2011 were 50% down on 2008.  2012 has been worse.  The first quarter of 2012 saw a 47% y-o-y residential sales decline, to only 603 units, and Q2 saw a 30.4% y-o-y drop to 937 units, according to the research firm Estudios Tecnicos, Inc (ETI).
Bottoming out of recession
Puerto Rico is much poorer than Mississippi, the poorest US state, and its economy is heavily reliant on the US Federal Aid.  The shift from agriculture to manufacturing through Operation Bootstrap in the 1940s failed to increase employment, and for every three agricultural jobs that were lost, only one manufacturing job was created.
The government is now the biggest employer with one-third of the total jobs.  The payroll for the around 300,000 government employees rose by 47.5% from 2001 to 2009, or from US$ 3.75 billion to US$ 5.53 billion, an average annual state employment growth of 6%.  By 2011, Puerto Rico's public debt amounted to US$ 58.9 billion.
During 2000 and 2001, house prices appreciated by an average of 16.4% (9% in real terms) per year. But after the 9/11 terrorist attack house price increases slowed sharply, to 6.5% (0.4% in real terms) in 2002 and 7.2% (-0.6% in real terms) in 2003.
The Puerto Rican housing market has been sluggish since then.
The gloom was aggravated by the bankrupt Puerto Rican government's two-week shutdown in May 2006.  Then in 2007 and 2008 the US housing market crash left Puerto Rico with a 3-year overhang of luxury houses, and a 5-year  inventory of houses worth US$ 260,000 to US$ 420,000.
Efforts to downsize the government started in 2007, and intensified after Governor Luis Fortuño took office in 2009. Fortuño reduced the budget deficit from 44% of revenues at the time he took office, to 7% in 2011, slashing the deficit from US$ 3.3 billion to US$ 610 million.
In 2009 the cuts were expected to require massive layoffs of around 30,000 public employees. Due to labour union protests the layoffs were reduced to only 12,000 people, but nevertheless propelled unemployment rate up to 16.6% by May 2010. Puerto Rico's economy has been in recession since the second half of 2006 and the downturn continued in 2011, with a contraction of 1.5%.
But things are not as bad as they seem.  Compared with economic declines of 3.8% and 3.4% in 2009 and 2010 respectively, the moderate downturn last year suggests that Puerto Rico's economy is bottoming. And although still high, unemployment in Puerto Rico has been declining since April 2011.
"We have stopped the loss of jobs and begun to create new jobs," says Economic Development & Commerce Secretary José R. Pérez-Riera. By September 2012 unemployment was down to 13.6%.
Recovery in sight?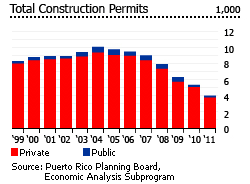 The Puerto Rico Bankers Association (PRBA) now believes that the housing market could achieve a modest improvement this year, as the economy climbs out of recession.
And amazingly enough, they may be right.
Puerto Rico's economic outlook for 2012 is rather positive. The Puerto Rico Planning Board is expecting 0.9% economic growth for the fiscal year 2012, the first growth since late 2006. Stronger economic growth of 1.1% is expected in fiscal 2013.
The value of construction permits in 2011 was US$ 962.3 million, down from US$ 1.3 billion in 2010, and volumes at 4,004 were 60.1 down % from the 2004 peak.  Cement sales, considered the construction industry's key indicator, have fallen by 60% from their 2000 peak of 45.8 million bags.
But this year cement sales have been trending up.
Housing stimulus
To aid the housing market Governor Luis Fortuño implemented a stimulus program ("Impulso a la Vivienda") in 2010.  The program provided generous incentives to home buyers, including:
No future capital-gains taxes on new residential properties sold.
Capital gains taxes on existing properties will be reduced by 50%;
Recording fees for new housing will be removed, and reduced by 50% for existing properties;
Residential rental income is now tax exempt for 10 years;
New homeowners will not pay property taxes for the first five years.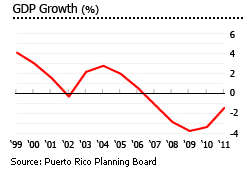 The program produced significant results, reducing the inventory of unsold homes from 20,000 in 2010, to 8,000 in April 2012, according to Estudios Tecnicos.
The program was extended until December 2012, but after July 1, 2012 incentives for new residential properties sold were cut by 50%, with a 25% reduction in incentives on existing property purchases.
Now the government believes these incentives may no longer be needed.
Rents and yields
The average rental yield in San Juan is currently around 5.52%, down from last year's 5.95%, according to the Global Property Guide research of February 2012. Yields in coastal areas are lower, with two-bedroom apartments having the lowest rental returns, at 3.83%.
Rents in coastal areas are more expensive. The average monthly rent for three-bedroom apartments amounts to US$1,958.
In San Juan metro area, the average monthly rent for two-bedroom apartments is US$839, while three-bedroom apartments have an average rent of US$1,095 per month.
Shrinking population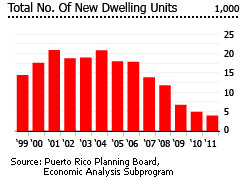 Puerto Rico's population fell by 2.17% during the millennium's first decade, according to the 2010 US Census, and household growth of only 0.7% is expected between 2010 and 2015. Partly, the population decline is attributed to the island's weak economy, which caused an emigration of around 225,000 locals during the decade.
The population is also ageing.  "A significant portion of our population is over 60 years old," says PRBA President Aurelio Alemán. "At the same time, we have young families with moderate income who do not find housing within a price range they can afford. This suggests two courses of action: the need to take short-term steps to offer affordable housing to young families, and ensure housing alternatives for our population over 60."
This shift of Puerto Rico's demography has been a major cause of the decline in home sales, from an annual average of 10,000 in the 1990s, to below 5,000 per year now. Given the demographics, Alemán expects around 4,000 to 5,000 housing units to be sold annually until 2015.
In November 6, 2012, the fourth referendum on Puerto Rico's political status will be held. Puerto Ricans will decide on whether they wish to continue with their current territorial status or choose between statehood, independence, or be a sovereign nation in free association with the US.
Puerto Rico - More data and information