---
Economic slump drags down Puerto Rico real estate
Last Updated: June 15, 2009
Puerto Rico's housing market has been depressed for the past 18 months, after enormous price increases in the early-2000s.  Puerto Rico's economy has been in recession since 2007. Homeowners wanting to sell their residential properties have been forced to lower their selling prices.
In the capital San Juan, the average price of four-bedroom houses dropped 7.8% in 2008, according to Coldwell Banker's House Price Comparison Index (HPCI). The average price of four-bedroom houses in San Juan was US$329,750 in 2008, down from US$357,500 in 2007. When adjusted for inflation, house prices actually plunged 15.8% over the same period.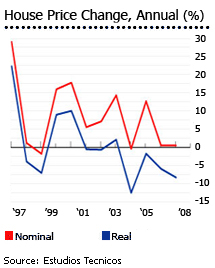 This contrasts sharply with the house price increase of 13% (5.8% in real terms) in 2007. Coldwell Banker's HPCI is an annual snapshot study, which evaluates the average sales price of 2,200 sq. ft., four-bedroom, and 2.5 bath single-family dwellings in corporate middle management suburbs in selected markets around the world.
In the first quarter of 2009, there were only 1,289 housing units sold, down 43.7% from the same period last year, according to the research firm Estudios Tecnicos, Inc (ETI). In 2008, residential property sales fell by 11.5% to 9,826 housing units, following an 18% drop in 2007.
Plunging sales for luxury market
The luxury property market has experienced a large decline in sales, as demand for expensive houses has waned. In the first quarter of 2009, villa sales fell by a staggering 62% from a year earlier.
High-end markets are experiencing much longer absorption rates—the rate at which available inventory is sold, according to ETI's Demand for Housing study, released January 2009.
Luxury houses priced US$600,000 and above have excess inventory until 2012.
Houses valued from US$420,000 to US$480,000 have excess supply until 2010.
The inventory of unsold houses priced from US$260,000 to US$420,000 is now equivalent to the five-year supply of houses.
On the other hand, the demand for houses valued from US$120,000 and below is expected to exceed planned inventories in mid-2009.
Prices of luxury residential properties will only stabilize, when the inventory of unsold units normalizes.
Local house prices plummet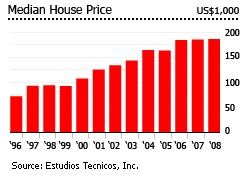 Even the local housing market has fallen.  "Depending on where you are on the island, home prices dropped from peak about 5% to 30%," said Jorge Zabala from Coldwell Banker Commercial Isla del Coqui.
For the last two years, the median house price rose by a mere 1% to US$186,000 in 2008 from US$183,998 in 2006, based on figures from ETI. When adjusted for inflation, the median house price actually fell 8.2% in 2008, following a 5.9% drop in 2007.
From 2000 to 2001, house prices appreciated by an average of 16.4% (9% in real terms) per year. Then after the 9-11 terrorist attack in the US, house price increases slowed sharply to 6.5% (0.4% in real terms) in 2002 and 7.2% (-0.6% in real terms) in 2003. The Puerto Rican housing market has been sluggish since then.
The gloomy situation in the local housing market was aggravated by the bankrupt government's two-week shut down in May 2006.
Construction activity falling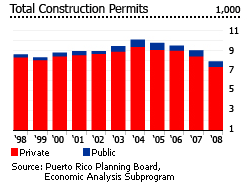 Total construction permits in Puerto Rico were down 21.3% in 2008 from their 2004 peak, at 7,896 permits.
The private sector reported a 12.6% drop in the number of approved permits in 2008  
Public sector permits declined 5.5% in 2008.
The value of construction permits in 2008 was around US$2.5 billion, down from US$2.8 billion in 2006.  The number of new dwelling units fell in 2008 by 15.2% to 11,748 units, and the value of new units dropped 10%, to US$900 million.
Cement sales, considered a key construction industry indicator, plunged 10.7% to 35.5 million bags in 2008 from 39.8 million bags in 2007, the lowest level in seven years.
Costly coastlines
The most expensive residential properties in Puerto Rico are on the coast. In February 2009, three-bedroom apartments located in coastal areas were selling for US$630,000 and four-bedroom houses sold for US$680,000, according to recent Global Property Guide research.
Most recent luxury developments have been on the northeast coast.
In St. Regis Resort, located in Bahia Beach, prices range from US$635,000 for two-bedroom apartments to US$7.2 million for luxury villas. The resort is scheduled to open in the autumn of 2010.
The Trump International Golf Club and Residences, located in Rio Grande, offers 500 residences with prices ranging from US$550,000 to US$5 million.
In Ocean Sixteen at the Wyndham Grand Resort in Rio Mar, condominium units sell from US$795,000 to US$2,400,000.
The south coast is another famous second-home destination.  Its house prices are typically 30% lower than on the north coast. One-bedroom apartments are priced at about US$200,000.
Shortage of affordable housing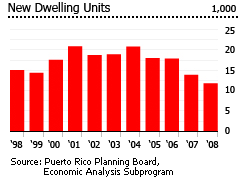 While Puerto Rico has an over-supply of luxury properties, there's a severe shortage of low to middle-income housing. Houses priced below US$120,000 sell quickly.
Low to mid-income locals dominate Puerto Rico's property market, rather than tourists and vacation-home seekers. Yet property developers are hesitant to serve the low-end market, because of the low profit margins. In addition, increases in construction costs, and stricter bank lending criteria, have recently discouraged private developers.
In 2008, there was a deficit of about 90,000 dwelling units in Puerto Rico, according to the Puerto Rico Department of Housing. Every year, an additional 5,000 affordable units are needed demanded in the sales market and 7,000 units in the rental market.
Rents and yields
Rental yields in Puerto Rico increased slightly in 2009 from a year earlier, according to the Global Property Guide survey of February 2009. In San Juan, the gross rental yield on a three-bedroom apartment is now around 7.24%. Coastal areas tend to have lower yields, as would normally be expected. Three-bedroom apartments in coastal areas yield around 5.67%.
In San Juan metro area, the average monthly rent for one-bedroom apartments was US$509 in the first quarter of 2009. Three-bedroom apartments in the same area rent for an average of US$1,722 per month while four-bedroom apartments rent for US$3,230 per month.
In coastal areas, rental properties are more expensive. The average rent for three-bedroom apartments was US$2,989 per month.
Long recession continues
In 2008, Puerto Rico's economy shrank 2.5%, following a 1.9% contraction in 2007. The economy has been in recession since the second half of 2006, when the government declared bankruptcy, due to a severe budget deficit.
The government was shut down from May 1, 2006 to May 14, 2006, leaving about 95,000 public employees temporarily unemployed and closing more than 1,500 public schools.
In fact, Puerto Rico's economic problems date from at least the 1970s, and are structural in nature, a legacy of a typical import substitution strategy.
Economic development had been retarded by a lack of natural resources. The island has very limited available land for cultivation. Except for a possible million tons of limestone, clay and iron, it has no mineral wealth.
Agriculture used to be the basis of Puerto Rican economy. In the late 1940s, a series of projects, known as Operation Bootstrap, encouraged a shift to manufacturing via tax exemptions.  However, the strategy failed to increase employment. Even worse, only one new manufacturing job was created for every three agricultural jobs that were lost.
Because of insufficient private sector employment, the government has become the biggest employer in Puerto Rico, providing around one-third of all jobs. In 2009, the payroll for the about 300,000 government employees skyrocketed to US$5.53 billion, from US$3.75 billion in 2001.
Puerto Rico's economy relies heavily on Federal Aid from the US. The Puerto Rican government is much poorer than the poorest U.S. state, and has a huge debt from emergency loan in 2006. Puerto Rico's public debt stood at about US$46.7 billion in 2008.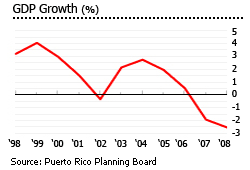 Steps to cut the fiscal  deficit of US$3.2 billion p.a. have been taken by Governor Luis Fortuño, who took office in January 2, 2009.  Fortuño is determined to reduce operational expenses, and the public payroll.
In March 2009, about 8,000 public employees were laid off, the first in a series of planned mass layoffs in different government agencies. The unemployment rate rose to 14.7% in March 2009, up from 11% in 2008.
The economy is projected to contract by 3.4% in fiscal year 2009 (ending June 30, 2009) and by another 2% in 2010, according to the Puerto Rico Planning Board.
Puerto Rico - More data and information