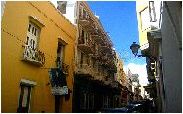 INDIVIDUAL TAXATION
Under Puerto Rican tax law, individuals are presumed to be resident if they are domiciled in Puerto Rico for a period of 183 or more days in a calendar year.
Residents are taxed on their worldwide income. Married couples may be taxed jointly or separately.
INCOME TAX
Income is categorized into the following categories: (1) interest, (2) dividends and profits, (3) personal services, (4) rentals and royalties, (5) sale of real property, (6) sale of personal property, (7) distributions in liquidation, and (8) other income.
Income is taxed at progressive rates. A resident taxpayer can qualify for personal deductions and additional deductions (itemized or standard).
INCOME TAX

TAXABLE INCOME, US$
TAX RATE
Up to US$9,000
0%
US$9,000 - US$25,000
7% on band over US$9,000
US$25,000 - US$41,500
14% on band over US$25,000
US$41,500 - US$61,500
25% on band over US$41,500
Over US$61,500
33% on all income over US$61,500
Source: Global Property Guide
Each taxpayer is entitled to the following deductions (called personal exemptions):
US$1,300 for a single taxpayer or a married person not living with their spouse
US$3,000 for a married couple
There are other deductions a resident taxpayer can avail of and these deductions can be deducted into two ways. The taxpayer can opt for (1) the standard deductions or (2) the itemized deductions.
RENTAL INCOME
Rental income earned by residents is taxed at standard income tax rates. Income-generating expenses are deductible when calculating taxable rental income.
CAPITAL GAINS
Capital gains earned by resident individuals are taxed at a flat rate of 15%. Long-term capital gains are gains earned from an asset which is held for more than 6 months. The taxable gain is computed by deducting the acquisition costs from the gross selling price.
PROPERTY TAXATION
Property Tax
Real property is subject on an annual real property tax levied on the property's market value. The tax rates range from 8.03% to 11.83%for personal property.
CORPORATE TAXATION
INCOME TAX
Income earned by companies is taxed on a graduated tax rate structure. A flat tax of 20% is levied on the "normal-tax net income". A surtax on "normal-tax net income" less credit is levied at progressive rates, from 25% on the first US$750,000 and up to 30% on surtax income over US$2,500,000.
CAPITAL GAINS TAX
Capital gains earned by companies are taxed at a flat rate of 15%. Capital losses may be carried forward for five years.